No more suckers at the dump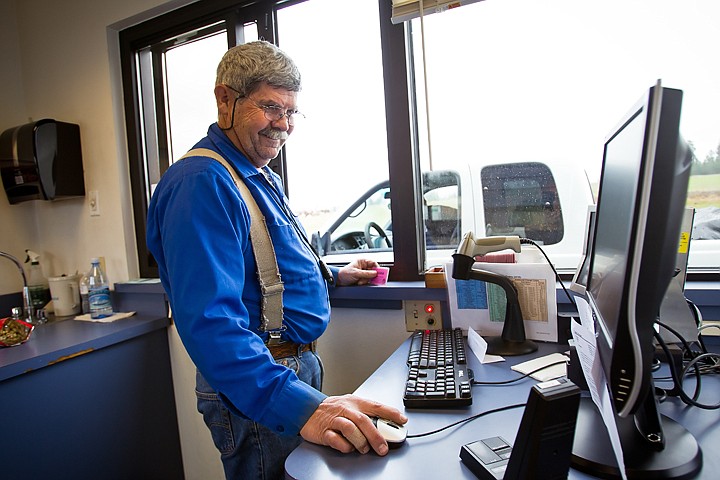 <p>Mike Jones, equipment operator for the Kootenai County Solid Waste Department, checks in county residents Monday at the scales of the Ramsey Road transfer station. The county is saving approximately $1,500 per year by no longer giving out lollipops to kids who attend the site.</p>
by
Alecia Warren
|
June 22, 2010 9:00 PM
COEUR d'ALENE - Budget cuts have never tasted so bitter.
In an effort to tighten its belt, the Kootenai County Solid Waste Department is cutting out sweets. The department has scrapped its more than decade-old policy to hand out free?lollipops to children accompanying their families to the Ramsey Transfer Station.
"The program has gotten to the point where it's no longer necessary, and with these tight, lean years we have to look at cuts everywhere," said Solid Waste Director Roger Saterfiel.
Turns out, giving tots treats was gobbling up funding.
About $1,500 a year, to be exact.
That's a lot of lollies.
"One of the other considerations is the lollipops were not just being given to kids, but being given to the adults as well, at the request of the adults," Saterfiel said.
These weren't gourmet goodies, he assured, but the cheapest he could find in bulk.
The county commissioners, who gave the go-ahead on the termination, acknowledged the budgeting issues.
"We understand that it's a nice benefit, it keeps the kids a little occupied, but we're in the middle of some tight times," said Commissioner Rick Currie.
Saterfiel had initially totaled the cost of lollies at $3,000 a year when he approached the county commissioners about the problem, he said, but later found it was less when he rechecked the books.
No matter the cost, the county would be axing the candy anyway, he said.
"When we started the sucker thing, it was for the safety of the children who came out here. We found that if we gave them a sucker when people came in that kids would stay inside (the car) and chew on the sucker," he said.
These days, folks are more safety conscious, Saterfiel said. Parents will obey warning signs to keep their kids inside without the aid of sugar.
"It's just no longer necessary," he said.
The Solid Waste Department, which is funded by user fees and not taxes, will set the extra money aside for future projects, the department director said.
"We invest it or put it into a bank account for future construction, such as expansion of the landfill," he said. "The beauty about that is I don't have to go to the public for additional funds to expand the landfill."
Still, some folks are upset.
"People aren't happy about it," Saterfiel admitted, adding that many have complained. "Quite honestly, I'm a little surprised. I would think people would like us to tighten our belts in every aspect we could. But?lollipops are important to some people."
Annie Laker, a Coeur d'Alene mother of three, said the new policy would be a blow to her 4-year-old son.
"I can tell you for sure my husband and son, that's their favorite Sunday thing to do together, and I think it's the lollipops," Laker said on Monday. "It's a great way for my husband to help me around the house and take things to the dump, and he can do it with his son. It's kind of a guy thing. And they top it off with a lollipop."
She wasn't surprised about the cut, however.
"I know there are a lot of cutbacks at all levels of government," Laker said. "But it's too bad they had to do that."
Recent Headlines
---