June rain record may fall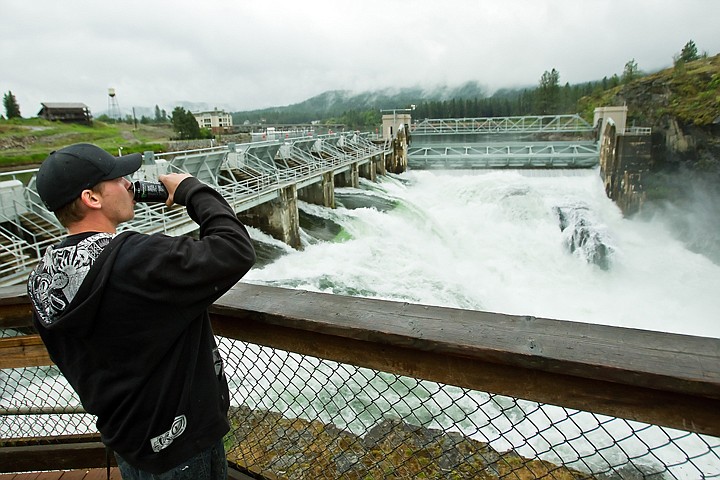 <p>Branden Machala takes a sip from his energy drink Monday as water from the Spokane River rushes through the Post Falls Dam. Avista opened the gates at the dam to accommodate for more wet weather.</p>
by
Brian Walker
|
June 22, 2010 9:00 PM
POST FALLS - Summer has officially arrived, but Mother Nature has kicked the calendar.
Monday, the first day of summer, brought 1.06 inches of rain as of 3 p.m., according to climatologist Cliff Harris. The record for the day is 1.22 inches in 1984.
"The drought is over," Harris said. "We've gotten pennies from heaven."
There has been 4.6 inches of rain so far in June and the record for the month is 5.09 inches set in 1947, so the monthly record may fall this week with the next front.
June's normal rainfall is 1.78 inches.
Harris said there has been about 13 inches of rain since March 1.
"We needed to have a foot of rain this spring to come out of dire straits and there was a 5 to 10 percent chance of that, but we did it," Harris said.
Monday's high of 54, fell just short of the record low of 52 set in 1916.
In addition to dousing fears over fire season after a dry winter and saving watering costs, there's more bright weather news, Harris said. Warmer weather is ahead.
Harris predicts the temperature will nearly climb to the normal of 75 for Ironman this weekend with only stray showers.
"It looks warmer and drier toward the end of the week," Harris said.
Harris said wet Junes produce hot summers more often than not, so he urges people to not lose hope for July and August.
The National Weather Service issued a Flood Watch on Monday with the possibility of urban flooding and backed up culverts and rising creeks.
However, the Coeur d'Alene and St. Joe rivers, generally the biggest flood concerns in Kootenai County, are not near flood stage nor are they forecasted to be, said John Livingston, NWS meteorologist.
"The big picture may not be serious, but individuals may have problems with water backing up at their homes due to so much water in a relatively short amount of time," Livingston said.
Livingston said that since the Coeur d'Alene and St. Joe rivers are snow fed in the mountains, the rain is actually a good thing in those areas due to the dry winter.
The rain made Avista open additional gates at the Post Falls Dam on Monday to allow the increased flow in the Spokane River to pass by the dam.
Avista waited until the afternoon to open the biggest gate to allow river users to move their boats and equipment in case of possible damage to their property from lowering the river.
With more rain in the forecast, the company started lowering the river over the weekend as a precaution. The river's elevation near the Spokane Street bridge on Monday morning was about 2,124.8 ft., about 3 feet below summer level. However, the level is expected to drop to as much as 7 feet below summer level with the gates open.
How long the gates will be open depends on the weather, said Hugh Imhof, Avista spokesman. Avista is required to maintain the summer level of Lake Coeur d'Alene at or near 2,128 feet above sea level until after Labor Day.
The company also had to open gates over Memorial Day.
"This could happen again and we want people to be aware that weather conditions can cause rapid changes in river levels," Imhof said. "We're trying to avoid flooding."
Recent Headlines
---