Affordability with versatility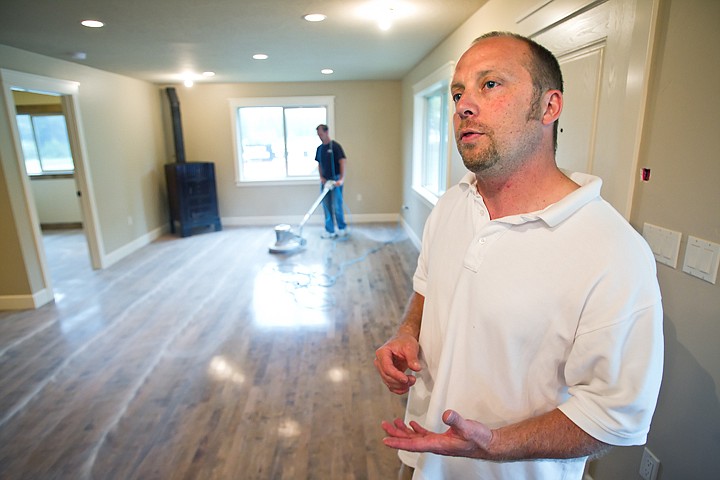 <p>Ben Stephens, owner of Tre Construction, describes the selling point of his Hayden model home on Monday.</p>
by
Rick Thomas
|
June 22, 2010 9:00 PM
HAYDEN - Ben Stephens is a builder, not an acrobat, but has spent more than half a year learning to jump through the hoops of county building codes.
The result is an old house that, rather than being torched for a practice burn for firefighters as had been planned is instead a model of affordable housing that also showcases the construction skills and concepts of the third-generation builder, doing business as Tre Construction.
"When people come in here," he said, showing the laundry room of the nearly finished house, "it shows the actual materials we use."
The run-down shell of a house built in 1957 that sits on the last lot at the north end of Government Way was stripped bare and different rooms now feature a variety of finishes, trims and materials.
"It was a run-down piece of junk," Stephens said. Abandoned, the old house was purchased in August from the bank primarily for its location, with 675 feet of frontage on U.S. 95.
The tallest hurdle he had to go over was getting the 1.6-acre triangle of land rezoned from agricultural to commercial. Because the building was built on the original foundation and is not to be used as a retail space he was able to avoid the expense of meeting all the requirements, including handicapped access.
That was critical, because the point of the project was to offer affordable housing, built not in a subdivision but on any suitable residential lot. The starting price for an 1,120-square-foot house is $78,000, including the foundation slab, 100 feet of water lines and 100 feet of sewer lines.
Energy efficiency was a top priority, so the old structure's 2-by-4 walls were expanded to 6 inches thick, allowing for R-21 insulation there plus more blown into the attic.
As it sits, it is not a house anybody would be likely to order duplicated, however. Some rooms feature painted trim, while in others it is stained. Each room includes a different type of woodwork, to show prospective buyers some of their options.
Even some windows are on different scales of energy efficiency, which also allows visitors to check out the difference in sound insulation, facing the busy highway where tens of thousands of vehicles pass each day.
Sometimes, Stephens said, modern homes are just a little too well finished and lose some character in the process.
"It got to the point that the woodwork looked like a car," he said, with paint just a little too smooth and shiny.
Instead, his examples are hand-brushed with thick, slow drying enamel that is both easier to maintain and allows for refinishing when damage or wear does take place.
"You can feel the rope in the wood," he said, referring to the subtle brush strokes in the paint. "I appreciate that kind of work."
For those who prefer a more natural look, knotty aspen is among the wood used for trim and doors in the model.
Tile is used in some rooms for the main floor and as accents, such as under the old Sears Roebuck enameled steel cast iron wood-burning fireplace that for now is just for looks. Each home includes a basic flooring allowance. One thing the older house did offer was its original maple floors in the living room, which have been reclaimed.
Though sanded several times, with coats of finish added after each, it still has the patina that can only come from age and use.
It is finished with a Glitsa Swedish lacquer-based coating, said John Bealls, owner of Select Wood Floors.
"It's an oil base, with high durability," Bealls said
Others partnering with Stephens include Quinn Essentials, Idaho Lights, Elite Door and Sash, Gargoyle Granite and Modern Glass.
Excell Drywall did a variety of wall texturing, including skip troweling on some walls, creating a more elaborate pattern.
For the past couple of years Stephens has switched from primarily doing custom homes to focusing on kitchens and baths. Among his projects are The Porch in Hayden, the 2-7 Pub in Spokane and the Dish Restaurant in Sandpoint.
The cost of the model was kept low by using individual electric heaters that recess into the walls, but they heat the house efficiently, Stephens said.
He also plans to include alternative energy products such as solar panels, wind generators and battery pack systems for use off the electric grid.
The model is scheduled to open on July 2, following the final phase of county approval, getting his conditional use permit.
Information: 818-4750
Recent Headlines
---