A really big loser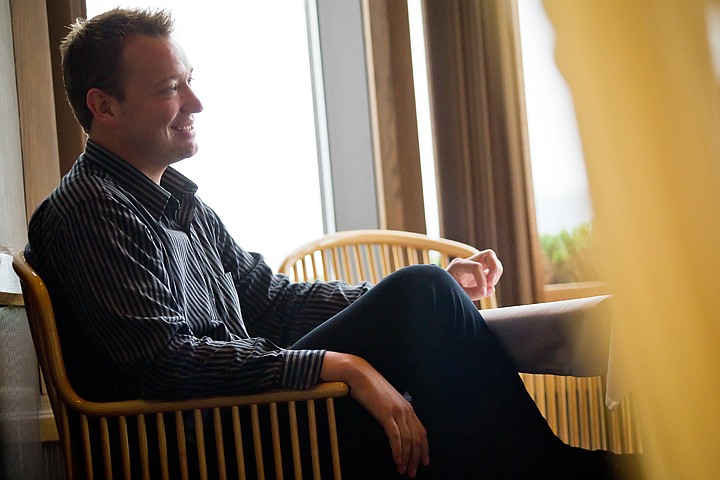 <p>Ryan Robinson, of Coeur d'Alene, talks about some of the challenges and expectations surrounding his first Ironman race on Monday.</p>
by
BILL BULEY
Staff Writer
|
June 22, 2010 9:00 PM
COEUR d'ALENE - Talk about overcoming challenges to take on Ironman Coeur d'Alene, where to start with Ryan Robinson?
In the past year he has been a big loser, having trimmed down to a lean 235 pounds on his 6 foot, 9 inch frame, a drop of 105 pounds.
And he has diabetes, so he has to carefully monitor his blood sugar levels and on race day, will have to stop every hour or so to be sure those blood sugar levels are OK.
Oh, and to add yet one more hurdle, someone stole his bike a few months ago.
That isn't even to mention rising at 5 a.m. to work out - something not easily done for a social guy who likes the nightlife.
"It's been worth it," he said with a smile on Monday.
The 29-year-old from Coeur d'Alene will take his first crack at Ironman Coeur d'Alene on Sunday. He has completed several shorter triathlons and is an avid basketball player, having competed in Hoopfest several times. But swimming 2.4 miles, then biking 112 and running 26.2 will be a new adventure.
Robinson, assistant manager at Beverly's restaurant at The Coeur d'Alene Resort, lost weight the old-fashioned way: diet and exercise. He cut out the junk food and turned to more meats, seafood, vegetables and fruits. He reduced his alcohol consumption. He built up his training from an hour a day to a peak of four hours a day in the final months of his program.
None of that, though, compared to the alarm clock sounding when it was still dark outside, signaling him to rise and go run, bike or swim.
"I've always been a night person, so that was tough," he said, laughing.
He has been a diabetic since he was 12 years old. Like most with the disease, he struggled with his weight.
"For me, it was trying to find that balance," said Robinson, whose parents, Clark and Toni Rollins of Coeur d'Alene, are avid runners.
Since training for Ironman in the last year, he has reduced the insulin he needed each day to six shots, about half what it used to be.
On race day, he'll stop and check it every hour or so and give himself manual insulin injections. He will also be wary of his diet.
"It's hard to find a sports drink that will replenish your electrolyte levels but also doesn't skyrocket your blood sugar levels," he said.
Now tipping the scale at 235, it's his lowest weight since his high school basketball days at Twin Falls.
"I'm feeling good," he said.
He's not worried about any problems during the race.
"I've had diabetes so long, it doesn't make me nervous."
What does rattle him, though, is theft.
It was a few months back when he returned from a long ride, and left his bike on the porch in front of his glass front door, and went to take a quick shower. The house is set back off the street in downtown Coeur d'Alene and has a fenced yard.
A few minutes later, he heard his dog barking, got dressed and went to bring the bike in. It was unguarded for maybe 10 minutes.
"I opened the door and it was gone," Robinson said.
Finding a replacement for his 6-9 frame proved difficult. But he said Mountain View Cyclery and Fitness was able to get him back on the road and the bike is rarely out of sight.
"I take it with me everywhere. I ride to work with it, I ride to friends," he said.
Robinson, who graduated from North Idaho College and was the student body president there two years, says his goal is simply to finish all 140.6 miles of the race on Sunday.
"Under 15 hours would be nice," he said.
No matter what happens, this big loser is a winner.
Recent Headlines
---