Older, but wiser Barista returns from injury for 2nd Ironman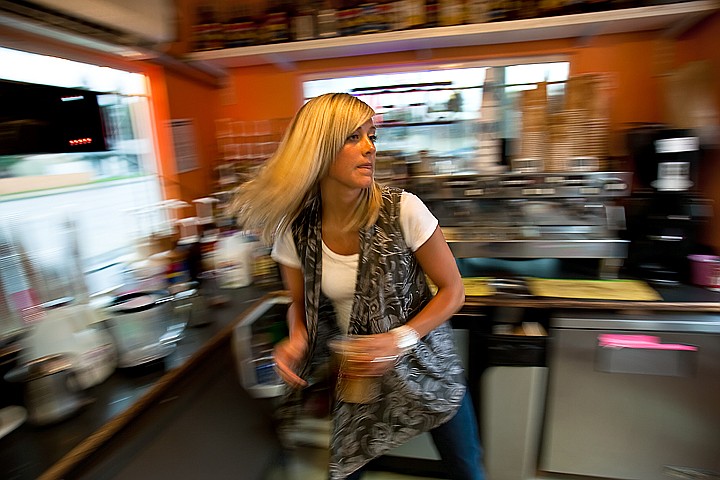 <p>Barista and Ironman competitor Aly Houghton hurriedly prepares a blended coffee beverage for a customer at the Lean Bean coffee stand at Twelfth Street and Sherman Avenue.</p>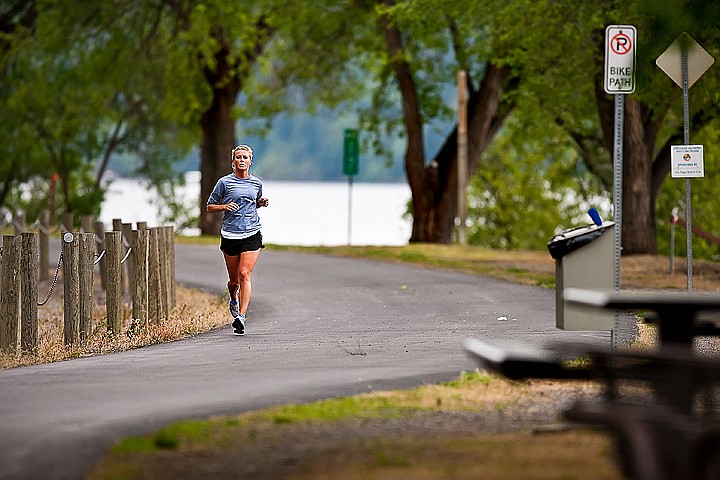 <p>Aly Houghton of Coeur d'Alene goes for a training run out the Centennial Trail near Bennett Bay of Lake Coeur d'Alene on Sunday in preparation for next weekend's Ironman Triathlon.</p>
Previous
Next
by
BILL BULEY
Staff Writer
|
June 21, 2010 9:00 PM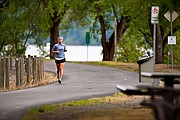 COEUR d'ALENE - There she was, just 18 years old, cruising along on her bike about 70 miles into her first Ironman Coeur d'Alene, and feeling good.
Another 42 miles, and Aly Houghton would be into the final stage, a 26.2-mile run, the strength of the three-leg race for this soccer player.
That's when it happened.
As she was holding the aero bars, Houghton reached for her water bottle.
"I was kind of not really paying attention," she said as she recounted the 2008 incident. "I reached and then I flipped over my bike."
The slender blonde landed head first and was dazed as help began to arrive. Paramedics huddled around to determine her injuries.
"They thought I had a head injury," she said.
But after more evaluation, they decided she could continue, and got her back on her banged up bike. She completed the bike ride, and pushed through an agonizing run to finish in 13 hours, 54 minutes.
Boy, did it hurt.
"It was just really painful," said Houghton, who suffered a broken tailbone in the accident. "I was really sick afterward."
So sick in fact, she visited the medical tent and her body's core temperature had dropped into the low 90s. It would take an entire summer to completely recover. Such anguish might scare off others from taking another crack at Ironman. They might say, "Enough already."
Not Aly Houghton.
The 20-year-old is back.
After sitting out last year's Ironman Coeur d'Alene while recovering from the injury, the 2008 Lake City High School graduate is ready to ride once more.
"I had some free time and decided to sign up for it," she said with a smile. "I was itching to do it again."
The daughter of Randy and Janis Houghton of Coeur d'Alene played four years of varsity soccer at LCHS and earned a scholarship to North Idaho College.
She recently finished her studies at NIC and will be headed to the University of Arizona, where she plans to pursue a bachelor's degree in nursing.
She has also worked the past year at Lean Bean coffee stand at 1207 E. Sherman, which is sponsoring her this year.
"I love it. It's an awesome job," she said Sunday morning during a brief break from quickly serving up an array of specialty coffee drinks.
Houghton had never even completed a triathlon when she signed on to compete in Ironman Coeur d'Alene at age 18, one of the youngest in the field.
She recalled watching a woman finish one year and deciding to herself, "She can do it. Why can't I do it?"
"I just wanted to try it out," Houghton said.
This year, between work and school, the self-trained triathlete often managed to get in twice-daily sessions of biking, running or swimming. Like 2008, she's feeling good and hopes to beat her time of two years ago.
"I'm really nervous," she said.
And this year, she promises to be careful when reaching for water.
Recent Headlines
---