Stepping back in time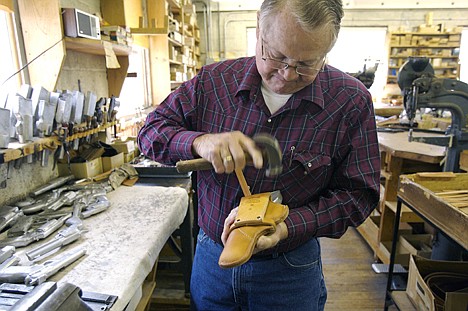 <p>Ben Wetzel, owner of the Idaho Leather Company in Boise, makes a holster on May 25. Wetzel's shop harkens to an era of hand-made and hand-crafted. Some of the machines in his shop date before 1900.</p>
BOISE - Stepping into Ben Wetzel's leather shop is like setting your watch back 60 years.
He has a sewing machine that he runs with two worn foot pedals and stops by grabbing a cast-iron wheel.
"My dad sewed on it when I was a kid," he said. "It was old then, and that was in the 1940s."
The shop was built in 1945.
Its oldest machine, a leather splitter, was made in 1872. Its original power source: a waterwheel.
"Why would I get a new one?" he asked. "The old ones work better."
His newest tool, another sewing machine, is almost 40 years old.
Wetzel has worked in the Idaho Leather Co. shop virtually all his life.
"I quit for a month once to work in a funeral home. I was going to be a funeral director, but it got too depressing."
So, he returned to the shop and, except for a machinist's apprenticeship in California, has been there ever since.
"I've made a few holsters," he said.
A few as in thousands - holsters, belts, wallets, scabbards, cartridge cases, rifle cases, motorcycle bags, saddle bags, knife sheaths, snowshoe bindings.
This spring, he found one of the first holsters he ever made for sale on eBay. Initially priced at $14, it's worth $225 today.
Wetzel taught himself most of what he knows about working with leather. Both of his parents worked at the shop, founded by a man named Royal Eubanks in 1939, but he learned by buying tools and supplies at a leather craft shop and practicing on his own. His father purchased the business in 1955; Wetzel bought it from him in 1969.
He sells to sport shops, police officers and recreationists and has customers as far away as Japan.
"People in Japan like small, Mom and Pop shops," he said. "I guess that's what I come under."
The first thing visitors notice when entering the shop is the essence of leather. Wetzel has spent so much time there he doesn't smell it anymore.
He prides himself on using high-quality leather from Kentucky.
"A lot of things say they're genuine leather, but they're just garbage," he said. "I use top-grain leather."
Top-grain refers to the top surface of the leather, next to the cow's hair. The best leather, Wetzel says, is from the shoulder of the cow back.
Holsters are among his best-sellers and favorite things to make. He starts by cutting the pattern with a dye. Next he wets it, thins parts that need thinning, punches holes where needed, stamps the brand and style code, glues and sews the leather together, wets it again and shapes it on a blocking post. Then he inserts a model of the gun and gently hammers the holster to create its final shape.
From a sheet of leather to a finished holster takes him about 25 minutes, though some styles take longer.
Most of his holsters cost between $50 and $100. The most expensive thing he's ever made is a hand-tooled gun case: $3,000.
"The way to appreciate what he does is to try it yourself," repeat customer Leonard Young said. "I did, and it didn't turn out so well. Master craftsmen like Ben are disappearing. Everything's computerized; the trades just aren't around anymore. People don't want to spend the money."
They do for Wetzel's work, though - as evidenced by a three-month waiting list for his products.
"I still keep plenty busy," he said. "My wife wants me to retire, but if I did that, I'd have to go to Walmart and be a greeter. So I might just as well stay here."
Recent Headlines
---