Post Falls Library children's room dedicated to Frank, Lillian Henderson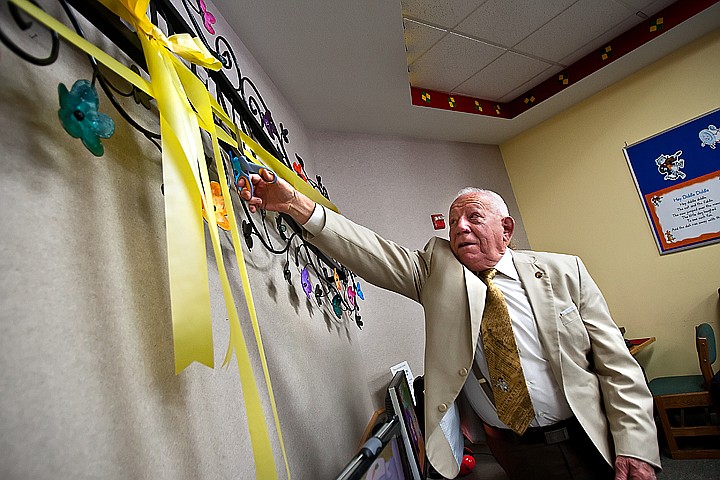 <p>Former Mayor of Post Falls Frank Henderson cuts the ribbon at the dedication of the Henderson Children's Library at the Post Falls Public Library on Saturday.Frank credited the tireless dedication of his late wife, Lillian, as well as the persistence of the community striving to improve the wellness of the city as a whole.</p>
by
David Cole
|
June 20, 2010 9:00 PM
POST FALLS - The children's room at the Post Falls Public Library was dedicated and renamed Saturday, commemorating the community work of Frank Henderson and his late wife, Lillian.
The room has been given the name the Henderson Children's Library.
Frank Henderson - the former Post Falls mayor, Kootenai County commissioner, Post Falls Tribune owner, and current state representative - was there to cut the ribbon on the newly remodeled room.
With two of the couple's five children by his side, Frank said Lillian "would look for every opportunity to not just entertain children, but to educate them."
About 35 people attended the dedication at the library.
Lillian Henderson, who died in 2005 at age 78, was a long-time library volunteer. She worked hard to share with children the joy of reading, and to improve the children's collection at the library.
The Henderson family established a special fund to honor her library work and her desire for children to read and love books at an early age. The fund, named "Lillian's Library for Little-Ones," is used to enhance the library's established children's program.
For years, she also was a volunteer "cuddler" in the newborn nursery at Kootenai Medical Center, because of her love of children.
While more people might be familiar with Frank's service to the Post Falls community, he said Lillian worked just as hard for others here.
"While I was doing all these things that made newspapers, Lillian was pursuing her passion and was doing those things of service which many of you are doing now in your own way," Frank told the audience.
Lillian and the Henderson family will be remembered by her work.
"We're grateful for that," he said.
Joe Tilton, a former Post Falls Library board member, said, "She would be most appreciative to see that her work has been carried on in this way."
He knew Lillian through his work on the board.
"She has always been very active in supporting the library, and especially the children's reading programs," Tilton said.
A letter from Lori Otter, the First Lady of Idaho, was read at the dedication. Otter is an author of children's books.
"It is an honor to recognize Lillian Henderson and her inspiring vision to enhance children's lives through the gift of reading," Otter's letter read. "The Henderson Children's Library is a physical expression of the countless hours that Lillian dedicated to reading to children over the years, and the influence of that legacy on generations of lifelong learners."
Bob McClure, a longtime Post Falls resident and friend of the Hendersons, said Lillian was "really a pleasure to work with in boosting the library."
They were connected through their work as part of the group Friends of the Library and the Post Falls Public Library's used book store Twice Told Tales, said McClure, who now lives in Coeur d'Alene.
McClure, who wasn't able to attend the dedication, said he and his wife, Marge, are "doubly pleased to see Lillian get this honor. It's entirely appropriate."
Recent Headlines
---