Ice Man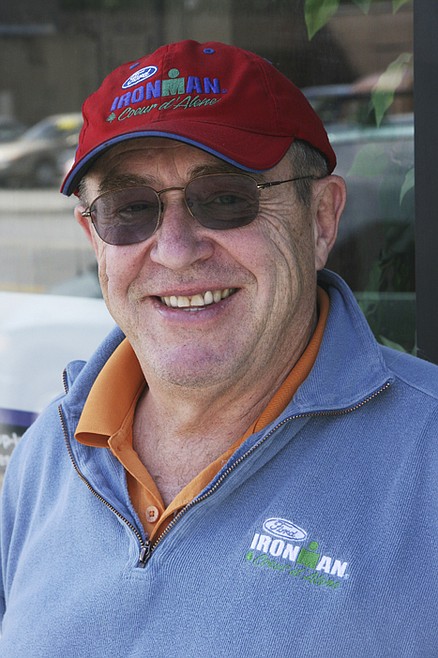 <p>Howard Martinson is the Ice Man of Ironman Coeur d'Alene</p>
by
BILL BULEY
Staff Writer
|
June 20, 2010 9:00 PM
COEUR d'ALENE — On Tuesday, Howard Martinson will undergo another session of chemotherapy to fight the cancer in his body.
Five days later, he'll take on his traditional role for Ironman Coeur d'Alene: The Ice Man.
Since 2005, the 61-year-old has been the point man when it comes to being sure there's enough ice on the course for the bikers, runners and volunteers.
That's 20,000 pounds worth of frozen water. If it's hot — and the long range forecast is calling for clouds and temperatures in the 70s on race day — it will be a day of hustling and hurrying for the ice crew in their golf carts.
If it's cold, like last year, well, they can relax. Let it melt.
"On the hot years, we're very, very busy. There were years we couldn't keep up with the demand. They were all crying for ice," Martinson said, laughing. "Last year we couldn't give it away. We ended up using almost no ice. It was like trying to give a hat rack away to an elk. Nobody would take it. They wanted hot soup."
But no matter, "Howard the Ice Man" will be ready to roll.
There are several distribution points, including Independence Point, Dalton City Hall, Northern Lakes fire station, and the Beachhouse Restaurant.
From there, Martinson and a dozen members of his ice team maintain a chain of delivery to the aid stations. Not just ice, but lunches, drinks and snacks, too.
Runners sometimes drop ice in their hats and plop it back on their heads. Or it might be used to keep food and drinks cool.
"Everything that needs to be kept cold," he said.
There have been years the ice supply has run dry, but Martinson comes up with ways to find more.
"Sometimes, they'll let us draw more from the medical tent, but of course they're very protective," he said.
He loves being an Ironman volunteer because it's fun, everyone is friendly and both athletes and volunteers always offer thank yous.
"And what a great place to watch the race from, running around in a little golf cart," he said.
Martinson, who is executive director of Fresh Start, a nonprofit in Coeur d'Alene dedicated to helping the homeless, was diagnosed with bone marrow cancer in February.
Doctors caught it early, so the prognosis is good and he began three-times-a-month chemotherapy treatments in April.
"I really truly feel just fine," he said.
But since the arrival of cancer in his life, Martinson has developed his own kind of bucket list.
"If it's not fun, I'm not going to do it," he said. "It's either got to be fun or with family or something healthcare related or worthwhile, or else I'm not going to do it."
Fortunately, being Ironman's Ice Man is his idea of a good time. He said he didn't consider pulling back this year while he fights cancer.
"Definitely, Ironman fits into the fun part of it," he said, smiling. "At this point in time, I'm not willing to let the cancer take over my life."
Not at all.
On Monday, there are swimming lessons with the grandchildren. And maybe he'll fit in a bike ride too, check in at Fresh Start and spend time with his wife, Teresa, too.
"I have a life, I happen to have some cancer," Martinson said. "I'm not putting life on hold while we work on this."
Recent Headlines
---