Cyrus 'Can't Be Tamed' on new album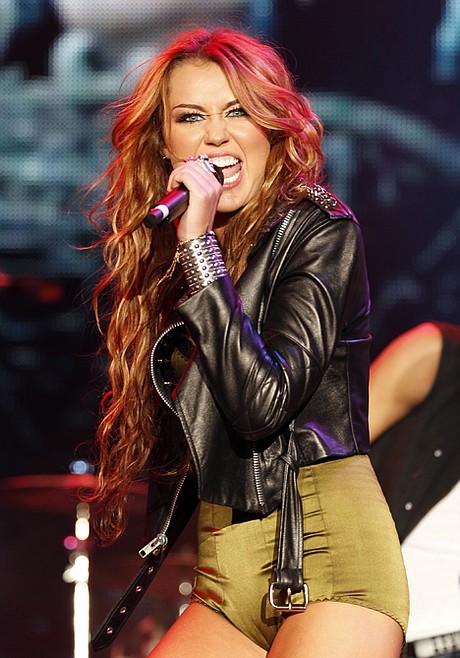 <p>In this May 29, 2010 file photo, American singer and actress Miley Cyrus performs during her concert at the Rock in Rio music festival in Lisbon.</p>
by
Hilary Fox
|
June 20, 2010 9:00 PM
LONDON - Miley Cyrus won't be told what she should wear or what she should sing about.
The 17-year-old is releasing a new album, "Can't Be Tamed," and is doing it her way, though some say she is going to too far for her age.
"I'm not trying to be 'slutty,'" said Cyrus in a recent interview. "I'm not trying to be like, go to the club and get a bunch of guys ... What I'm trying to do is to make a point with my record and look consistent, in the way my record sounds and the way I dress."
What she wears has been put under the spotlight recently. Some thought the video for "Can't Be Tamed" was too provocative, and others have criticized her for revealing too much skin in her outfits.
Cyrus admits to being partial to shorts and hot pants. But she sees nothing wrong with flashing her legs.
"I'm really comfortable with my body, I work really hard to be fit and to know that I can wear whatever makes me most comfortable. I feel more comfortable dressing with a little less, which is just how I've always been," she said.
"Now I'm able to do that a little more freely and, also, I've just grown up to be this way too. It's not like this was me five years ago. It's me now, presently."
Maturing is Cyrus' current mission.
She'll finally shed the blonde wig of her Disney pop star persona, "Hannah Montana," when it ends this year. Then Cyrus will be free to embrace her solo stardom and sex appeal.
"When you're 11, the word you would use to describe someone is definitely not sexy, and as you get older I think you grow into that. And I think I've done that but that's not my schtick. That's not what I'm trying to do to sell records. I want people to buy my record because of my music."
"Can't Be Tamed" is out on Monday.
Recent Headlines
---