Operation: 'Build and Beautify'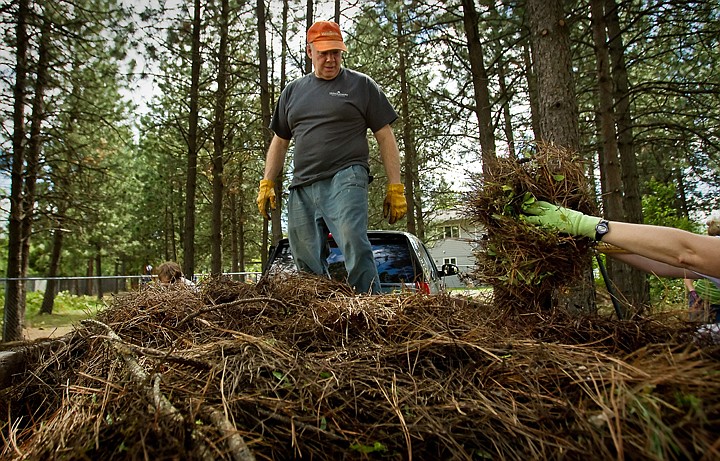 <p>Wayne Stephens waits for more piles of pine needles to be dumped in his trailer so he can compact them Friday at Children's Village in Coeur d'Alene during the Windermere Community Service Day.</p>
by
BILL BULEY
Staff Writer
|
June 19, 2010 9:00 PM
COEUR d'ALENE - At 0900 hours Friday, "Operation Build and Beautify" was launched.
An estimated 150 Windermere/Coeur d'Alene Realty agents and family members swooped in on Children's Village. Their weapons included weed eaters, rakes, brushes, rags and a willingness to work.
By 1400 hours, there was no doubt: This operation was a success.
"The bottom line is, it's for the kids, it's for the children," said Richard Jurvelin, architect of the battleplan and a Windermere/Coeur d'Alene Realtor.
The annual Windermere Community Service Day saw the home for troubled children transformed inside and out in six hours. Volunteers painted, scrubbed, trimmed, repaired, built and hauled, all to spruce up the nonprofit. They cleaned bathrooms and roofs, vacuumed, dusted, organized closets and even built a new playground.
Tinka Schaeffer, development director, said the one-day project that provides about $10,000 in labor makes a huge difference.
"It means a lot to our children when they see the community come out and support the Children's Village," she said. "They were saying, 'We don't know these people. Why are they doing this for us?'"
Don "Pepper" Smock knows why.
"It's fantastic. We love to give to the Children's Village," said the owner of Windermere/Coeur d'Alene. "This is a passion of ours at Windermere."
Smock credited the crew with being dedicated, hard-working and talented.
"This is like one of those home and garden TV shows at the end when they fast forward from how it used to look," he said as he took a break. "This is what 800 or 900 labor hours can do."
Jurvelin used his 26 years of military experience - he retired from the Army in 1991- and took charge of the day's operation.
On some tables in a garage, the day's Build and Beautify plan was outlined and marked with pictures and bullet points. Volunteers were assigned to different tasks. "Objective Fleet," included washing and detailing cars. "Objective Sport" was trimming and mowing and weeding the playfield. "Objective Miller-outside" involved pruning, cleaning gutters and sweeping.
He said they want Children's Village staff to be able to focus on the kids, not manual labor.
"The job is to take care of the kids," said Jurvelin, referred to as "General Jurvelin" by Schaeffer.
"He does not let anyone waste time," she said, smiling. "Everyone has a job to do"
But there was time for some humor, as he watched a group of men struggle to piece together the pieces of a play area complete with slides and swings that came in six boxes.
"They still haven't got it up and they've been at it since 9 a.m.," he said with a laugh. "Can you believe that?"
Schaeffer said having Children's Village bright and welcoming is important, especially when kids come there for the first time. They might be scared and uncertain of what's in store for them.
"I want them to turn into our road and see a beautiful place and not be afraid, to know that they're going to a safe place," she said.
Recent Headlines
---