Cash d'Lane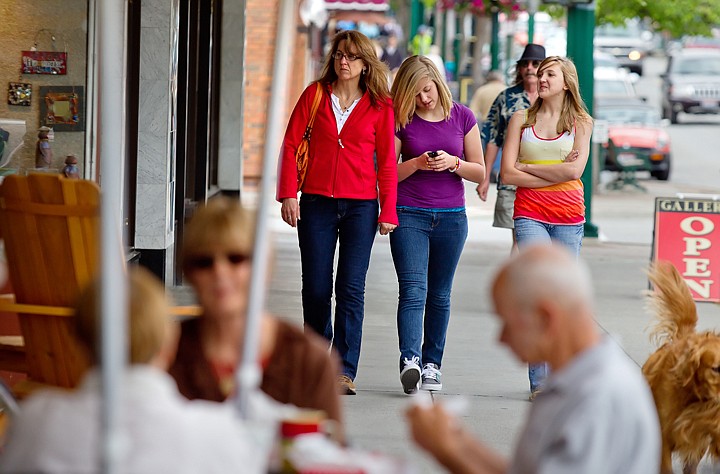 <p>Sharla Schanley, far left, and her daughters Stephanie and Sarah Badzik browse the store fronts on Sherman Avenue Friday while shopping.</p>
by
Rick Thomas
|
June 19, 2010 9:00 PM
COEUR d'ALENE - The deep rumble of street rods and customs on the streets of downtown brings with it another welcome sound - the sweet cha-ching of cash registers ringing.
It starts before lunchtime on Friday, when tables on the sidewalk of Sherman Avenue start filling with customers, and lasts until well after the awards are handed out late Saturday afternoon.
"It's the first big strong weekend, equal to the Fourth of July," said Terry Cooper, manager of the Coeur d'Alene Downtown Association, which helps organize Car d'Lane each year. "It marks the end of a long wet spring."
He hopes.
That's because an estimated 20,000 to 30,000 will head into the city for Friday night's cruise, and today's show and shine, and they don't come with empty pockets.
"It is all based on the weather," Cooper said.
Before the cruise, with about 1,000 drivers tooling down Sherman and Lakeside avenues, those who want a prime spot start putting out their lawn chairs along the curb, and many took advantage of the break in the wet weather to hit the stores and other venues of the city.
Restaurants and bars are the big beneficiaries of the spending that takes place.
"It should be the busiest day of the year," said Jerry Goggin, owner of The Beacon and Icon, where it was "all hands on deck" for Friday's surge of hungry, thirsty revelers.
"Even he is working," Goggin said, with a nod to son C.J., bussing tables for the big weekend.
Cooper agrees - Car d'Lane is probably one of the largest draws to the downtown area of any of the summer events.
"Men like to look at the cars, and the women get bored, so they go shopping," he said. "It makes for a good couples and family weekend."
Mary Jo Mitton has worked at Sandra Kay's Boutique during a couple of Car d'Lane weekends, and is filling in for Sandra, who took a nasty spill at the store on Friday, resulting in a severely injured wrist.
"Saturday is good," Mitton said. "A lot of wives come in when they get sick of looking at cars."
Always popular at the store and stocked expressly for Car d'Lane are specialty T-shirts with automotive themes.
"If it rains, maybe they'll come in for an umbrella or a hat," Mitton said.
It all makes for a frenetic schedule for the dozens of servers working the bars, restaurants and sidewalk tables, but it is worth it for the good tips, Janelle Martnick said.
This year she opened Icon at 10 a.m. Friday and planned to stay until closing at 2 a.m., serving drinks and bartending before returning at noon today to start all over again.
It's her second year working Car d'Lane. Last year she worked around the block at Canton Asian Restaurant.
"I was the only server, and I was busy all day," she said.
She expects the same this year, but is prepared.
"I try not to get flustered," she said. "Everybody keeps talking about it, coming here. It's the busiest weekend of the year. I love it. It's fun."
Recent Headlines
---