Tips for growing easy care orchids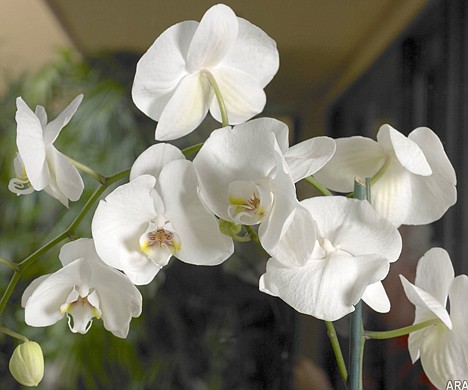 <p>Orchids make perfect "living gifts."</p>
Think orchids are just for those with green thumbs and garden aprons filled with gadgets and secret instructions?
Think again. Now there are no-fear orchids for everyone that will reward you with fabulous blooms for months on end.
"Orchids are really easy to grow," says Justin W. Hancock, editor of Better Homes & Gardens online (BHG.com). "The array of varieties, spectacular colors and exotic shapes makes them the perfect decorative choice to add beauty and style to every home."
According to Hancock, Phalaenopsis or "moth orchids" are the perfect choice for beginners. "Besides being the most popular, they are the easiest to grow, rewarding you with months of showy blooms with little to no effort," Hancock says.
These brilliant blooming machines, which also come in miniature versions, make perfect "living gifts" for birthdays, housewarming parties and teacher gifts, and will bloom for weeks, even months. Plus, they are a great way to spruce up your home or office without breaking the budget.
Take the plunge
Orchids are a true attraction. Few can pass a display of these beauties without being captivated by their delicate petals cascading in graceful arcs, seeming to defy gravity. But many people are stumped about which variety to try, how to care for it and how to make it bloom again.
"Orchids are generally very forgiving, and it's not difficult to keep them alive long enough to stumble upon the perfect combination that will reward you with a breathtaking floral display," says Suite 101 garden writer Tami Port. "Don't lose heart. The long-lasting blooms make every flowering orchid an economical bouquet. You can't lose." Easy care orchids come in a wide variety of colors in both 4-inch and 6-inch pots and are available at your neighborhood retailer.
Here are a few easy tips to grow orchids that will reward you with blooms for months:
Quick tips for success: easy as ABC
n Always wait until the bark or moss is almost completely dry before watering. The most common reason that indoor plants die is overwatering. Depending on the type and season, most orchids should only be watered about once a week. Allow them to dry out before re-watering. And never leave your orchid in standing water.
n Be sure to keep your orchid out of direct sunlight. Rather than moving them all over the home, place them in a well-lit area, but not in direct sunlight. If the plant gets too little light it will not bloom. Direct sunlight is a definite no-no for these plants. If exposed to direct sunlight their leaves will suffer sunburn and become unsightly with black splotches. Remember, the larger the leaf of your orchid, the less light it needs.
n Confidence that you will be successful in growing your own orchids
For more tips on growing these and other easy-care orchids or to find a retailer near you, visit www.costafarms.com/orchidsareeasy. And remember, orchids are more than just a pretty face. They provide oxygen and are great natural air filters that clean indoor air of carbon dioxide and many indoor toxins. And since orchids do their "heavy breathing" at night, they are perfect bedroom buddies. Learn more about the fascinating world of indoor plants at www.O2foryou.org.
- Courtesy of ARAcontent
Recent Headlines
---