NightHawk to reduce workforce, footprint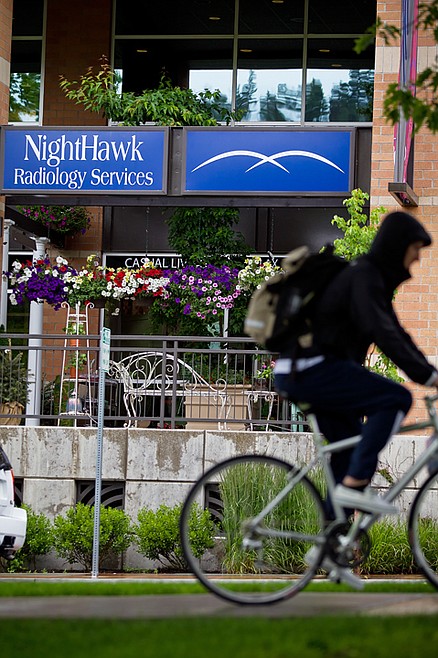 <p>NightHawk Radiology is once again downsizing the staff in its Coeur d'Alene office, along with the amount of space it leases in Parkside on Front Avenue.</p>
by
Rick Thomas
|
June 18, 2010 9:00 PM
COEUR d'ALENE - NightHawk Radiology says it will close a portion of its Coeur d'Alene offices, along with others, in a cost-cutting move.
In a June 16 report to the Securities and Exchange Commission the company, now headquartered in Scottsdale, Ariz., said it "has committed to closing un-needed offices in San Francisco, Austin, Texas, and a portion of its office facility in Coeur d'Alene."
A total of 35 employees are expected to be laid off as the company seeks reductions in annual operating costs of about $4 million.
Andrea Clegg, investor relations spokeswoman for NightHawk in Coeur d'Alene, said only a few, maybe a half dozen, of the roughly 100 employees in the Coeur d'Alene office are being laid off, with some being offered positions in other offices.
"We will still have a large presence in Coeur d'Alene," she said. "It makes sense to consolidate when we have seven or eight offices around the world. We want to remain competitive, so we are reducing costs."
The company is vacating one small suite, about a third of a floor, of its offices. Originally 24,000 square feet of space was occupied by NightHawk on the third and fourth floors of Parkside, and that has been reduced by about one third, Clegg said.
NightHawk, which provides overnight radiology reports, reported a net loss of $19.2 million in the first quarter of 2010.
In the SEC report NightHawk says it will incur restructuring costs of about $1.1 million, including $600,000 in lease disposal charges, $200,000 in asset write-off charges and $300,000 in employee severance costs as it closes its offices in Austin and San Francisco.
Those were small operations with only about five radiologists and no administrators, Clegg said.
NightHawk is in a dispute with St. Paul Radiology in Minnesota. That company has since September sought to dissolve an agreement with NightHawk, claiming breach of contract, after selling its business services division Midwest Physician Services and its after-hours teleradiology division Emergency Radiology Services to NightHawk for $62.5 million three years ago.
NightHawk said in its first-quarter report "Although we continue to believe such claims of breach and their related allegations of damages are without merit, we have also continued in discussions with St. Paul Radiology in an attempt to resolve the dispute and discuss a mutually acceptable dissolution of the original arrangement of the parties. In recent weeks, as a result of continued discussions between us and St. Paul Radiology, the parties have made substantial progress toward achieving a negotiated resolution."
Clegg said little has changed since that May 6 report.
If resolved as contemplated, the parties would terminate their existing relationships and unwind the July 2007 transaction, NightHawk said in the report. NightHawk would receive an up-front payment from St. Paul Radiology of $10 million and ongoing periodic payments totaling $14 million. In addition, concurrently with the termination of the agreements with St. Paul Radiology, NightHawk would also enter into a separate agreement pursuant to which we would they would sell Midwest Physician Services, LLC and Emergency Radiology Services, LLC and their related assets for a total of $2 million.
If the transactions are consummated, NightHawk also expects a tax refund of about $10 million resulting from the loss incurred in the transactions, and it intends to pay the entire $36 million as principal repayments on its existing term loan, with $26 million to be paid following closing of the transactions and the remaining $10 million to be paid on or before June 30, 2011.
NightHawk Radiology opened in 2001 with three employees and grew rapidly from three employees to an estimated 500 in all its offices internationally, including Sydney, Australia, and Switzerland. The company employs U.S.-trained American Board of Radiology certified physicians to provide overnight radiological services to hospitals, radiology groups and universities across America from its facility in Sydney.
In 2004 the company received a cash infusion of $25 million from Summit Partners, a private equity and venture capital firm.
On Aug. 13, 2009, NightHawk agreed to repurchase 3 million shares of its common stock held by the company's founder and former chairman, Dr. Paul E. Berger, for $4.63 per share.
In the past year the company's stock (Nasdaq:NHWK) has traded as high as $7.75, with a low of $2.66. On Thursday it closed at $3.05, up from the opening price of $2.94 the day after the report was filed.
In March many of its top corporate officers were relocated to Scottsdale.
The space they vacated was subleased to law firm Lukins & Annis, said Monte Miller, partner in Miller Stauffer Architects, owners of Parkside.
"They are getting more efficient, like everybody else," Miller said.
Recent Headlines
---