Floods roar through France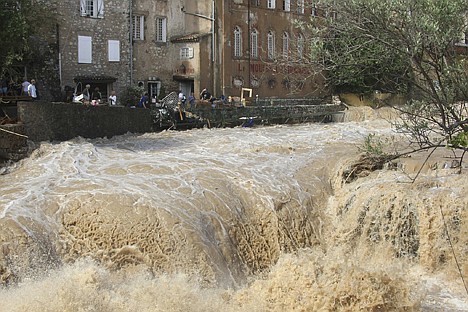 <p>The river Artuby floods the streets in Draguignan, southern France, Wednesday, June 16, 2010. Regional authorities in southeastern France say at least a dozen people have been killed and many are missing in the aftermath of flash floods that followed powerful rainstorms.Unusually heavy rains recently in the Var region have transformed streets into muddy rivers that swept up trees, cars and other objects. (AP Photo/Lionel Cironneau)</p>
DRAGUIGNAN, France (AP) - At least 19 people were killed in flash floods that hit the back hills of the French Riviera on Wednesday and turned streets into rivers of surging, muddy water, officials said.
There was confusion about how many people were missing in the flooding that washed over picturesque towns and left them standing in yards of brown water, a press officer at the local Var region prefecture said. But probably at least 12 people were unaccounted for, the official said on condition of anonymity in keeping with her job's regulations.
Interior Minister Brice Hortefeux, visiting the region, said the death toll "unfortunately, may climb."
The floods swept away cars, trees and parts of houses in a downpour that devastated the picturesque region in the hills behind a portion of the Riviera, a magnet for tourists. Coastal towns where tourists flock, Frejus and Roquebrune, also were hit.
Eleven of the deaths were in Draguignan in the Riviera back hills scattered with olive groves and small vineyards.
Nearly 3,000 rescue workers poured into the region, joining 650 police, the prefecture said. Nearly a dozen helicopters worked overnight Tuesday to evacuate people trapped by floodwaters, which reached about 6.5 feet high in some areas.
It was the second time in less than four months that France has coped with major weather-related disasters. On Feb. 28, at least 52 people were killed when a storm named Xynthia swept through French coastal communities on the Atlantic with waves smashing dikes.
On Wednesday afternoon, about 1,200 people were in shelters, and tens of thousands were without electricity or phone service, the Var government said.
Recent Headlines
---