Blessed are the consigned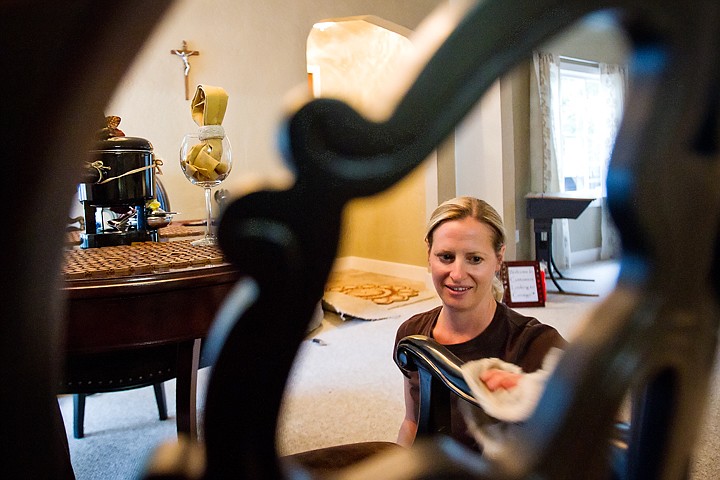 <p>Mary Newman, owner of St. Joseph's Consignment Furniture and Decor in Coeur d'Alene, dusts a chair Wednesday while preparing to open her downtown shop.</p>
COEUR d'ALENE - A former business development director from Chicago has taken her life in an entirely different direction, with the opening this week of a new shop downtown.
By Saturday, Mary Newman will have St. Joseph's Consignment Furniture Decor open.
"It is from all over," Newman said, "Not necessarily antiques."
The former art studio at 908 Sherman Ave. has been freshened up with plush carpeting, and each room of the former house is being decorated with complementary items.
A bedroom includes a bed with four tall posts from Bombay, with an antique dresser and other items accenting the room.
The bathroom doubles as a display for the scented soaps she makes for sale.
Some of the merchandise is her own, while much is consigned. Newman has a personal preference for darker woods such as mahogany and cherry, so those colors are prominent throughout the store.
"I have always loved putting pieces together, and designing," she said.
The harsh fluorescent lights that worked well for the art studio are being replaced by chandeliers that better illuminate the goods on display.
Raised in New York's Pocono area, Newman has family in the Coeur d'Alene area and moved here in November.
"I decided this was the place," she said. "For me it was a change of place. I love the landscape."
She began preparing for opening at the beginning of June after signing a lease for the building, beginning outside planting flowers.
"Moving the rocks was the hardest part," she said.
Part of the preparation was readying the front entrance for patio furniture hand-made in Florida. The same craftsman also creates items including a tray made from a real banana leaf, then covered in clay and fired to a glazed finish.
Furniture is the most prominent product, but the walls are trimmed in a variety of accents and hangings.
There is also a full basement, and Newman hopes to expand if business goes well.
She suggests those interested in consigning items to e-mail her photos at stjosephsconsignment@gmail.com.
The store hours are 11 a.m. to 7 p.m. Tuesday through Saturday, and on Mondays she will make appointments to examine prospective inventory. The typical price split is 50-50, she said, but there will be exceptions for some items.
There will be a wide range of prices, from basic decor items to pieces in the thousands of dollars.
And yes, there is a particular reason for the name of the store.
"Furniture, especially to women, has meaning," Newman said. "You remember where you bought a piece."
That can be especially true if it relates to the death of a loved one, she said, and St. Joseph is the provider and protector.
"All furniture will be blessed, by a priest friend," she said.
Information: 446-6824
Recent Headlines
---