Always ready to Tri something new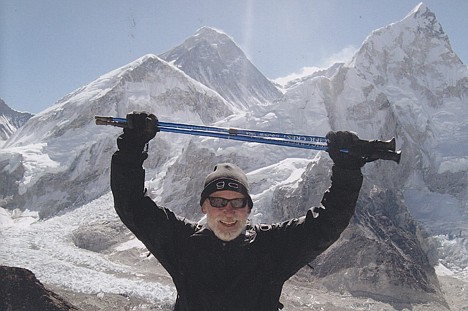 Always ready to Tri something new
by
BILL BULEY
Staff Writer
|
June 17, 2010 9:00 PM
COEUR d'ALENE - Fun, for someone like Gerard Connolly, is camping three nights at 17,000 feet. Even when it hurts to breathe. Even when it's so cold at night it's hard to sleep. Even when you know you still have to make the trek back down.
COEUR d'ALENE - Fun, for someone like Gerard Connolly, is camping three nights at 17,000 feet.
Even when it hurts to breathe.
Even when it's so cold at night it's hard to sleep.
Even when you know you still have to make the trek back down.
"Those nights were pretty uncomfortable," Connolly said.
But then, he also said this about his visit to Nepal and hiking to the Mount Everest base camp at 17,600 feet and beyond.
"It was probably the greatest adventure of my life," he said.
Connolly, owner of Tri-State Outfitters in Coeur d'Alene and three other Tri-State stores in the region, spent two weeks recently in Nepal and even reaching Kala Patthar at 18,500 feet for a short time.
All to see the highest point on Earth.
It's been on his bucket list for a long time, and after reading Jon Krakauer's book, "Into Thin Air," he had the desire to learn more, to see more, to experience more.
"I was intrigued by that whole mountain climbing culture," the Moscow man said. "But the more I read about it, the less I want to climb Mount Everest, I just wanted to get in there and see it."
So Connolly, 58, signed on with REI Adventures and headed out April 8 with four others for the other side of the world. The nonstop plane ride from Los Angeles to Bangkok, Thailand, was 17 hours, 40 minutes. Next was a three and a half hour flight to Kathmandu, and a few days reprieve there before a final short flight on a 15-passenger plane to Lukla, a town in eastern Nepal around 9,000 feet.
"That's where the trek began," he said.
They had nine days to get to the Everest base camp. Their first stop was Namche, at 11,300 feet and two days to get acclimated to the thin air. That was also their first time to view the majestic, the mighty, Mount Everest.
"The weather was perfect. Every day it was blue, cloudless skies," Connolly said.
At 14,500 feet, one member of the party became ill with high altitude pulmonary edema, and had to turn back. But Connolly said with the help of 12 sherpas, and with Himalayas peaks - Pumori, Nuptse - all around, they pushed on above 17,000, where they spent two nights in one village and one night in another.
The three nights of camping in about 20 degrees, which felt colder due to the lack of oxygen, was bone chilling.
"It was hard to breathe," said Connolly, who has twice climbed Mt. Rainier, for his 50th and 55th birthday.
But the view was amazing, especially at Kala Patthar, where they spent 30 minutes before hustling back down.
"I never wanted to take my life in my hands, but I always wanted to see Everest. It lived up to and exceeded my expectations," he said. "It was beyond what I could put into words."
All told, he spent 14 days on the trail in Nepal - that's 14 days without a shower.
"The longest I've ever gone without one," he said with a laugh.
Besides the natural beauty he witnessed, he said the political unrest in Nepal and Thailand "was really unnerving," and gave him a new appreciation for living in the United States.
The Maoist, the Communist party of Nepal, is a major force and the tension between political parties is growing. As well, the people of Nepal are extremely poor, with a per capita income of about $1,000 a year.
"Whoever wins, the people themselves lose because they don't have a voice," he said.
Connolly, who ran his 41st marathon in Dublin in October, continues to own and operate Tri-State Outfitters, a business started by his father, Lee, who died in 1968. The son has been general manager and president since 1977.
The job fits the man, who runs five days a week and bikes at least two days each week.
"I call it an active lifestyle," said Connolly, who once biked nearly 550 miles on a weeklong trip through Oregon, and even ran a marathon in Glacier National Park. "That's just who I am."
What he experiences in his outings benefits customers of Tri-State, which carries an array of top outdoor gear for all seasons.
"I'm passionate about an active life and that makes me passionate about the business that I run," he said. "It matches up with the way I live my life."
Since he has traveled to Europe and Asia in the past year, he's not planning any more trips - but an adventure in Africa might be out there.
"Anytime you travel, I think it's good for you, but I have to be careful what I say," he said with a laugh during a phone interview. "My wife is sitting right there next to me."
Connolly, by the way, turns 59 this week.
Don't expect his birthday celebration to settle for the traditional cake and ice cream.
"Maybe I'll bike a 59 miler," he said.
Recent Headlines
---