Residents urged to 'dump the pump'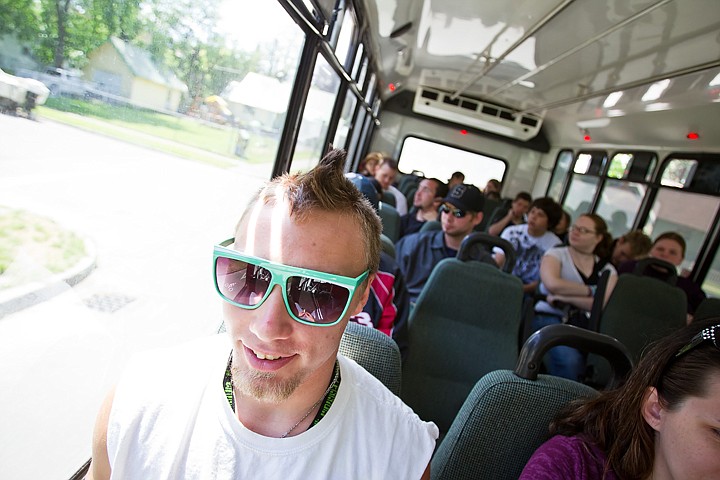 <p>Steven Cox rides the Citylink bus to reach his destination Tuesday in Coeur d'Alene. Commuters across the nation will save money at the pump Thursday by riding their local public transit system as part of "Dump the Pump Day."</p>
by
Brian Walker
|
June 16, 2010 9:00 PM
POST FALLS - Judy Johnson would like others to join her on Thursday for national "Dump the Pump Day" by riding a public transit system instead of driving.
The Post Falls woman regularly rides Citylink for free to Coeur d'Alene if she's not in a hurry.
"It's just the right thing to do - for the environment and the wallet - if you can," she said on Tuesday before boarding a bus.
Johnson said she was unaware of the special day, in its fifth year and dedicated to creating awareness about local public transit services and its advantages. But she'll be participating in it anyway as she'll be taking the bus again to shop on Thursday.
With the recession lingering and never-settled gas prices, the Community Transportation Association of Idaho encourages people to "dump the pump" for the day. Gas prices averaged $2.80 per gallon in Coeur d'Alene on Tuesday and $2.90 in Post Falls, compared to the country's average of $2.70, according to AAA.
"I don't know if anyone is against saving a buck every now and then," said Alan Eirls, Citylink director.
According to the latest American Public Transportation Association Transit Savings Report, individuals in a two-person household can save an average of more than $9,000 annually by downsizing to one car.
Eirls said he believes Kootenai County could be on the verge of mandatory vehicle emissions testing to clean up the environment if growth continues. While the testing is foreign to local motorists, other areas are well aware of the costs involved and the ozone is continually monitored by the Idaho Department of Environmental Quality.
Eirls said, as a Washington resident, he pays $15 per year per vehicle to have it tested. It can easily cost $200 to $300 to bring it up to standard, and Eirls said he spent $600 last year on engine work.
"It can get pretty pricey," he said.
It's something riders like Shane Moser of Post Falls wants no part of. He occasionally rides the bus to skate parks when his car isn't running properly.
"I think if everybody did their part and rode the bus at least every now and then, it would help," he said. "Yah, you may not get there quite as fast, but if you're not on a timeline, why not?"
Eirls said that, after five years of service, the public is catching on.
Citylink ridership in May 2007 was 18,170, while last month's ridership was 45,000. The last several months have hovered between 42,000 and 45,000.
The most popular route is Hayden-Coeur d'Alene, squelching the early belief that the bus simply dropped people off at the Coeur d'Alene Casino.
"Once that perception changed, the numbers really started to grow," Eirls said.
Eirls said Citylink has not moved to green buses that use alternative fuel like some other agencies because they cost more than $200,000 compared to $138,000, and there are limited local sources that sell the fuel.
But the operation continually tweaks its routes if it has low ridership, he said.
Johnson said that since public transit is a cheap option that helps the environment and has bicycle racks and wheelchair lifts, she hopes more people will at least explore what's available.
Recent Headlines
---