Pipe bomb closes U.S. 95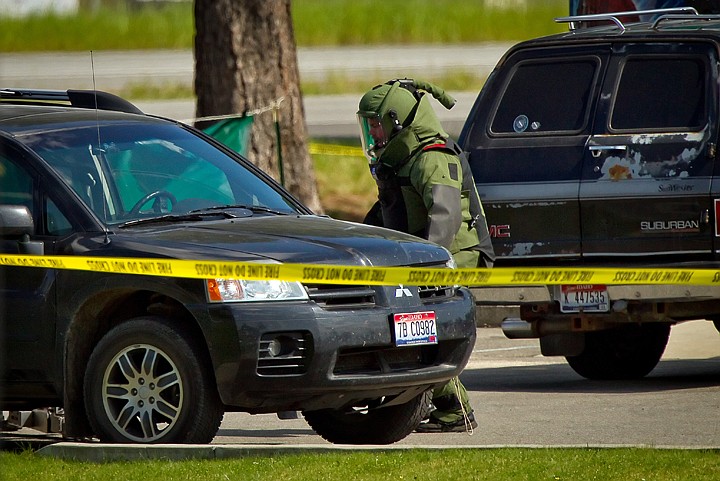 <p>A bomb disposal technician approaches a sport utility vehicle Tuesday that had a suspected explosive device attached to the underside of the vehicle. A service station worker found the device when it was brought to the Fast Lane Quick Lube on U.S. Highway 95 and Bosanko Avenue. The vehicle is owned by Edgar J. Steele, a lawyer currently facing charges after he allegedly arranged to hire someone to kill his wife and mother-in-law.</p>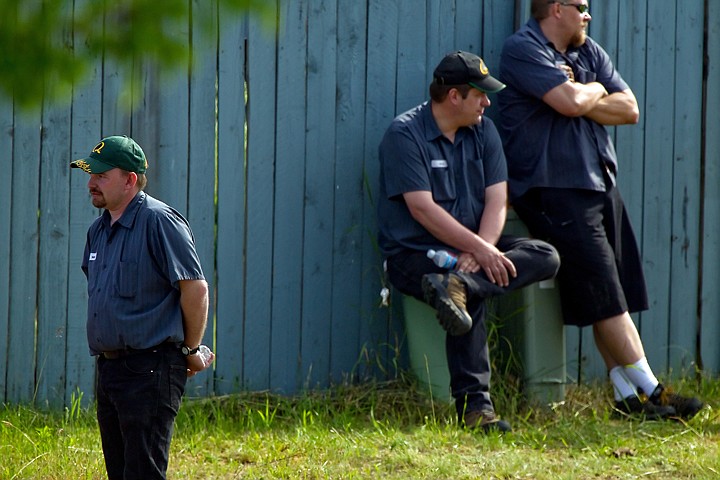 <p>Charles Tryon, a service technician at Fast Lane Quick Lube, and his coworkers were evacuated from their work for more than four hours while a suspected explosive device they found on a car was removed.</p>
Previous
Next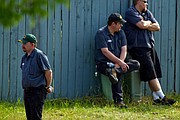 COEUR d'ALENE - A suspected pipe bomb was discovered Tuesday under a vehicle registered to Edgar Steele, hours before the Sagle attorney made his first court appearance on federal charges connected to a murder-for-hire scheme allegedly targeting his wife and mother-in-law.
Service techs at Fast Lane Quick Lube on Bosanko Avenue and U.S. Highway 95 found the suspicious device around 12:30 p.m.
It was attached to a 2004 Mitsubishi sport utility vehicle a woman brought in for an oil change.
"When they lifted the car to remove the oil plug, employees observed what appeared to be an explosive device," said Coeur d'Alene Police Lt. Jay Heintz.
Workers pushed the vehicle out of the bay and called local authorities, who responded and summoned the Spokane County bomb squad.
Nearby businesses were evacuated, and U.S. Highway 95 was closed for about an hour, as an explosives technician wearing protective gear worked with a robot to locate and remove the suspected bomb for detonation.
Charles Tryon, one of the oil and lube shop employees who serviced the woman's car, said the device had a "dynamite fuse" pointed toward the exhaust and was magnetically attached to the underside of the vehicle.
Neither Fast Lane employees, nor police would release the identity of the vehicle's owner or the female driver.
"I told her, 'That's a pipe bomb on there,'" Tryon said. "It's a good thing for her we found it sooner rather than later. It was right under the driver's seat."
After the device was discovered, Tryon said the woman's son arrived at the shop and told them there have been death threats made against his mother.
Motor vehicle records show the license plate numbers and vehicle description match a car owned by Steele, who is accused of hiring an acquaintance to kill his wife, Cyndi, and his mother-in-law in a staged car accident.
A second vehicle parked outside the oil change shop was searched by the bomb squad, but police did not report finding anything suspicious.
Recent Headlines
---