Palm trees and salsa music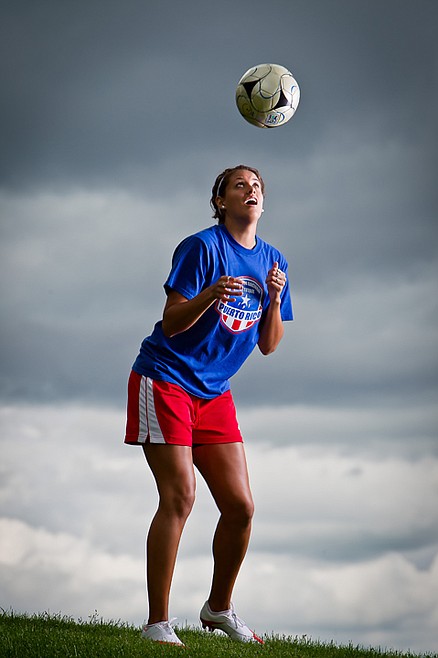 <p>Carmen Reyes, a former Coeur d'Alene High soccer standout, was selected to play for the Puerto Rican national soccer team.</p>
by
JASON ELLIOTT
Sports Writer
|
June 15, 2010 9:00 PM
COEUR d'ALENE - When approached about the idea of playing professional soccer in her grandparents' homeland of Puerto Rico, former Coeur d'Alene High standout Carmen Reyes couldn't help but laugh.
But after her father, Rusty, looked into it further, it turns out Reyes could be laughing all the way to the 2012 Summer Olympic Games in London.
Reyes, a 2007 graduate of Coeur d'Alene High and preparing for her senior season at the University of Montana, will join players from the U.S. territory of Puerto Rico during the Caribbean/Central America Games starting July 17 in Mayaguez, Puerto Rico.
"I've very proud of my heritage," Reyes said. "To play for my grandparents' home country is really exciting."
Carmen Maria Reyes is named after her great-grandmothers Carmen (Mariano) from Rio Grande and Cagaus and San Juan, Puerto Rico and Maria (Rafael Sr.) Reyes of Coamo and San Juan, Puerto Rico.
The honor is especially sweet since as her grandfather, Rafael Jr., passed away in 2007, the year before she started playing in his home country.
"He was a fanatic about soccer," Reyes said. "To be able to play for his country, him and my country is a huge honor. To hear the national anthem playing and know I was on the field and playing for him - that was a big moment."
Her journey began after her sophomore season at Montana, when coach Neil Sedgwick told her about the chance to play in Puerto Rico.
"When my coach told me about it I was in shock," Reyes said. "I didn't think that it was possible. I thought he was kidding. I never dreamed of doing something like that, especially in my grandparents' home country. My dad looked into it, searched some of the information and started making some calls."
Reyes played three months for the Puerto Rico Capitals of the Women's Premier Soccer League.
At first, Reyes had a problem communicating with teammates, but quickly adapted to the rest of her premier league teammates.
"Most of the team either speaks all English or all Spanish," Reyes said. "It's kind of funny. My friend Deslya Reyes speaks strictly Spanish. She's hard to understand sometimes, but we pull it off because we're basically sisters. I've learned how to communicate soccer with all of them."
After a successful stint in the league, Reyes rejoined many of her teammates to try out for the national team.
"I was nervous, but knew a lot of the girls," Reyes said. "I became really comfortable with them and it was a different chance. I guess I did enough during that time to make an impression. I picked up the soccer speak real quickly."
Reyes shared a flight with former Capitals teammate Ednie Limage, who was visiting the Haitian Islands when the earthquake hit in December.
"She's a super athlete," Reyes said. "She went to school on the islands and we shared a flight down to try out. She was there visiting when the earthquake hit, but made it out OK. She's definitely a thankful person."
Reyes is eligible to play due to her heritage being traced back to her great-grandfather.
"My great-grandfather was born in Santa Cruz (Puerto Rico)," Reyes said. "Because of that I had enough eligibility to compete on the team."
Reyes, who plays middle back for Montana, also played there during World Cup qualifiers.
"It really helps because I'm one of the taller (5 feet, 10 inches) players on the team," Reyes said. "I'm usually playing the side, but the move really helped me see the entire field. I know pretty much where everyone was supposed to be on the field.
Match surroundings are also intensified during matches.
"The games are a lot different than at Montana," Reyes said. "There are always cheering and music playing. The spirit of the game is different. In Montana, you've got the mountains and trees. In Puerto Rico, there is palm trees, salsa music and drums playing all the time."
Reyes will return to Missoula for her senior season in the fall.
"I've gotten more playing time in Puerto Rico," Reyes said. "To still be playing itself is a blessing."
Reyes joined the Montana team in the fall of 2007, playing in eight matches for the Grizzlies as a true freshman.
"I didn't redshirt that season," Reyes said. "I kind of got thrown into the fire right away. I didn't play much, but played enough they didn't need to redshirt me."
She started her career as a striker, but moved to forward almost instantly at Montana.
"Growing up, I was always the sweeper," Reyes said. "I always seemed to be fastest player on the team and could chase anyone down, so it kind of stuck. But defense is where my heart is. But I just enjoy shutting someone down from scoring on defense." "
Reyes has scored a goal in international play, but added it doesn't compare to playing defense.
"I have scored a couple goals, and will work hard to score them," Reyes said. "But defense is where I want to be. Shutting down another player, that's what I enjoy the most."
By placing in the top three in Mayaguez, they will advance to the 2012 Olympic Games in London.
"If we medal, we'll have a good seed to London," Reyes said. "We're just looking for any route we can to get there right now."
Getting through the games doesn't guarantee her spot on the national team past the tournament.
"Hopefully after I'm done at Montana, I'll start going back to play more," Reyes said. "I've been to the tournaments and kept in good contact with the team president. I've made some good friends, so hopefully they'll keep me in mind in the future."
Of playing beyond the college level, Reyes knew she wanted to keep playing, but wasn't sure how.
"I always knew I wanted to keep playing after high school," Reyes said. "I was looking at some Division III schools and basically sent letters everywhere I could think of. When Montana contacted me, I thought that was going to be it as far as my playing experience."
She credits Sedgwick for opening a whole new world of soccer.
"He's always been there pushing me," Reyes said. "He's one of those coaches that can tell you good job when you do well, but won't sugarcoat it if it's bad. He's always asking more of you and you've always got to work hard for him."
But when it comes to everything he's done for her, Reyes can't thank him enough.
"He's gotten me thinking of new ways to play," Reyes said. "He's always been there to push me to the player I am today."
Sedgwick added that the experience has helped Reyes grow as a player.
"Carmen has become one of our most committed players," Sedgwick said. "I am certain her experiences in Puerto Rico have contributed to this as there is a bigger prize in front of her. To play for the country which holds so much of your family's heritage is an honor and Carmen is making the very best of it."
That experience is also something that Sedgwick believes will benefit the team.
"Consistently, we can rely on Carmen to give her very best to our program," Sedgwick said. "I am confident that her coaches with the Puerto Rican team are saying the same."
But it is also Reyes' work in the classroom that has also impressed Sedgwick.
"As a student, Carmen is exemplary," Sedgwick said. "As a teammate and a member of Griz soccer, she has been tremendous. We're all excited that she has these two unique experiences as a coaching staff."
And if all else fails, Reyes could follow her mother's Norwegian heritage to join one of their teams.
"I never saw this coming," Reyes said. "But if it doesn't work out, I could always try out for my mom's team."
Recent Headlines
---