Boys rescue runaway boat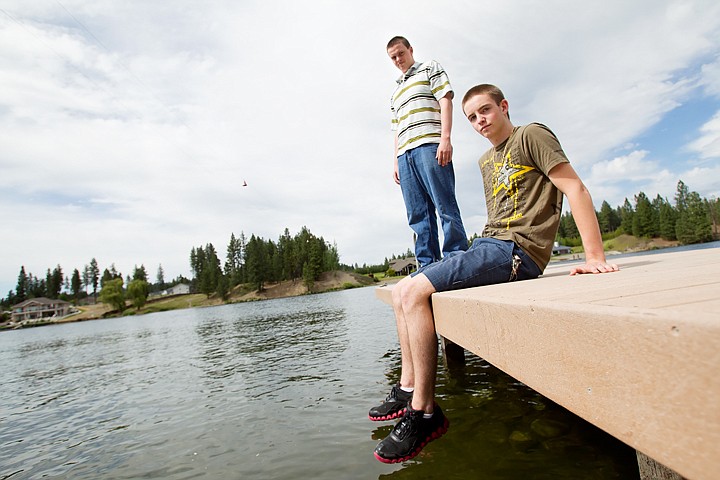 <p>Bo Berge, 17, left, and his cousin Kaleb Collins, 16, jumped into the Spokane River from a dock Sunday night in an attempt to save a loose boat.</p>
by
Alecia Warren
|
June 15, 2010 9:00 PM
COEUR d'ALENE - Bo Berge was enjoying just another night lounging on the beach at his Harbor Island home on Sunday night, he said, watching the crackling fire with his cousin.
Then they saw it.
Through the darkness, the shape of a large boat bobbing down the Spokane River.
With the cover still on.
What's going on? Berge wondered as he saw the vessel, a 32-foot Crestliner, come close to knocking into a couple docks.
Could it be the boat was loose, or people inside injured?
"Everything went through my mind," he said.
The 17-year-old decided to find out.
He scrambled to his feet and started running after the boat, shouting if anyone was there.
No one answered.
Finding he couldn't get close enough to grab it, he and his cousin, Kaleb Collins, dove into the water to try to stop it.
"It took my breath away," he said of the frigid water.
But they couldn't let it go loose, he said.
"Maybe another mile or two it would've gone into the dam," he said.
Unable to snag the boat by hand, they swam back and tracked down a neighbor to ferry them out on his boat to catch it.
No one was aboard, Berge said, and no keys in the ignition.
He managed to steer it to a dock and secure it with rope. He found the boat's title with the owner's address, and, though the hour was around 11 p.m., drove out to the owner's residence to report their discovery.
"He thought I was messing with him," Berge said with a laugh. "After I showed him his title, he said it was up on a lift, he didn't know how it could be going down a river."
Berge responded that, "All I know is it was going down the river and here's your title."
Later, upon reclaiming his vessel, the owner took down Berge's number, he said, and kept gushing his thanks.
"He hasn't contacted me yet," Berge said Monday afternoon. "If he gives me a word, cool. If not, I'm just happy I could help."
Berge, who has just joined the Army even though he has to wait another year to finish high school at Kootenai Bridge Academy before he ships out, was happy for a little adventure, he said.
"It was kind of like pre-training," he said with a laugh.
Recent Headlines
---