Symbol of our nation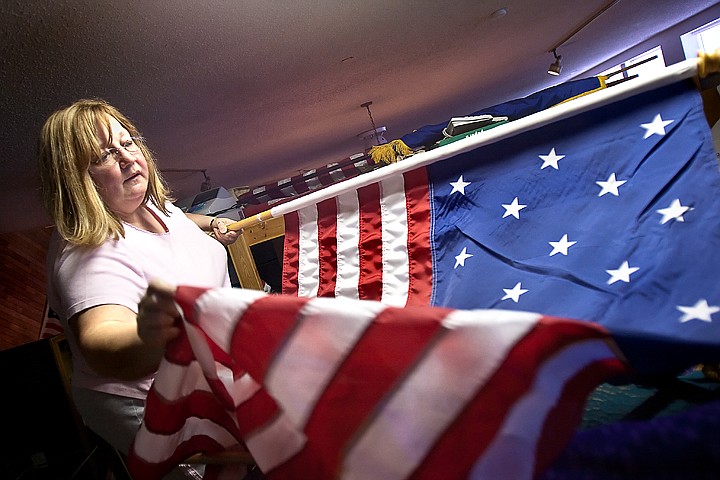 <p>Debbi Nadrchal, the Lodge Secretary for Elks Lodge 1254 in Coeur d'Alene, unfurls a 15-star flag on Saturday in preparation for Monday's Flag Day celebration. This particular design of the flag, which inspired Francis Scott Key to write "The Star Spangled Banner," was created in 1795 to acknowledge the admission of Vermont and Kentucky to the Union.</p>
COEUR d'ALENE - Remember red, white and blue today, it's National Flag Day, the patriotic observance of the birthday of the American flag.
On Wednesday, the Coeur d'Alene Elks Lodge 1254 will host a Flag Day ceremony at the lodge at 1170 W. Prairie Ave.
The public event starts at 5 p.m. with a flag retirement ceremony, where old and damaged American flags will be burned, said lodge secretary Deborah Nadrchal.
That will be followed at 6 p.m. by the flag ceremony, when different flags that have been banners for America and its early colonies throughout the history of the country will be shown during the program, Nadrchal said.
The flags will be carried out for display by Civil Air Patrol cadets from Hayden, she said.
Historical information about the different flags and the changes they went through will be presented during the program, she said.
Congress, on June 14, 1777, decided in writing that "the flag of the thirteen United States be thirteen stripes of alternating red and white; and that the union be thirteen stars, white on a blue field, representing a new constellation."
"That's when the flag was born," said Nadrchal.
President Woodrow Wilson, in May 1916, issued a proclamation calling for a nationwide observance of Flag Day. Then in 1949, President Harry S. Truman signed an act of Congress designating June 14 of every year as National Flag Day, according to the National Flag Day Foundation.
Frank Turner, exalted ruler of the Elks Lodge here, said, "We sometimes forget about the symbol of our nation."
He said it will be good to have a community celebration of the flag.
"We have to remember our nation, and remember what people have given so we can stand where we are today in freedom," Turner said.
Turner, 63, of Coeur d'Alene, served in the Vietnam War in 1969 while he was in the U.S. Marine Corps. He was in the Marines from 1966 to 1970.
"For anyone who has served in the military, especially in a conflict, the flag has a very special meaning," Turner said. "I was one of the lucky ones who came back from the conflict in Vietnam."
He said this will be his first year as exalted ruler during the event.
"I'm proud to step forward and lead this important ceremony," Turner said.
Nadrchal said the Elks is the first and only fraternal body to require formal observance of Flag Day.
"We are a strong promoter of Flag Day," she said.
Flag, flag retirement ceremony set for Wednesday at Coeur d'Alene Elks Lodge
Recent Headlines
---