Vern Newby: Finding answers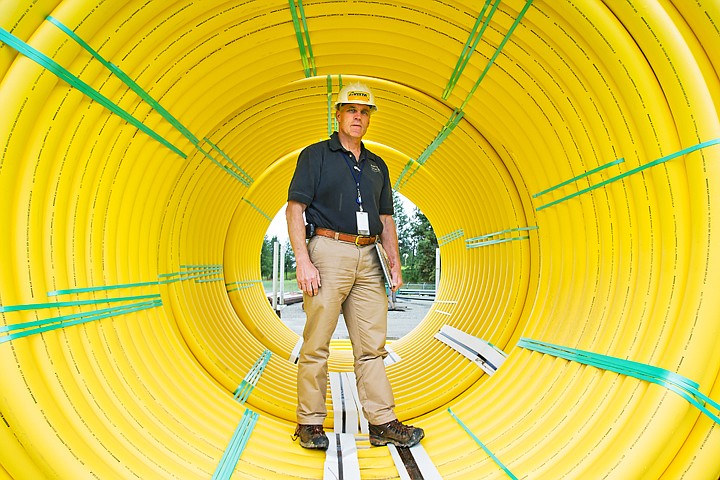 <p>Vern Newby is the construction projects coordinator for Avista Utilities in Coeur d'Alene.</p>
by
BILL BULEY
Staff Writer
|
June 13, 2010 9:00 PM
COEUR d'ALENE - With four Ironmans under his belt, Vern Newby decided his road bike needed to be rebuilt.
So he did it.
He got some books, he got the tools, rolled up his sleeves and went to work.
"I stripped it clear down to everything and put everything new on it except for the paint," he said. "It's like new again."
That attitude of identify the problem, come up with the solution and complete the task is what's guided Newby in his 21 years on the Coeur d'Alene School Board.
The 57-year-old joined the board in 1989. Since, he has been elected six times, worked with a handful of superintendents and been part of a process that has built a half-dozen new schools while at the same time continuing to meet rising state standards academically.
"I have a huge admiration for our teachers who are dedicated to raising and educating our kids," he said. "Day in and day out, I tip my hat to them."
While he's stepping down from the board, he'll have plenty to do. There's a cabin that needs fixing, and bathrooms and kitchens that need remodeling. There's a wife of 33 years, Kristine, five children and three grandchildren he plans to spend more time with, and he still has the job he has held for 23 years at Avista as construction projects coordinator.
The avid runner and biker has a goal, too, of running the Boston Marathon. That will take some work, and not surprisingly, he has already come up with a plan to reach his objective.
"My speed is just about where it needs to be," Newby said. "Get a little more endurance and drop that weight, I think I can get there."
•••
Looking back at 21 years on the school board, what are some of your thoughts?
I can't believe it went by so fast. There's been a tremendous amount this district has done. It's a very dynamic district.
What were some highlights for you?
Camping out on the roof of Coeur d'Alene High School in preparation for the successful bond levy that passed for Lake City High School. That was a lot of fun. Got together with a lot of people and raised awareness of the situation our students were in.
I got to visit places across the West Coast and Hawaii, Washington, D.C., meeting with congressman, senators, regarding school issues. We did some very good legislation for charter school amendments. Things like that that are really progressive, really helping people out.
How about some challenges you faced?
First of all, getting into the system. It's intimidating because you don't know who the players are or how it's supposed to be played. The time I got into it, we were having some difficulties with the superintendent.
I went to every school board meeting for a year and a half before I was first elected, and during that course of time, I talked to a couple other trustees about what was going on. When our superintendent arrived that July, we noticed right off the top there wasn't a fit, knew there was a problem here. We kept working to solve it. Eventually, my predecessor, Ron McIntire, stepped down and I stepped into that role, and a year later we found ourselves a new superintendent.
We did have one textbook issue that was particularly disturbing. We did remove those textbooks from class. It was a result of the supplier not shipping out the textbooks that were ordered. It was a Canadian version, which we didn't feel was appropriate for our kids to read.
What should the district focus on now?
I really like the district and its schools of choice emphasis. Each school has more autonomy to do something that is intriguing and stimulating to the children. We could go back to just the basics. We've heard that many times, the U.S. education system, is horrible, let's go back to the basics. That's not the Coeur d'Alene School District and it certainly isn't the schools of this district that are excelling. We're going ahead because we have a stimulating environment for the kids. If we go back to rote memorization you're going to lose a lot of good students that are just bored with life and they're going to drop out. Then, we have not done a good service to our students.
Looking back, is there anything you wish you had or hadn't done on the board?
I really wish I would have been more successful in getting more property for the school district. Property is very, very difficult to come by. Try as I might, I was not successful in getting more property brought into the school district.
What will you miss most?
I'm going to miss giving my apples out every year. That has been a true delight. It was going to be a one term even when I started out doing this. Second year came around, they asked 'Are you going to bring apples again?' I hadn't thought about that, so I went to the store and got more, and third year, by then it was an entitlement, an entitlement that I enjoyed giving and everybody enjoyed getting.
Why did you ever run for school board?
We had just moved back to the area. I'd heard the educational system here was not up to par. I started here in 1979 working with Washington Water Power and moved around with the company for a few years and got back in 1987. When I came back, by that time we had a family started. The rule was, 'Go to Lakeland, go to Post Falls, don't go to Coeur d'Alene, it has too many problems.'
I started going to the school board meetings. If there's a problem, we've got to find out what the problem is before we can fix it. Can't just start throwing rocks because you have a problem.
I just sat in the back of the room, meeting after meeting, and people started wondering, 'What's he here for?' I wasn't somebody looking for a skeleton in the closet. I was looking for a solution. So we developed a good relationship from that.
When Mr. McIntire decided that 18 years was sufficient on the board, I went ahead and threw my hat in the ring and was successful in my first election.
Did you ever think you'd be on the board so long?
I ran for one term. I almost didn't run a second term. And then the 12th year I actually recruited somebody to take my place. That didn't work out so I ran again. At 18 years I was done, but I was recruited once again to go for another term. I made a commitment to Kris this would be it. Three years was it.
Would you recommend to people that they run for the school board?
I would recommend people be on the school board with the caveat that it takes a dedicated amount of time to fulfill the obligations. We need good people on the school board. With the amount of time it takes, it's difficult to have people consistently on there. It's very helpful if you can have people on there multiple years because it takes a long time not only to know everything, but to put it into context so you can see how changing one part affects changing another part.
How much time did you put in on the board?
Year in and year out, about 40 hours a month. School boarding is something you could do full time and still not cover all your bases.
Are you satisfied you did your best?
I certainly threw my all at it. It was not an area I pulled back from just because it was a controversial issue. And I'll say one thing for the people on the other side, they're passionate about their causes. They have a perspective they very much hold dear to their hearts. It's those types of passions that actually make us a better school board.
Out of the all the superintendents you worked with, who was the best?
The current one, of course.
SNAPSHOT
Vern Newby
Date of Birth: 7-28-52
Education: Master's degree, University of Idaho
Family: Wife Kris, married 33 years. Five children, Kari, Regina, Mindy, Travis, Piper.
Number of hours on average you work in a week: 45
Number of hours on average you sleep in a night: 6.5
Hobbies: Bike riding, running, photography
Favorite book: "Dancing at the Rascale Fair," by Ivan Doig
Favorite type of music: Classical, gospel
Favorite spectator sport: Cross country
Any one person who most influenced your life: My mother, Clara. She taught me to be honest, to do things right, to do right unto others.
Best advice you ever received: Take your time and get done fast.
Quality you admire most in a person: Honesty
Any one thing you consider your greatest accomplishment: Raising a family.
Recent Headlines
---