The art of bike sharing considered in Coeur d'Alene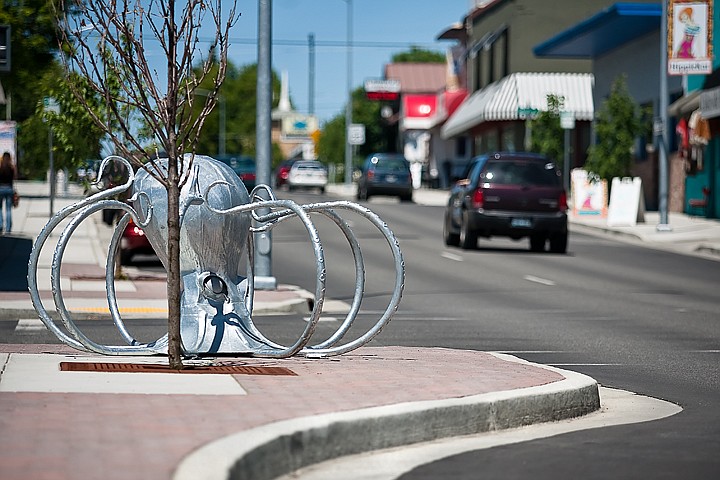 <p>An octopus-shaped bike rack, one of four pieces of art commissioned by the city for 4th street between Roosevelt and Miller Avenues in August 2009, lies unused by many of Coeur d'Alene's bicyclists.</p>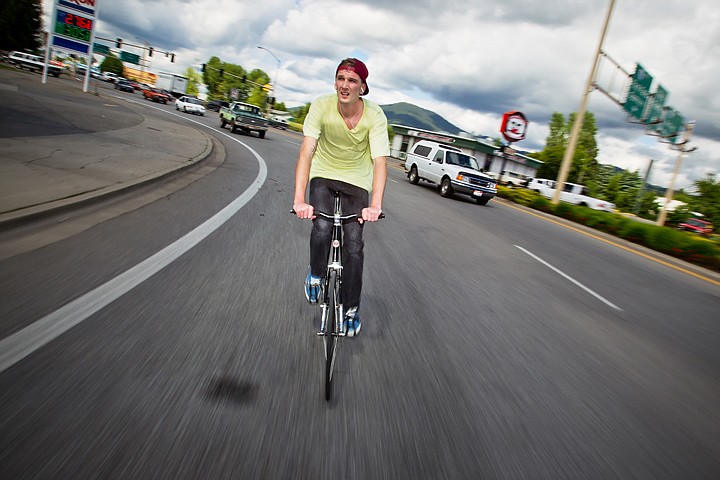 <p>Noel Riske, 23, cruises his fixed gear bicycle on Third Street in Coeur d'Alene Friday during a ride. A growing bike culture in the area is prompting the Lake City to consider more programs, such as bike sharing, that could encourage more cyclists to pedal the streets.</p>
Previous
Next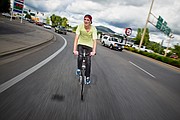 COEUR d'ALENE — It started as a way to explain art.
Those six bicycle racks along Fourth Street are just that, bicycle racks.
Not everybody seems to know it, though.
So how to you tell people that public art pieces such as the octopus, the fish, the salad forks and the giant chain are more than just art, they're there to hold a bike?
By placing bikes there, of course.
And what if those bikes were left unlocked, and people could hop on and use them, so long as they left them at another bike rack when they were done?
It's called bike sharing — other cities have perfected it — and it could come to Coeur d'Alene as another step to boost Lake City's bike-friendly designation.
"The idea came up just to let people know they're bike racks, not just art pieces," said Monte McCully, city trails coordinator. "But then it kept going."
With 60 miles of bicycle paths, lanes and trails crossing town, and another 70 miles planned to be added in the future, Coeur d'Alene's next step could be a creative way to ensure those trails are used, even by people who don't own bikes.
"It could work in Coeur d'Alene, especially in the summertime when there is a lot of foot traffic," McCully said. "It'd be hard to do, but it would be nice. But then again that's what we say about every project."
The goal is to increase awareness on the benefits of cycling; health and economic reasons tops among that list. But another perk could be boosting Coeur d'Alene's bronze designation as a bike-friendly city, said Doug Eastwood, parks director. Already the Lake City boasts a substantial bicycle culture, from BMX riders at Cherry Hill park, mountain bikers, commuters and Ironman athletes to vintage beach cruisers pedaling along the lake.
"I'd say it's unique to Coeur d'Alene," said Aaron Young, owner of Born Again Bicycles, the hobby-turned-business on Sherman Avenue that refurbishes old bicycles, on the variety of different bikes he restores for customers. "Coeur d'Alene is a good place to ride and I don't know if I would see the different types of bikes" if the store was in another town.
But what about providing two-wheelers for the bicycle-less?
Some bigger cities have already done it, or are planning to, including Minneapolis, Denver, New York, Boston and Chicago, and a slew of European cities where the bicycle culture is more widespread.
Paris launched a program with more than 10,000 bikes and quickly doubled that. The same year, Barcelona launched with 200 bikes and by 2009 was up to 6,000 bicycles.
"I ride everywhere," said Dan Johnson, who doesn't own a car and had the mail he just picked up from the post office fastened to his bike fender on Friday. "And I can beat the bus a lot of the time."
There are two different ways to bike share.
One way would be more expensive for the city and the rider, and that would be to install standardized bikes that can be locked in kiosks around town.
In Minneapolis, which was recently named the most bike-friendly city in the U.S. by Bicycling magazine, with 128 miles of bikeways, riders pay $5 for 24-hour access to the bikes; a yearly subscription is $60. Chips are placed in each bike, tracking their activity, and the renter would have to pay for lost, stolen or damaged bikes if something happens when he or she checks one out.
More expensive and state-of-the-art, but it guards against bike-sharing's Achilles heel, theft and vandalism.
"The crime rate," said Tiffany Hawthorn, a local walking along Sherman Avenue, about what would prevent such an idea from taking place here. "Our younger generation would take them home and part them out, I guarantee it."
McCully said when members of the Pedestrian and Bicycle Advisory Committee began kicking around the idea of putting out bicycles on the bike racks, they knew that could be a problem. And if the idea were to fail because of those, it would be hard to build the momentum back up for bike sharing in the future.
One possible prevention would be awareness. The city could collect a heap of "serviceable" bicycles from police auctions, for example, and paint them all a uniform, distinguishable color such as pink so everyone knows when one is a public bike.
That could make resale of stolen bikes more difficult, but wouldn't necessarily guard against vandalism.
The number of stolen bikes in Coeur d'Alene wasn't immediately available, but Young said around 15 percent of his customers looking for a new bike are doing so because their old one was stolen. A few years ago, it was only a couple of customers per year, he said, and transaction Web sites could be a tool for people looking to sell the recognizable bike outside the area.
"There could be some problems," he said of the sharing idea.
McCully agreed that a lot of wrinkles would have to be ironed out, should the Lake City implement its own plan, but it was an idea worth at least discussing down the line as the city continues to add and connect trails across town.
Both Minneapolis and Denver saw the possibilities when bike-sharing programs were used at the 2008 Republican and Democratic conventions they hosted, with 1,000 bikes at each location. In eight days that summer, the program logged 7,523 bike rides and 41,724 miles.
Meanwhile, Portland, Ore., is watching the Minnesota and Denver programs before deciding whether to launch its own.
"That'd be a good idea, I'd use it," said Bryan Ervin, waiting at the bus stop on Fourth Street Friday next to the artistic bike racks that spurred the idea here.
Ervin was lamenting that the bus was running a little late, and was surprised when he learned that adjacent art pieces were designed to hold bikes, too.
"They ought to put a sign out or something so people know," he said. "Or bicycles."
The Associated Press contributed to this report.
Recent Headlines
---