Idaho's May tax collections beat forecasts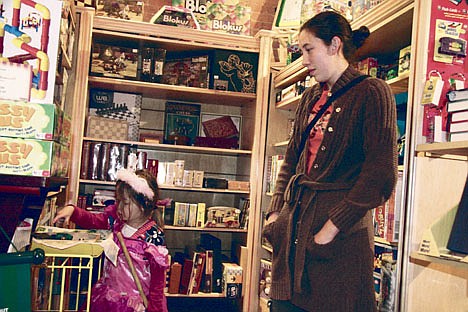 <p>Harriet Owens, 3, of Coeur d'Alene, plays with a toy sandbox at Figpickels on Sherman Avenue on Friday, with mother Sarah looking on.</p>
by
Staff
|
June 13, 2010 9:00 PM
COEUR d'ALENE - As the nation loses ground in retail sales, Idaho is finally pulling out of the winter lull in sales tax collections that created headaches for legislators trying to balance the budget.
Idaho's May tax revenue beat forecasts by $4 million, moving Idaho closer to balancing its reduced 2010 budget with a month to go in the fiscal year.
House Majority Leader Mike Moyle said May collections - about $144 million, according to preliminary figures - trimmed the budget shortfall through the fiscal year's 11th month to $9.5 million, down from a $13.5 million shortfall after April.
Still, Moyle remains concerned because of May sales tax receipts, a harbinger of economic activity, trailed expectations after exceeding them a month earlier.
Idaho's lackluster sales-tax numbers were offset by a jump in miscellaneous tax revenue, including from mining activities.
"You don't bet the bank on miscellaneous mine tax revenue. The numbers you need to watch are June," Moyle said.
State economist Mike Ferguson has forecast Idaho will collect $238 million this month.
While the numbers can be deceiving because tax receipts are credited to the home county of companies such as Albertsons, a more significant comparison comes year-to-year, said Liz Rodosovich, with the Idaho Tax Commission.
Statewide, the total taxable sales increased to $1.45 million in May, 2010 from $1.33 million in 2009. In the five northern counties, Kootenai, Benewah and Boundary all showed increases in taxable sales, while Shoshone and Bonner had slight declines.
Nationwide, retail sales plunged in May by the largest amount in eight months as consumers slashed spending on everything from cars to clothing. The big drop raises new worries about the durability of the economic recovery.
The Commerce Department says that spending fell 1.2 percent last month. Auto sales were down 1.7 percent but there was weakness in a number of areas. Excluding autos, sales fell 1.1 percent.
The big decline cast new doubts about the strength of the economic recovery. Consumer spending accounts for 70 percent of total economic activity. Economists are concerned that households will start trimming outlays as they continued to be battered by high unemployment and a swoon in stock prices.
Investors have sold off stocks for more than a month because of concerns that Europe's sovereign debt crisis will slow a worldwide economic rebound. The Dow Jones industrial average fell 7.9 percent last month, the worst May for the blue chip index since 1940.
The 1.2 percent decline in May sales was the largest decline since sales had fallen 2.2 percent in September. Analysts had been forecasting sales would be weak but remain in positive territory.
For May, the 1.7 percent drop in auto sales followed a 0.6 percent increase in April sales and was the poorest showing in this category since a 2.5 percent February decline.
Sales at hardware stores plunged 9.3 percent. That could reflect an impact from the end of the homebuyer tax credit, which had spurred home sales earlier in the spring.
Department store sales fell 1.8 percent while sales in the broader category of general merchandise stores, which includes big retailers such as Wal-Mart, fell 1.1 percent.
Gasoline stations sales were down 3.3 percent, a drop that reflected in part lower gasoline pump prices during the month.
The Federal Reserve reported Thursday that households' net worth rose for the fourth consecutive quarter, but since then stock prices have been tumbling. Economists say it may not be until 2012 or 2013 at best before Americans' wealth returns to its pre-recession levels.
Last week, the International Council of Shopping Centers reported that its index for revenue at stores open at least a year posted a 2.6 percent rise in May compared to sales in May 2009. That followed a 0.8 percent April increase and a 9 percent surge in March.
Target Corp. posted a small gain in May that was below internal forecasts while department store chain J.C. Penney Co. and many teen merchants including Abercrombie & Fitch Co. and American Eagle Outfitters Inc. reported declines in revenue at stores open at least a year.
The overall economy, as measured by the gross domestic product, grew at an annual rate of 3 percent in the first three months of this year with much of that growth reflecting a 3.5 percent expansion in consumer spending, the best showing for this category in three years.
Recent Headlines
---