Cutting condo costs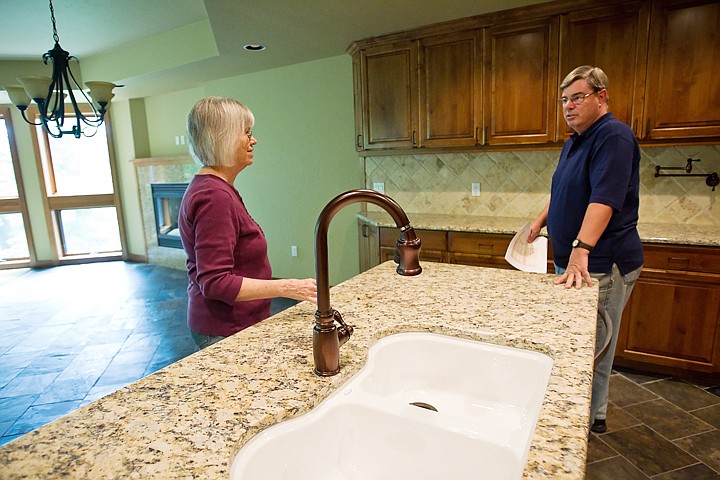 <p>SHAWN GUST/Press Jeff and Linda Hutchinson, of Coeur d'Alene, talk about some kitchen features Friday during an open house tour of a Ridgepointe condominium.</p>
by
Rick Thomas
|
June 12, 2010 9:00 PM
COEUR d'ALENE - The collapse in the North Idaho condominium market once again means price cuts and other concessions as unsold projects remain on the market.
Nearly a year after completion and several years after planning began on what was to have been three "towers" with 133 condominium units, Ridgepointe is the most recent luxury project to see the ax fall, with prices reduced by more than half on some of the 24 homes now owned by Sterling Savings.
In addition to lower prices, other concessions include no requirement for mortgage insurance, said Brandon Quigley, home loan officer for Golf Savings Bank, a Sterling subsidiary.
"That's because the bank owns them," he said. "They're making the rules."
That could be as much as $300 per month in savings, nearly offsetting the $400 monthly fee for the homeowners association dues - now being paid by the bank.
"That's significant," Quigley said. "They have a vested interest in selling."
Ridgepointe sits on a hill at the southern end of 18th Street, on 11 acres of rocky, treed terrain with partial views over the city, The Coeur d'Alene Resort Golf Course and Lake Coeur d'Alene. But with none sold, Century 21 Beutler & Associates was assigned the task of moving the property off Sterling's books.
In the past week, four deals have been signed, said John Beutler, company broker. An open house that began on Friday and will continue all weekend is expected to move another 15 to 16, he said.
"Some people would buy right now if they could sell their house," he said.
With extensive use of high-end materials and floor plans ranging from 2,150 square feet to 3,407 square feet, condos in the five-story building once priced from $559,000 to $1.5 million have been cut to $350,000 to $599,000.
"That's $135 to $175 per square foot," said Rick Carr, joining Beutler and Tom Fisher on the sales blitz.
"That's the best price per square foot in town," Beutler said.
On Friday a steady stream of people stopped for a look at the project, designed by Miller Stauffer Architects.
"Everybody is impressed with the quality," Carr said.
But the prices and the imploding real estate market, especially in the luxury end, have kept Ridgepointe from selling, he said.
To sweeten the deal, 80 percent and 90 percent financing deals are being offered up to $417,000, Quigley said. A credit score of 680 is enough to qualify, and through June an additional 5 percent discount is being offered for cash deals at bank-approved prices.
A $5,000 earnest money check is required with any offer.
An extensive list of maintenance and operating services is offered at the gated community, including plowing of the road leading up the hill one way up and down.
Amenities include granite countertops, premium kitchens, gas fireplaces, extensive use of solid wood, plush carpeting and tile floors, smart wiring for home automation, security systems and two-car garages.
"People can see the value," Beutler said.
But buying is another thing.
"They are a terrific value," said Joy Fitzpatrick. "I can't imagine why they wouldn't sell."
But impressions aside, she and husband Buck were just looking on Friday.
"We have to sell our house," he said.
The open house continues today and Sunday 9 a.m. to 6 p.m.
Recent Headlines
---