Women's Gift Alliance awards $45K in grants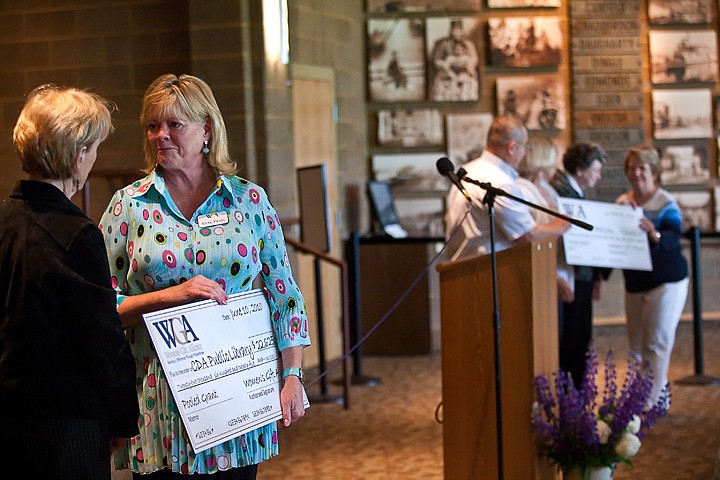 <p>Ruth Pratt of the Coeur d'Alene Public Library Foundation stands with a check for $22,625 from the Women's Gift Alliance received at the Public Library on Thursday as Howard Martinson, right, of Fresh Start Inc. holds his check of equal value during the WGA's 6th annual grant presentation to local non-profit groups.</p>
by
MAUREEN DOLAN
Staff Writer
|
June 11, 2010 9:00 PM
COEUR d'ALENE - The Women's Gift Alliance announced $45,250 in grant awards Thursday.
During a presentation at The Coeur d'Alene Public Library, the philanthropic membership organization presented Fresh Start, Inc. and The Coeur d'Alene Library Foundation each with grants in the amount of $22,625.
"The word 'crisis' has been popping up on headlines, on the lips of reporters and politicians alike, in the last few months. We at Women's Gift Alliance are here to face these crises and make our community aware of them in hopes to combat them here in our own county," said Janice Baldwin, the group's founder and president.
It is the sixth year the Women's Gift Alliance has solicited grant applications from local organizations, and selected recipients through a rigorous review process.
The group exists, Baldwin said, as a means for Kootenai County women to pool their talents and resources to provide meaningful support to cultural, charitable and educational projects in the community.
The needs of the homeless and the unemployed will be addressed by this year's grant awards.
Ruth Pratt, the director of the Coeur d'Alene Library Foundation, accepted the award on behalf of her organization.
The money will be used to purchase equipment, including 20 laptop computers, for a new program that will provide computer literacy training to help jobseekers.
Through a partnership with North Idaho College's Adult Basic Education program, the library foundation's "Re-tool Box" project will create a mobile laptop lab to be used within the library. Using the library's wireless system, computer workshops will be offered in the library's meeting rooms with volunteer instructors provided by ABE.
"This program fills a knowledge gap and need that is not met anywhere else in the community for free," she said. "And it does it in the most accessible - and least intimidating - of settings in our community, where we continue to see more than 25,000 people per month using our services."
The basic skills training will make online job openings, applications and government benefits accessible to the unemployed and under-employed.
Howard Martinson, director of Fresh Start, accepted his agency's award.
Fresh Start provides services to the homeless, making clothing, bedding, showers, laundry, telephone, computer access and mail services available at its drop-in center on Sherman Avenue.
Through partnerships with other agencies and service groups, Fresh Start provides outreach and referral services to connect their clients with medical and dental care, housing, counseling, and assistance with obtaining disability benefits and other social services.
"We would love to fix all of the homeless people, and there might be 1,000 or 1,500 of them, and we'd like to send them all to college and make them doctors and lawyers or WGA members, but we can't do that. We don't know how to do that," Martinson said. "But we're pretty good at getting people showers, clean clothes, a cup of soup and a place to use the telephone. That's what we do."
The Women's Gift Alliance grant will provide funding for new commercial-grade laundry machines that are large enough to handle 40-50 loads per day, including blankets and sleeping bags used by Fresh Start clients.
A larger capacity hot water heater will be purchased to accommodate laundry and hot showers.
"We try and do what we can. We are just honored to even be considered for a WGA award," Martinson said.
The Women's Gift Alliance, started in 2004 with 52 members, and is now 94 members strong.
With this grant round, more than $163,000 has been given back to the community since the organization awarded its first grant in 2005.
Recent Headlines
---