Greensferry Road to close three weeks for repairs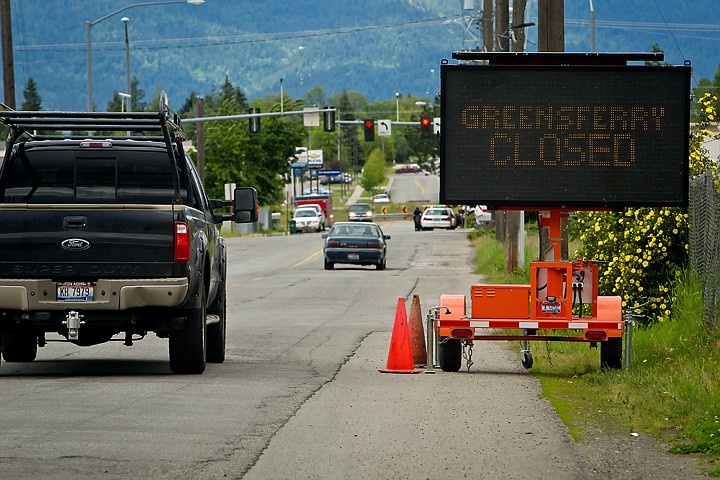 <p>Greensferry Road, which runs in front of the post office in Post Falls, will be closed from Seltice Way to Third Avenue from Monday until July 1 for street repairs.</p>
by
Brian Walker
|
June 11, 2010 9:00 PM
POST FALLS - Those who regularly do business or drive by the Post Falls Post Office will be inconvenienced for nearly three weeks starting Monday.
Greensferry Road, which runs in front of the post office, will be closed from Seltice Way to Third Avenue from Monday until July 1 for street repairs.
Motorists are urged to avoid the construction area and use alternate routes.
"It will be an inconvenience, but it needs to get done so the road will last awhile," said Jim Porter, street superintendent. "The road is deteriorating and it needs reshaped, so it's time."
The existing asphalt will be ground up and replaced with new material. The railroad crossing in the stretch was repaired last year.
Bay Street, which connects Seltice Way with Third west of the post office, and Third will serve as the main alternate routes for post office users and those who would otherwise travel Greensferry to access Seltice.
Coeur d'Alene Avenue, which offers the only entrance to the post office, can be accessed by using either Scott or Beckett off Third. The intersection of Greensferry and Third will remain open during construction.
The cost of the project, which will be paid for with street maintenance monies in the city's General Fund, will be about $40,000.
Meanwhile, Greensferry to the south in the area of Ponderosa Boulevard, which has been under construction for about six weeks due to lift station upgrades, is slated to be paved today, weather permitting, said Terry Werner, public works director.
Werner said the cool, rainy weather has delayed paving.
He said about two consecutive days of dry weather are needed to pave.
The delay has prompted concerns from residents, he said.
Post Falls is planning about 8 miles of overlay and chip seal projects this summer. None of those projects are expected to cause major delays, Porter said.
Recent Headlines
---