Fiesta at Azteca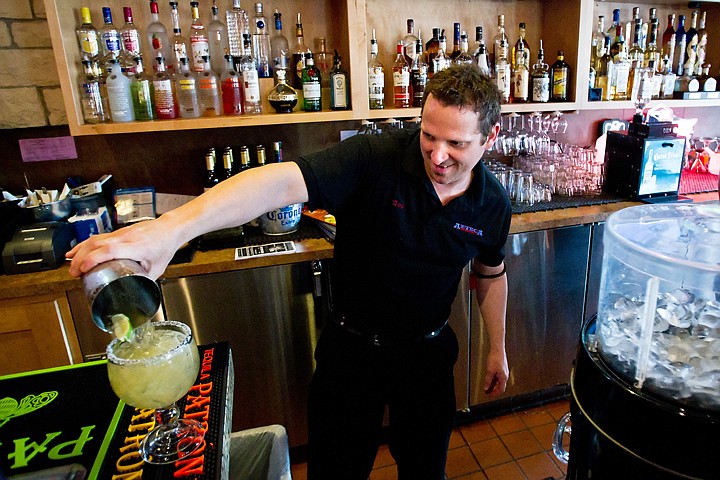 <p>Wes LeDoux, manager at Azteca Southwest Grill in Coeur d'Alene, pours a margarita into a glass Wednesday before serving it to a customer. The Riverstone restaurant purchased a liquor license last month.</p>
by
Rick Thomas
|
June 11, 2010 9:00 PM
COEUR d'ALENE - Carla Barajas can't help it - the smile on her face just won't go away.
For nearly three years she has been waiting for this day, when Azteca Southwest Grill holds the grand opening of Kiko's Cantina, the bar inside the Riverstone restaurant.
"The first thing we did, before we signed the lease, was to get the liquor license," she said.
That was to have been a leased license, but in 2007 construction times were long, and before she and husband Kiko and partner Hector Ramos Jr. got open in August, the Alcohol Beverage Control Bureau, the Idaho State Police division that regulates bars, changed its rules on license transfers.
The license they thought would be available was canceled, and they went on the bottom of a lengthy waiting list, likely decades away from receiving the coveted and valuable authorization to sell liquor by the drink.
"It was a setup condoned for years," Carla said. "They reinterpreted the law."
So they settled for beer, wine, and the limited supply of pre-bottled drinks that are at or below 14 percent alcohol content to be sold in grocery stores.
ABC issues one new license for each 1,500 increase in population, city by city, and more than 20 applicants were ahead of the Azteca partners.
When new licenses are issued, they cannot be transferred until after they have been "seasoned," or used in a bar operation, for at least two years.
Liquor sales are a highly profitable component for restaurants, and the availability of liquor is a significant draw for customers, Carla said.
And though the beer, wine and low-alcohol cocktails were appreciated, many customers were disappointed they could not get their favorite brand of tequila, a beverage Azteca operators like to feature.
But last fall a break came, when the owners of the Iron Horse got a second license, after waiting since 1998 to come to the top of the list.
"Tom Robb came in and talked to us," Kiko said. "He was very reasonable."
It took months of legal wrangling, but the state finally allowed Azteca to purchase the old license from Iron Horse. About a month ago the full bar operation began, and today a grand opening will be held to celebrate.
"I am very excited," Carla said. "Hopefully it will attract more people, and we will be able to compete better. We still want to be known as a family restaurant. The theory is good food and great drinks make a good time. We don't want to be known as a drinking bar."
While the state's rationale in changing the rules was increasing tax revenues from licenses, which were often held while they appreciated in value or instantly sold for huge profits, the rule change that limited the amount of time a recipient had before beginning operation meant several licenses issued in Kootenai County were returned.
Carla Barajas would not say what they paid for their license, but most recently prices of $250,000 and $300,000 have been reported. Tom Fisher of Century 21 Beutler and Associates recently listed Chillers on Sherman Avenue for $595,000, including the building, two lots and the license.
"It is a huge investment," Carla said. "It is a cost of doing business."
Already, sales at Azteca are up 20 percent, with the average ticket price up, and four new servers were hired, from 170 who applied for the positions.
"There are a lot of people looking for jobs," Carla said.
Hours have also been extended slightly as more people come to the bar, and live music and other events are expected as the word gets out about the changes.
"It will be exciting when it takes off," Carla said.
Today's "fiesta" begins at 5 p.m., with D.J. music, prizes and special drink prices with an all-day happy hour. And that problem with tequila has been solved, with 40 varieties on hand.
Recent Headlines
---