CHS senior has high-flying goal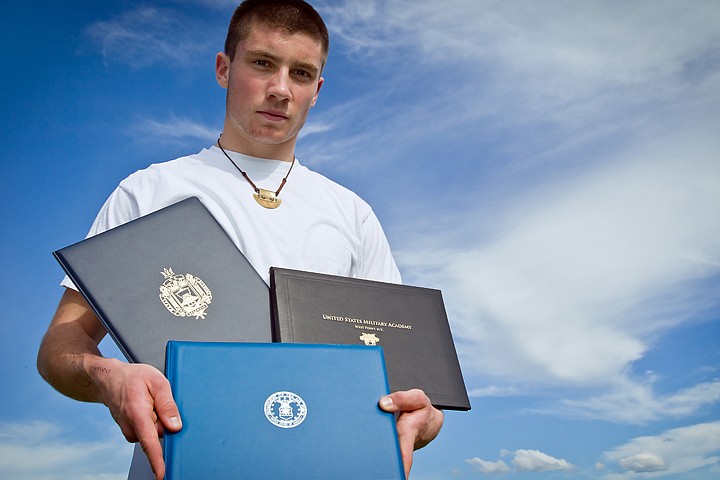 <p>Brett Burnside, a Coeur d'Alene High senior, received acceptance letters from all three military academies. Burnside ultimately chose to go to the Air Force Academy in Colorado to fulfill his goal of being a fighter pilot.</p>
by
MAUREEN DOLAN
Staff Writer
|
June 9, 2010 9:00 PM
COEUR d'ALENE - Brett Burnside can add an achievement to his resume never before claimed by a Coeur d'Alene High School student.
The graduating senior received letters of appointment from all three military academies.
Burnside, 18, starts the next chapter of his life in two weeks when he reports for basic cadet training at the U.S. Air Force Academy in Colorado Springs.
"I always had an interest in the military, but it was mostly directed toward aviation," Burnside said.
He started thinking about becoming a pilot when he was 5 years old, after his first trip on an airplane to visit his aunt and uncle in Chicago. Burnside met a pilot while on that visit to the Windy City, and went to an air show.
"I didn't know it at the time, but a lot of it led to my future aspirations," Burnside said.
When he saw the movie "Top Gun," those fictional fighter pilots Maverick, Iceman and Goose made their mark, and he was sold.
"I thought, that's what I want to do," Burnside said.
Burnside made a list, when he was 9 years old, of the top 20 schools he would like to attend after high school, and the Air Force Academy was No. 1.
Now he has raised the bar for himself.
Burnside plans to continue his education after the academy, to become a fighter pilot or special forces officer, and then a Thunderbird demonstration pilot.
"Then, hopefully, Chairman of the Joint Chiefs of Staff. That would be my ultimate goal," Burnside said.
The educational value of four years at the Air Force Academy is $350,000.
"The academics compare to an Ivy League school," Burnside said.
The Air Force Academy received nearly 10,000 applications last year, and admitted just 1,350 cadets.
Burnside thinks he was accepted at all three schools because he has a well-rounded list of accomplishments that are not just academic.
He is graduating from CHS with a 4.1 grade point average and is a member of the National Honor Society. He has been involved in Idaho Drug Free Youth and Business Professionals of America, and was student body vice president this year.
Burnside also played varsity football, baseball, and track and field.
While reaching these achievements, Burnside worked at Nosworthy's Hall of Fame restaurant for three years, starting as a dishwasher and working his way up to prep/assistant cook.
"I think that might have been one of the biggest things ... I showed I can keep a job," Burnside said.
Recent Headlines
---