'Wasted Time' worth second look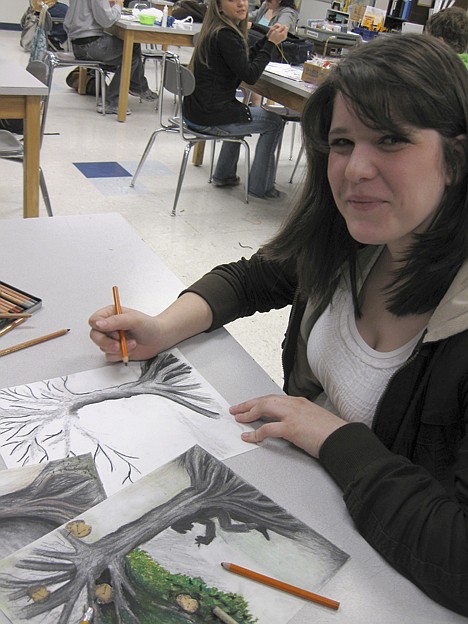 <p>Emma Clark, a junior at Timberlake High School, won the statewide Congressional Art Contest.</p>
by
Brian Walker
|
June 8, 2010 9:00 PM
SPIRIT LAKE - Emma Clark isn't used to being called to her school's office at Timberlake High.
So, when she answered the phone and it was Rep. Walt Minnick, D-Idaho, on the other end, she was relieved.
But what he told the junior was even better.
Clark learned that she and her mother, Lorraine, will be flown to Washington, D.C., this month for Clark winning the statewide Congressional Art Contest.
"I thought maybe he was going to tell me thanks for entering and that I got honorable mention," she said. "So, when he told me, my jaw dropped and I was shaking."
Clark's charcoal and chalk entry called "Wasted Time" has clocks on apples in a tree and another apple on the ground has a bite taken out. Only the apples are in color, giving the art a surreal feel.
"It's symbolic of the fact that a lot of people believe time grows on trees," Clark said. "People don't take advantage of the time they're given."
The art will represent Idaho at the Capitol art display for the next year and be entered into a nationwide contest. Clark and her mother will meet with Minnick and tour the Capitol during a ceremony honoring the state winners on June 17.
"Her piece conveyed emotion and depth in a way that is beyond her years," Minnick said. "I was impressed with the quality of her work and the complexity of thought behind it. She is a very creative young woman with a bright future."
Twenty pieces of art were entered in the contest.
Carrie Scozzaro, Clark's art teacher who is helping raise funds to pay for lodging and meal costs for Clark and her mom, said she admires Clark's commitment to quality and willingness to take risks with her work.
"She'll spend quite a while trying out different ideas and techniques, then executes the artwork quickly and with a lot of confidence," Scozzaro said. "She also thinks deeply about things and her projects reflect a layered approach, incorporating unusual materials or relating to several different ideas at once. I'm always curious and excited to see what she'll come up with in response to an assignment.
"And, even though Emma is serious about her artwork, she has a terrific sense of humor and really broad interest in lots of things ... "
It was the first time that Clark, who plans to pursue a graphic design career, has won an art contest. Working on the art was another reminder to Clark of how precious time is.
"I finished the piece at the last second, so I didn't even get a picture of it," she said.
Recent Headlines
---