Metro runs past Region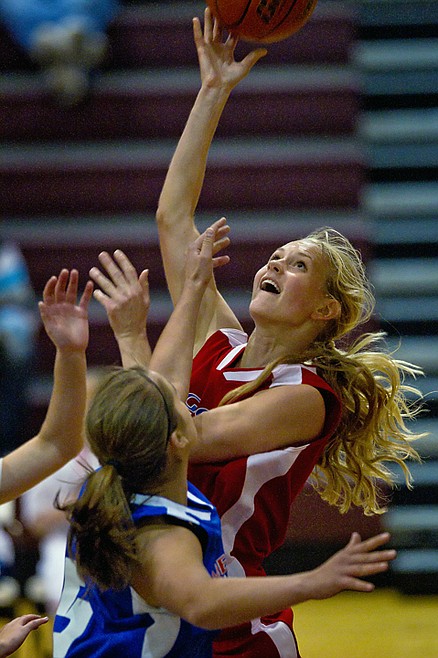 <p>JEROME A. POLLOS/Press Region All-Star's Dayna Drager turns around for a shot under the basket during the Jack Blair Memorial Girls All-Star basketball game Monday at University High in Spokane Valley.</p>
by
JASON ELLIOTT
Sports Writer
|
June 8, 2010 9:00 PM
SPOKANE - When Metro coach Freddie Rehkow was sizing up his roster for the 17th annual Jack Blair Memorial All-Star Basketball Classic, he knew his team was going to need to outrun their Region counterparts.
The Metro took advantage of 17 first half turnovers on the way to a 103-84 win over the Region team on Monday at University High in Spokane.
"I knew we had the horses to run on them," Rehkow said. "I told them from the start we were going to run and try to wear them down. We had plenty of players to keep running, so I knew we weren't going to get tired."
Lewis and Clark junior Haley Hendricksen had a team-high 14 points to earn MVP honors for the Metro team, who avenged last year's 92-74 loss at Lake City High.
"When she hit that first three-pointer in the first half, we looked around and knew they had to account for her also," Metro assistant coach Gabe Medrano said. "She practices like she plays. She played a great game tonight."
Coeur d'Alene junior Carli Rosenthal was named Most Inspirational player with 10 points for the Region team.
"Our defensive switch in the second half cost us," Region coach Dale Poffenroth said. "When they'd miss their shots, it worked, but they didn't miss their three's that much. When they have that many shooters and ours don't score, that's going to happen."
Coeur d'Alene freshman Kendalyn Brainard had a game-high 16 points for the Region team.
"I wasn't too nervous about playing with some of these players," Brainard said. "I got all my nerves out at the state tournament. I've played against these girls for a while, so I knew what to expect."
Of the rivalry between the two squads, Brainard loves the competition.
"I've played with them in the past and there is a lot of competition," Brainard said. "I've played against them since AAU. It's fun to play against someone that wants to win as bad as you do."
Post Falls senior Katelyn Loper, finished with 14 points for the Region team.
"It's been awesome," Loper said. "I was on the Region team that got the first win last year. They (Metro) are all very athletic. This game really shows the best players in the area."
The Hofstra-bound Loper felt she had ended her high school career on a good note.
"It was pretty intense for a while," Loper said. "It's been fun to play in front of my hometown fans. I think this was a perfect time to put an end to my career."
The Metro was made up of players from the Greater Spokane League against the Region, which was made up of players from North Idaho and the rest of Eastern Washington.
Pullman's Shelby Chesla, who has committed to Gonzaga University, sat out Monday's game after suffering a knee injury during track season.
Region39 45 - 84
Metro 51 52 - 103
REGION - Jordan Loera (Moses Lake) 7, Dayna Drager (Coeur d'Alene) 8, Katelyn Maley (Rosalia) 0, Mackenzie Taylor (Freeman) 8, Lexie Zappone (Lakeside, Wash.) 0, Sydney Butler (Lake City) 5, Katelyn Loper (Post Falls) 14, Shaniqua Niles (West Valley) 4, Kendalyn Brainard (Coeur d'Alene) 16, Hannah Love (West Valley) 7, Carli Rosenthal (Coeur d'Alene) 10.
METRO - Jenni White (East Valley) 3, Kelsey Matthews (Central Valley) 6, Devyn Galland (Lewis and Clark 14, Lindsay Stockson (Gonzaga Prep) 3, Zoe Scott (University) 9, Taylor Ingebristen (Mead) 8, Tia Presley (Gonzaga Prep) 13, Riley Holsinger (North Central 7, Brooke Gallaway (Central Valley) 8, Aleisha Hathaway (Shadle Park) 6, Jazmine Redmon (Mead) 10, Loree Hill (Central Valley) 2, Haley Hendrickson (Lewis and Clark) 14.
Recent Headlines
---