A feel for the job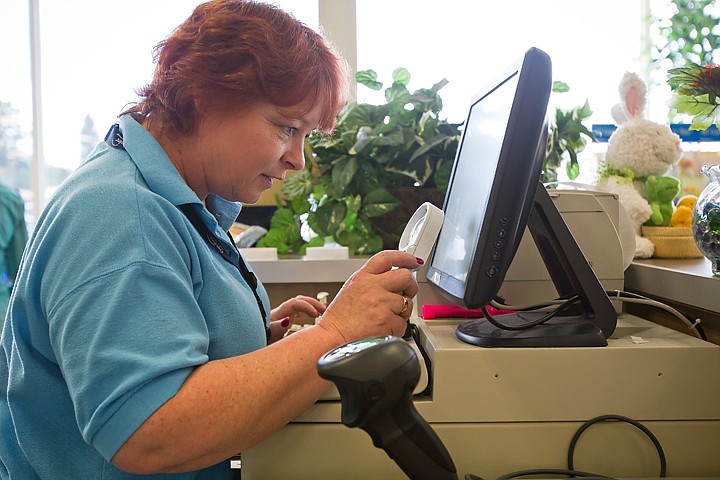 <p>Aleen Fish, a retail associate at Goodwill Industries in Coeur d'Alene, uses a magnifying glass to read the total of a sales transaction on a computer screen Monday during her shift.</p>
by
Tom Hasslinger
|
June 8, 2010 9:00 PM
COEUR d'ALENE - The majority of the customers are nice, friendly people.
Like June Peck, the Goodwill customer pushing her cart through the parking lot, who didn't even notice that her cashier, Arleen Fish, was blind.
"I'll be darned," she says, upon learning. "She does great. Better than I would do."
Arleen's blue eyes are dilated, and shake back and forth slightly. As a cashier at the store, she uses a magnifying device to distinguish the bigger bills.
Legally blind at birth, she can see shapes and colors, and tells a joke about growing up in southern California how every school resource officer who saw her eyes move thought she was on drugs.
"And I'm the biggest square you'll ever meet in your life," she says.
Arleen has been working as a cashier at the Goodwill store on Fourth Street for three months, and doesn't need the magnifying glass for everything.
One dollar bills have the shape of George Washington, and everybody can distinguish that, she says, and $5 bills have a big, colorful mark on the corner of their backs. For the coins, Arleen feels their edges with her fingers.
"I distract you," she says of counting the pennies and silver. "I talk to you and talk to you, 'I hope you have a great afternoon and how are the kids,' but what you don't know is I'm feeling your change to see what you gave me."
The only thing difficult about her new job is she knows the customers are watching her. Blindness, like most disabilities, she says, makes many people uncomfortable. Or they associate it with being unintelligent, which bothers Arleen most.
Employers too.
During an interview, (there were seven of them before Arleen landed her job at Goodwill) she'll tell the employers she's visually impaired. She brings it up because they might be thinking the same thing the resources officers thought.
"It's about half way in," she says, of the question and answer. "And you can just feel the interview shut down."
So Arleen, smart, articulate, and witty, is thankful she has a job.
She got it with the help of the Idaho State Commission for the Blind, which helps visually impaired people achieve independence through education and developing work skills.
After moving to Coeur d'Alene last year, it took seven months before Arleen, who was working in a back office at Home Depot in Lewiston with customers over the phone, to seek the commission's help after she couldn't find work on her own. She told them she would do anything but cashier.
Cashiering would be too scary, too many people would be watching.
"She's pretty rare because she wants to work," says Sherry Maxwell, commission rehabilitation counselor who helped Arleen find the job. The commission places around 15 visually impaired people in the workforce in the five northern counties every year, but Arleen could have made just as much money collecting disability payments. "That's the hardest place to get to. To get someone to walk out that door and go to work everyday because it's just so scary."
And everyday is getting better, Arleen says, even though all the customers aren't as friendly as Peck.
Like the older gentleman who told her she shouldn't be working at all. Or the lady last week who insisted Arleen had short-changed her because she couldn't see well.
"She was screaming in the store," Arleen says.
Another man tried the same thing, claiming he handed her a $20 bill when it was a $10.
Arleen began balancing her till to prove it.
"When I'm done," she told the man, "I fully expect an apology."
But the man stormed out of the store before Arleen could finish, saying it wasn't worth the extra $10.
"It used to bug me everyday," Arleen says. "The comments come everyday. Some days I schlep it off but some days I'm a human being, and so some days they bother me."
Her coworker and friend, Julie Hawks, hears the comments too. They make her sick.
"She's awesome," she says of Arleen. "If I had my own business I'd hire her in a heartbeat."
But there's Arleen's wit too, and it comes out often as she's happy to be working again.
One customer handed Arleen a five, and jokingly claimed it was a 50.
"Not true," Arleen told him, smelling the bill, "it smells like a 50."
"What's a 50 smell like?" he asked.
"Like Dinner," she said.
And a five?
"Like a snack," she said. "If you're lucky."
On a customer making a fuss on dealing with a blind cashier she says after the fact: "It's easier for me to hide the fact that I'm blind than it is for you to hide the fact that you're an ass."
True too. Arleen even hid her impairment from Vincent, the Coeur d'Alene man she was dating while she lived in Lewiston, over several dates. She chose all the restaurants they went to at first because she knew the menus inside and out.
When it got serious, she told him.
"Why would that matter to me?" Vincent asked. "I like you for you."
That brought her to Coeur d'Alene and her job, a move she doesn't regret. She married Vincent last month.
"I absolutely love it," the mother of three says, counting hiking Tubbs Hill as one of her favorite things to do, along with baking, cooking and anything social, which is why she likes most interactions at the store. "I think this is the most beautiful city I've ever seen and I think for the most part, aside from the vision thing, meeting people here, people are so friendly and so sweet and welcoming, I just love it. I have a big loyalty here already."
And behind it all is the pride she says she feels working again.
"Just like with everybody," she says. "There is a wonderful feeling to know I earned those dollars."
Recent Headlines
---