Fishing derby gets kids hooked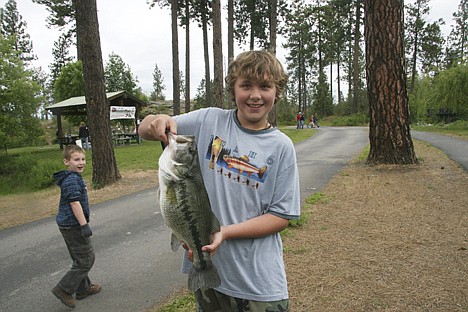 <p>Jon Osborne, 13, of Post Falls, shows off his big bass Sunday at the Post Falls Days fishing derby at Falls Park.</p>
by
David Cole
|
June 7, 2010 9:00 PM
POST FALLS - Thirteen-year-old Jon Osborne let it be known that hauling in a big-hog bass in the ponds at Falls Park is entirely possible.
The Post Falls youngster landed just such a bass Sunday during the fishing derby that's part of Post Falls Days, which started Friday.
Osborne reeled the bass in after the fish took his nightcrawler. The fish looked like its chubby belly was stuffed with trout.
"I was freaking," Jon said.
He was out at the event with his dad, Mike Osborne.
Jon said, "This is a great day."
Jim Burkholder, a reservist with the Idaho Fish and Game, was passing out fishing rods, bait, and bobbers to anyone who wanted to borrow gear for the derby. He was manning the Take Me Fishing Trailer.
When that trailer is at a fishing spot handing out gear, the equipment's available to anyone, and no fishing license is needed. It's all free to use, Burkholder said.
"It's just to introduce everybody to fishing," Burkholder said. "It helps get everybody involved, gives them a taste of fishing. If they like it they can
take up the sport. Usually, they are hooked after they catch a couple fish."
He said the park ponds are stocked with rainbow trout. There were more than 100 people fishing the ponds from 9 a.m. to 1 p.m. Sunday.
Marissa Castro, 7, of Post Falls, said casting is her favorite part of fishing, and entered the casting contest there to test her skills.
She said she did well.
She did well catching fish, too, reeling in her limit, with help from dad, Terry Castro. The two left the park with 12 trout on their stringer.
"The bait we're using is pretty good," Marissa said. She was using Powerbait.
She said she likes eating fish, when it's been smoked.
When she wasn't catching trout, she caught a duck, after it gulped down her bait.
"I didn't mean to," she said. "They'll eat whatever people will give them."
The Take Me Fishing Trailer will be at Hauser Lake from 6-9 p.m. Thursday, June 10. It will be at Ponderosa Springs Golf Course from 7-11 a.m. Saturday, June 12. Information and schedule at: http://fishandgame.idaho.gov/cms/fish/misc/learn/
Recent Headlines
---