At long last, a new fire station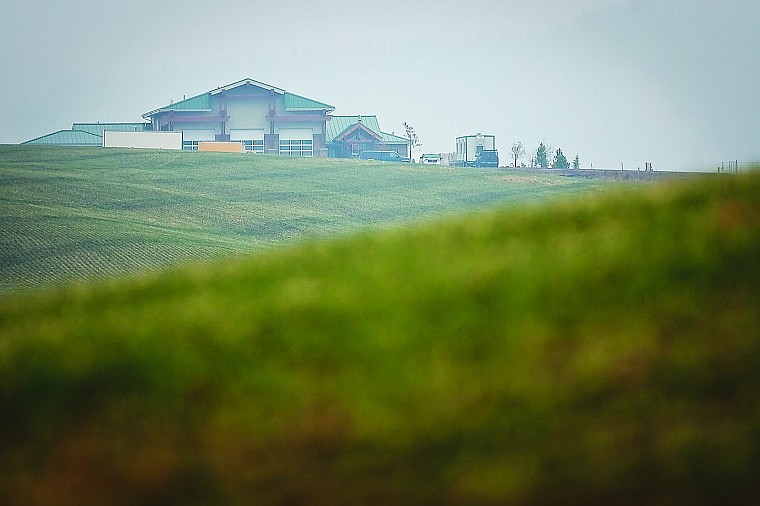 <p>JEROME A. POLLOS/Press The new Worley Fire Station overlooks the rolling hills near Setters on the Coeur d'Alene Indian Reservation.</p>
by
Alecia Warren
|
June 7, 2010 9:00 PM
It took more than a decade of planning, a trip to court and a whole lot of patience.
But the Worley Fire District finally has a new fire station.
After a long battle for funds and uncertainty over when the project would come to fruition, the district staff has settled into its new 12,000-square-foot station at 31541 South Highway 95, which will help expedite response time and eventually allow for full-time firefighters.
"It's a load off our shoulders," said district Chief Dan Sneve. "Now we can get back to doing what we're paid to do: Fight fires and save lives."
The district will hold an opening ceremony from 10 a.m. to 2 p.m. on Saturday for the new $1.4 million facility, which replaces the district's Station No. 1 - now Station No. 2 - that was built in 1969.
"It's a positive step for the district," Sneve said. "This building has all the modern amenities a fire station would have."
The facility boasts living quarters for full-time firefighters, which none of the district's other four stations have, as well as room for six trucks and enough space and backup power to house members of the public during a major disaster.
"It's a stand-alone facility, basically," Sneve said.
It's also centrally located to allow quicker service to locations throughout the district's 121 square miles.
Although staff and volunteers moved into the new structure last December, Sneve said the district wanted to wait for good weather for the open house celebration, which will include outdoor displays and a Northwest MedStar helicopter.
"It's pretty hard to fly a helicopter during a snowstorm," Sneve said.
The fire district is used to waiting.
Building a centrally located station has been a goal for between 10 to 15 years, Sneve said, out of need for a facility that would allow for 24-hour shifts to accommodate demand.
The hope was also for a facility to house full-time firefighters to relieve the burden on the pure volunteer crew.
"We're no different than any other volunteer organization. Volunteers are hard to come by, and those that you do have, you have to take care of," Sneve said, adding that the district wouldn't mind doubling its 27 volunteers. "You can't burden the volunteers with multiple calls, because they have other jobs and their own lives."
Yet after the district finally pinpointed a location for the new station, voters shot down a requested temporary levy override two years ago to fund the project.
The district resorted to using what savings it had to at least start construction, Sneve said, and meanwhile pursued other avenues of funding to complete the facility.
"The board made the decision we were going to go ahead and get the building built and enclosed. If we had to sit on it a year or two to recoup funds again, we would do that," he said. "It was that strong of an issue."
The main obstacle, Sneve said, was a state statute that prevented fire districts from taking on long-term debt.
While the district was still funding construction on its own, Sneve said, it also made a legal appeal for judicial confirmation that would allow the district to take on long-term debt for the project.
"We weren't confident we would win it," Sneve said. "It was just a roll of the dice."
After several months of navigating through the legal process, though, a district judge in Coeur d'Alene ruled in the fire district's favor, allowing it to obtain a $1.4 million loan.
"We're hoping to pay that off in less than 10 years," Sneve said.
It was just enough to recoup their losses and complete the facility last winter, he added.
But not enough to hire full-time firefighters.
"We're pretty much tapped out now with that building," the chief said. "We're going to run with the (paid) staff we have and the volunteers, and then we'll just rotate our existing volunteers with full-time crew as need arises."
Currently, the district has only four paid staff members, including the chief, deputy chief/operations chief, EMS chief and secretary/district clerk.
Even without the help of a full-time firefighting crew, Sneve said, the volunteers at the new Station No. 1 have still trimmed response time.
The district hopes to pool volunteers for 24-hour shifts at the station during the high-danger fire season, he added.
"We're going to do the best we can," Sneve said. "(The new station) has proved its worth so far."
Recent Headlines
---