Seattle turns back clock too far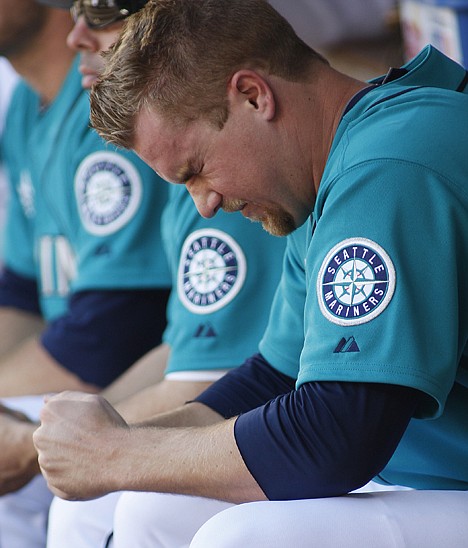 <p>Seattle pitcher Shawn Kelley reacts in the dugout after he was pulled from the game in the sixth inning vs. visiting Los Angeles on Saturday. Kelley gave up three runs in 1/3 innings.</p>
by
Gregg Bell
|
June 6, 2010 9:00 PM
SEATTLE - Torii Hunter was in the Angels' dugout when a Seattle fan asked the three-time All-Star and nine-time Gold Glove outfielder for his favorite athlete.
"Michael Jordan," Hunter said, "in baseball? Griffey and Kirby Puckett."
Then Hunter played like his now-retired idol did - on the Mariners' "turn back the clock day" to 1995 and Ken Griffey Jr.'s prime.
Hunter had three hits, three RBIs and keyed a decisive six-run sixth inning to lead surging Los Angeles to an 11-2 rout of Seattle on Saturday.
The Mariners wore aqua-green jerseys and the stadium blared the music of MC Hammer and others of his era to commemorate Seattle's first playoff season of 1995.
But it felt more like the Mariners' dreadful days of 1970s and '80s.
Three Seattle relievers allowed 10 earned runs, seven hits and seven walks before they got their fifth out following fill-in starter Ryan Rowland-Smith's solid outing.
Los Angeles broke a 1-1 tie in the sixth against relievers Garrett Olson (0-1), who was in Triple-A last week, and a wild Shawn Kelley, who may be heading to the minors soon.
After Maicer Izturis' two-run single made it 5-1, Kelley imploded - and 31,548 fans booed him off the field. Kelley hit Howie Kendrick with a pitch, then walked Bobby Abreu to load the bases. Then came two more walks for two more runs - to Hunter and Hideki Matsui.
Kelley departed after allowing three runs, one hit, four walks, and hitting a batter. He got just one out. Then he sat in the dugout with his head in his hands, looking down at his feet and squeezing his head.
"I don't know if I've ever experienced anything like that," he said.
Recent Headlines
---