Right at home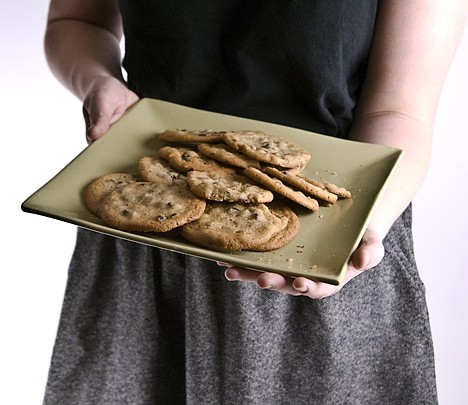 <p>This undated photo provided by Meg Volk shows chocolate chip cookies being presented on a plate. Casserole, house plant or just a friendly hello _ what IS the best way to greet new neighbors? (AP Photo/Meg Volk)</p>
by
Kim Cook
|
June 6, 2010 9:00 PM
"If strangers move into a neighborhood, it is not only unfriendly but uncivil for their neighbors not to call on them." - Emily Post, "Etiquette: The Blue Book of Social Usage," 1937
When we moved across the country to our new town, many friendly neighbors stopped by to say hello. Some brought pastries from a bakery; others offered advice on grocery stores, dentists and hardware stores.
One neighbor, with whom I'd established e-mail contact before the move, even stocked the fridge and pantry with the essentials so we wouldn't walk into a completely empty house. There was a small table with chairs, utensils, toilet paper, an inexpensive shower curtain, and soap and towels in the bathrooms. Mrs. A was a one-woman welcome wagon.
Some of us remember the official Welcome Wagon ladies coming to our childhood door; the company, started in 1928 by Tennessean Thomas Briggs, was such a cultural fixture that even the Kennedys and Nixons received visits when they moved into the White House. Now the firm operates primarily via the Internet.
In these modern times, what's the best way to greet our new neighbors? Many people aren't sure how much to do and when. Do you head over as soon as you see the van arrive, or wait a week, or wait for them to make the overture? Casserole, house plant or just a friendly hello?
Chicago-based residential real estate expert Mark Nash advises waiting till the moving van has gone. "Give them a couple of days to get somewhat settled," he says.
Offer to take some of the cardboard boxes to the recycle depot, he suggests, and if they have a dog, offer to introduce them to fellow pet owners. Nash says that thoughtful housewarming gifts after the chaos eases could be a nice bird feeder, or a gift certificate for a home improvement store, local spa, dog walker or window washer.
Minneapolis-based psychologist and HGTV.com contributor Dr. Bra Vada Garrett-Akinsaya suggests some inexpensive ways to offer a friendly hand to new families:
• Make a picnic hamper. Include maps for local parks, disposable dishes and some outdoorsy snacks.
• Make a kids' activity box. Include markers, puzzle books and juice boxes to keep children busy while parents unpack.
• Make a neighborhood look book: a three-ring binder filled with neighbor contact info, trusted medical practitioners, recommended local businesses.
• Make a kid's look book. Include photos, names, ages and contact info for neighborhood kids, and perhaps a calendar to add play dates.
• Make magnets. On a craft store magnet, glue names and numbers of baby sitters, yard services, and reliable handymen.
• Offer to be a guide. Make a fun coupon good for a personal tour of the area.
Should you bring over prepared food?
Today we worry about allergies, religious restrictions and taste buds. While most people agree that the gesture's what counts, it's probably better to take something neutral rather than your famous tuna broccoli casserole. Nash suggests baked goods, fruits and vegetables, specialty coffees or teas.
Some people favor a festively wrapped bottle of bubbly or good wine. New Yorkers Bob and Christina Agnew fondly recall the elderly next door neighbor who brought over a bottle of fine Scotch.
"It was clearly her favorite, because she often stopped by to help us consume it!"
Recent Headlines
---