Midtown rebound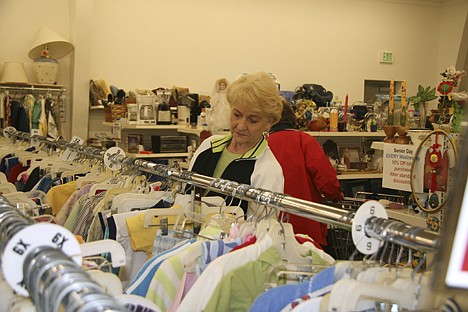 <p>Maureen Tutland, visiting family in Coeur d'Alene from Salt Lake City, shops the children's clothing rack at the Idaho Youth Ranch Thrift Store on Fourth Street on Friday.</p>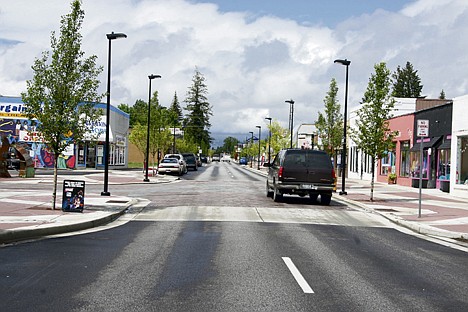 <p>Fourth Street is lined with cars as shoppers once again find Midtown's revitalized business district a convenient place to shop.</p>
Previous
Next
by
Rick Thomas
|
June 6, 2010 9:00 PM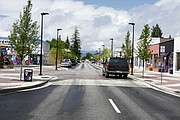 COEUR d'ALENE - Most of the stores along Fourth Street in Midtown survived the four months of construction that began just over a year ago, and ended as autumn set in after eating up most of what is usually their most lucrative time of year.
Widened sidewalks, smooth streets with brick accents in intersections, and plenty of easily accessed parking has brought shoppers back, and along with it the smiles on the faces of the owners of shops in the city's central shopping district.
"Almost 100 percent of the people who come in say, 'Isn't this nice and clean,'" said Von Nash, owner of Von Nash Interiors.
Many thought she had closed up for good after moving to Midtown from her Northwest Boulevard store in the dead of one of North Idaho's worst winters ever, only to face road restrictions a few months later.
"It almost put me out of business," she said. "Right after they carted the snow off, they tore the street up."
As the sun finally broke through following a day of torrential rainfall, shoppers also came out to visit the boutiques, restaurants and thrift stores that still survive. There are still some vacant storefronts, and a few businesses could not quite deal with the loss of customers that came when the old asphalt roadbed and sidewalks of Fourth Street were stripped away, leaving rutted dirt and clouds of dust for drivers who continued to use the primary north-bound street from downtown to the north side.
But when it was done, wider sidewalks, conveniences such as shelters at bus stops and pieces of art greeted those traveling the freshened boulevard.
"I hope it will encourage people to walk the streets," Nash said. "We've been a long time wanting this."
That is happening already, said Peggy Moniz, owner of Painted Pig, and antique and collectibles store.
"There are more people walking all the way up," she said. "There is more foot traffic."
Certainly an improvement from those dreary days last summer, when there was occasionally little point in opening the door.
"It was terrible," Moniz said. "Some days we had to shut the door, because the water was shut off. Some days we didn't see a single soul all day, but the overhead continued."
Now, new vendors are being added as summer approaches.
"I think it's just beautiful," she said.
Thrift stores on Fourth Street that help support nonprofit organizations felt the pain, but are recovering well. One is the Idaho Youth Ranch Thrift Shop, which was moved to a larger space only a few months before construction began and has since completion of the dusty project doubled its sales from a year ago.
"Business is wonderful," said Suzy Sindelar, who works at the store now and lives nearby. She watched the construction and saw how hard it hit the stores along the route, and how much it has improved.
One thing that has changed dramatically is the ease of movement for shoppers.
"We have plenty of parking," Sindelar said. "People park here and walk to the other thrift stores."
In fact, she said, shoppers are coming from as far away as Montana to shop in the district.
"We lost a lot of visibility during the construction," she said.
Now, with access from not only Fourth, but Third Street as well, the store, which absorbed much of the inventory of the closed Thriftique store a few blocks north, is bustling with shoppers.
That also helps the Paris Flea Market next door, which had only a side entrance during much of the construction. That is still an advantage, facing the Youth Ranch store, but now with a front door access is easier, said Jeffrey Gagnon, who works in his mother Williene's store.
The remodeling of the Safeway grocery store has also helped rejuvenate Midtown, he said.
"There is a lot more foot traffic on sunny days," he said. "We see a lot of people wandering around."
It was a tough time waiting for the work to be completed, but they had been through it before when their store was downtown, and this time around the potential improvement was even greater.
"Then, they were replacing good sidewalks with new sidewalks," Gagnon said. "Here they were replacing a dirt trail with something you can use."
Recent Headlines
---