Flowers to banish the June gloom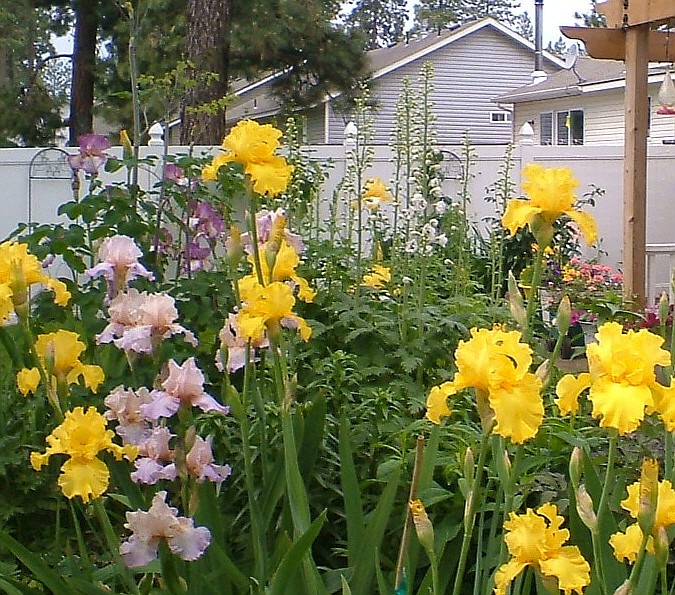 <p>Some of my iris collection wearing their spring finery.</p>
by
Elaine Cerny
|
June 6, 2010 9:00 PM
This appears to be a great year for irises. I have more varieties than I care to admit, but love them all. They are doing an extra special job of blooming this year. Just gorgeous. I have a lot of miniatures which started blooming in early May. They're cute, but nothing holds a candle to the tall bearded ones... at least not in my book.
The main question I get about irises is, "Why don't mine bloom?" The answer is almost always one of the following: not enough sun, or they desperately need to be divided. These problems can both be cured with a shovel. Move the shady ones to a sunny spot and dig up the crowded ones and divide them. Carefully pull these apart and replant those which were growing on the outside of each clump. Toss the old inner plants as they're past their prime and not worth keeping. Luckily, the same doesn't hold true for us "senior citizens!"
I'm hoping by the time this column is printed that we're seeing sunshine. I'm writing this in late May and I am totally sick of rain! Such a strange year, so far.
No winter to speak of after the first of January, but it just doesn't want to stop and make way for spring. The frosts hit much later than usual too.
One plant that keeps on truckin' is rhubarb. Now is the time to enjoy those desserts, especially strawberry rhubarb pie. Yum! Remember to keep those bloom stalks cut off as soon as they start to grow. If you let the plant bloom, you won't be getting nice new stalks to use in those scrumptious goodies. Don't let the plant dry out either as it takes a lot of water to keep those huge leaves happy.
Once again, I'm seeing pots of snow on the mountain, (bishop's or gout weed,) for sale locally. Do NOT succumb to the pretty green and white leaves. If you do, you'll be sorry. This plant is notoriously invasive. Bishop's weed not only spreads by seed, it also spreads by underground runners. If you're pulling but don't get every last piece of those runners out of the ground, it will pop up again almost immediately. The only cure is to spray them with Roundup. When you use these products, be very careful not to hit any other plants in the vicinity as they will keel over too.
Mark June 12 on your calendar for the annual River City Gardeners' plant sale. Proceeds are donated each year to local charities, such as the food bank and the senior center. This sale will be in the usual location, 416 E. Third St. in Post Falls. Hours are from 9 a.m. until 2 p.m., rain or shine.
Raspberry plants are growing like mad right now. Luckily, they don't require much in the way of fertilizer. You can dig some lawn fertilizer in and around them if you have time. Be sure it's not the Weed & Feed kind though. Just "feed," no "weed." Keep your plants growing in rows, tied to fencing around 2 feet and 4 feet heights. Suckers will pop up as much as 6 feet away. Dig them and give away or plant in a desired location. If you don't keep after them, you will end up with a major bramble before long. Once that happens, you won't even be able to get in there to pick the berries. Only Br'er rabbit will be happy!
Elaine Cerny has gardened most of her life, starting as a kid in 4-H. Since then, she has always kept a garden of some sort, growing everything from fruits and vegetables to flowers and house plants. She has belonged to garden clubs in three states. She is an active member of the River City Gardeners Club in Post Falls.
Recent Headlines
---