Debbie Berger: Fan of fireworks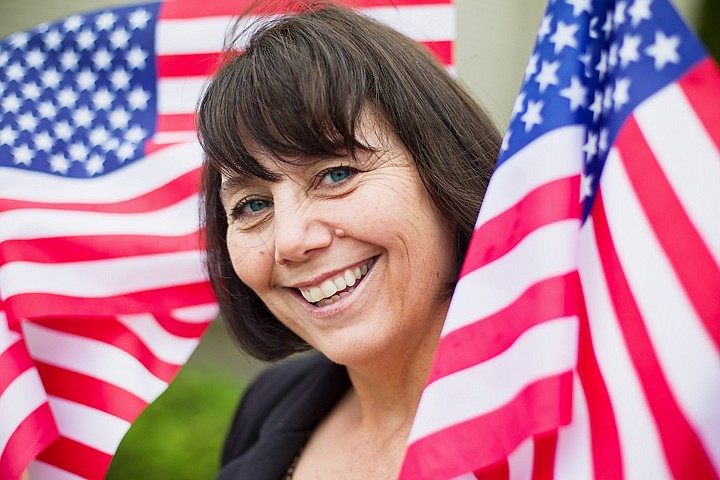 <p>Debbie Berger is the community fireworks fundraising coordinator working with the Coeur d'Alene Chamber of Commerce.</p>
COEUR d'ALENE - Debbie Berger grew up watching the fireworks in Coeur d'Alene. Born in Spirit Lake, the 1974 Coeur d'Alene High graduate and daughter of Fred and Pat Rohde loved the family tradition when all would gather to watch the colorful, loud explosions over Lake Coeur d'Alene.
COEUR d'ALENE - Debbie Berger grew up watching the fireworks in Coeur d'Alene.
Born in Spirit Lake, the 1974 Coeur d'Alene High graduate and daughter of Fred and Pat Rohde loved the family tradition when all would gather to watch the colorful, loud explosions over Lake Coeur d'Alene.
"My family usually came down to Playland Pier to watch the fireworks. I remember one year it was pouring rain and we still came, we all sat beneath a huge tarp watching," she said. "That fireworks moment spent with my family remains one of my favorite. My grandparents owned property in French Gulch, so there were different places we could watch every year. Whether we were down here or up there, we watched."
And she's still watching.
But now, Berger is representing the Coeur d'Alene Area Chamber of Commerce as the community fireworks fundraiser coordinator.
"It's a mouthful," she says with a laugh.
It's the same role she held in 2005 through 2007, so she knows what it takes to reach the $30,000 goal.
It won't be easy, not in this economic climate, but it's a challenge she happily takes on.
"Yes. I'm right where I should be," she said.
•••
So the Fourth of July fireworks fundraiser drive is under way?
The sooner the fundraising begins the better. It's quite a task.
Why did you want to be the fireworks fundraising coordinator again this year?
Just being involved with Coeur d'Alene overall, doing something productive for our community, something outside myself.
How are things looking?
As it stands, we're hoping to make $30,000. The more money we have, the bigger the show. We're not locked into that at this point, in essence it's up to our community to decide how big they want the fireworks to be.
What do you do to raise $30,000 for fireworks?
Spend many sleepless nights thinking about all I need to do. (laughs)
This year is a bigger challenge than previous years only because of our economy. Understandably, not everybody that's been able to contribute in the past can donate this year. I'm attempting to reach beyond our usual outlets to the general population in hopes they will realize the importance of their participation to make the fireworks happen.
As per usual we have some fantastic support from local businesses, such as the Marinas who are hosting the annual Marina Challenge, as well as other establishments like Pioneer Title who is hosting the Blue Jean Challenge. But be ready as I will be sending letters, making phone calls, sending e-mails, etc. In order to engage the public I'm developing some other bright ideas for fundraisers. A local cycling enthusiast suggested we organize a stage race or maybe time trial which would begin and end in Downtown. The proceeds garnered would go toward the fireworks fundraiser. I will keep you updated on this idea, I think it's great. With the help of the Museum of North Idaho we are also promoting a Fourth of July photo contest; the winning photo will be used in our parade T-shirt design. Look for more details on this and other fireworks fundraising programs.
I will be visiting each business on Sherman Avenue with donation containers in the hopes of receiving more local support. I'm definitely reaching out in different ways this year.
Will it work?
We have a big responsibility. It's our fireworks, the community's that is. We don't have a mysterious benefactor or any one person that puts this thing on. We all do. It's the gift we give to each other every year.
Has the goal ever been missed?
Not to my knowledge.
Is there a network of people behind you?
The Chamber of Commerce, the marinas, the Museum of North Idaho, our local businesses and organizations, our community, including every child who puts a quarter in the bucket on the parade route.
It's said the fireworks display brings in about 30,000 people and is a huge boost to our economy. Are you feeling any pressure?
It is a lot of pressure. But I work best under pressure, so bring it on!
What does it take to be good at this?
From personal experience, if your body is resonating with the anticipation of doing the task, then you are the perfect candidate. I almost didn't say yes this year, 'I simply don't want to let the community down.'
It's that important to me that we meet the goal, which means of course for me to have success with this fundraiser I need each and every one of you.
Will you make it?
I definitely believe in our community and trust they'll support the fireworks as they have in years past.
Do you raise much from the buckets you hold out during the parade for donations?
We actually do. We get $4,000 to $5,000 every year. That's considerable, so when you see the Bucket Brigade during the Backward Parade and the American Heroes Parade be sure to remember that, 'every drop in the bucket counts!'
What happens if the drive comes up short?
There will be a fireworks show. It might be smaller, but it will happen!
What is the best way for people to help?
Donating, definitely. You can mail it in, drop by the Chamber of Commerce, visit the chamber website or donate at local businesses.
Do you get to watch the fireworks?
I do. I try it view it from different venues every year and try to capture a photograph. I've gotten some of the best photographs from the top floor of the parking lot at The Resort. One of my favorite spots to view the fireworks is right on the water. It is so beautiful and moving. The oohs and aahs of 30,000 spectators is the conclusion to this fundraiser that leaves me in awe and makes me want to do it all over again next year.
Do you feel a sense of satisfaction as you watch the display in the sky?
Of course, but it's really not about me. It's about our community, our country and I want it to be spectacular for all of us.
Are you a patriotic person? Is that motivation to raise money for the fireworks?
In the end the fireworks aren't just the culmination of a fantastic weekend in Coeur d'Alene. It's about our family members who have served or are serving our country, fighting for the freedom we still enjoy. So I ask you to remember that the moments we watch the fireworks together, that they are still fighting for us.
Anything else you would want the community to know about the fireworks?
It doesn't matter how much you donate. Just donate. If you can, do. It's so important.
To help, send your donation to Coeur d'Alene Community Fireworks Fundraiser, C/O Coeur d'Alene Area Chamber of Commerce, Attention Debbie Berger, 105 North First St. #100, Coeur d'Alene, ID 83814.
Berger can be reached at debbie@cdachamber.com.
SNAPSHOT
Debbie Berger
Date of birth: Aug. 23, 1956
Family: Daughter, Bethany; stepson, David
Education: 1974 CHS grad. Attended North Idaho College
Vocation: Graphic Designer, Marketing
Number of hours on average you sleep in a night: As many as I can
Hobbies: Photography, knitting
Favorite movie: "The Green Mile"
Favorite book: "A Christmas Carol"
Favorite author: Charles Dickens
Favorite type of music: Hip-hop
Favorite spectator sport: Baseball
One person who most influenced your life: My grandpa. He passed away when I was 11 and left an indelible imprint on my heart. He was the kindest person I've ever known. When I grow up I want to be just like him!
One thing you are most proud of: Without a doubt, my daughter
Quality you admire most in a person: Honesty
Best advice you ever received: Be courageous
Recent Headlines
---