'Vanishing America' comes full circle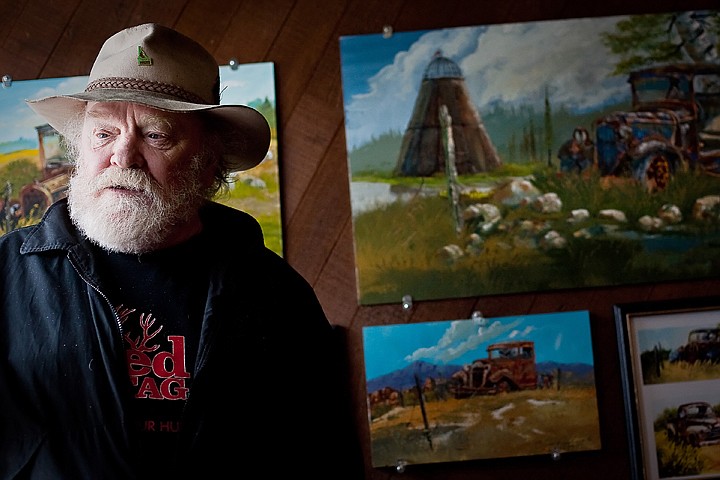 <p>Terry Pardue stands in front of his watercolor paintings hanging at the Office Bar and Grill on Fourth Street in Coeur d'Alene. Pardue is turning the Midtown bar into his own art gallery after the professional painter regained his stroke following a 15-year break.</p>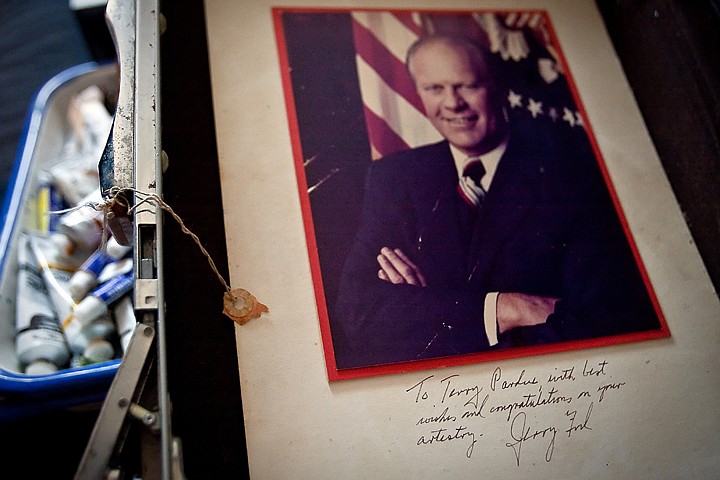 <p>A prize of Pardue's is an autographed picture of former Commander in Chief Gerald Ford, who hung two Pardue pieces in the White House during Ford's presidency.</p>
Previous
Next
by
Tom Hasslinger
|
February 11, 2010 11:00 PM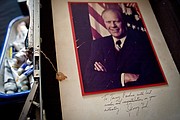 COEUR d'ALENE - What's behind Terry Pardue is a lifetime, thousands of watercolors inspired by the relic, the decaying, the dignity of a lost landscape.It's filled art shows and galleries across the West, covered store fronts and walls; it's been admired in Soviet Georgia and has hung in President Gerald Ford's White House.
"That's from Ford all right," Pardue said, pointing to an autographed picture of the 38th president the artist keeps in a box. The signature thanks Pardue for two pieces, one a pen and ink drawing of the Casey Tibbs, the six time World Champion Saddle bronc rider, and the other a watercolor of a beaten, but beautiful 1918 classic Diamond T truck immobilized in a dried riverbed, a Pardue trademark.
"Vanishing America," Pardue calls his style. "I'll paint anything that's vanishing."Pardue has crafted more than 2,000 paintings and drawings, many of the rugged West, brown and gold fields, flowered prairies, mountain tops and deserts, landscapes broken only with fence lines or wagons, abandoned autos and airplanes, or buildings that could have been churches or barns.
Each piece is a question of what's missing, or what's there."There's nothing interesting about a brand new house," Pardue said, a throw back himself, relic even, with his cowboy hat and Hemingway beard. "You ever see a painting of a brand new house that was interesting? It has to have character. What makes character? Time. Time makes character."
But it's what lay ahead for the artist, not what's behind.Pardue, 69, feels it in his gut again, he said, like it's exploding.
It's been 15 years since he's painted, a desire that went away after his baby grandson suffered life threatening injuries."I really don't know what's going to happen and that's the fun," said Pardue, who moved to Coeur d'Alene in 2001 with his son and grandchild, who has fully recovered. "I think I have another big piece in me."
His new gallery is the Office Bar and Grill, on Fourth Street in midtown.It's not the Santa Barbara, or Los Angeles shows where the artist made his mark, the ones where Hollywood stars browsed the pieces.
"They were there," Pardue said of the stars. "Some of them bought some."But the new digs are perfect for him, he said. He loves midtown. He loves the vibe it's stirred since its reconstruction. He said he feels the desire to paint so deep in his stomach that he's going to fill the entire Office wall, and spread the remaining pieces on the wide, rebuilt sidewalk as part of the city's art walk.
He is selling his work again, and wants to be midtown's first big artist."He always mentioned he was an artist," said Dwight Hill, Office Bar owner of his longtime patron, who frequented the bar with his muse still out from his grandson's injury.
Hill admitted he was skeptical of Pardue's talk of big shows, and traveling abroad at first."You never know," the bar owner said. "You hear it, and you take it for what it is at the moment."
Then Hill saw the artist's portfolio, which included a mural Pardue painted on the Boys and Girls Club in Escondido, Calif., - a building Hill walked by every day while living 26 years in the area."You did that?" Hill asked.
"Yup," Pardue told him."It was pretty impressive," Hill remembered.
And when Pardue's fire returned last year after teaching his granddaughter to color, Hill had no problem lending Pardue his Office walls.Pardue still has his past, pieces up and down the West, including his most famous painting, "Death of a Nation," which he created over three days after Bobby Kennedy's 1968 assassination. It shows a gratified church, in a field, of course, with the dark, ominous sky boiling behind it, and an American flag draped over a tombstone in the foreground covering the nation's death date, but revealing its birthday in 1776. The piece sold to a private collector for $5,000, and caused quite a stir when it was displayed. Pardue has all the San Diego and L.A. newspaper clippings reviewing it in his portfolio.
"I wish they would have thrown me in jail," he said of the controversy. "It would have made me famous."And Ford's pieces are still at the ex-President's son Steven's ranch house in California.
But that was then. This is now.
Pardue's painted 10 pieces, with his trademark landscapes, since his rebirth.The only thing separating then and now is time.
Information: Office Bar and Grill: 664-9957.
Recent Headlines
---