'They blessed me'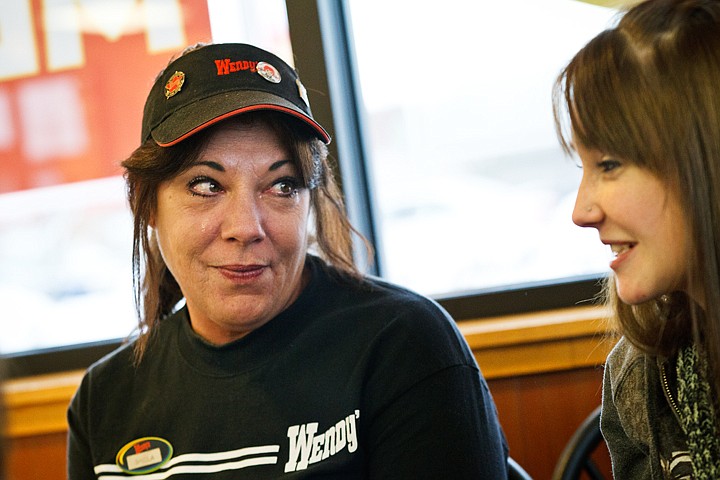 <p>Sheila Whitfield tears up while talking with co-worker Britiea Smith, 19, Thursday about how she and other Wendy's employees organized more than $800 to buy Whitfield a vehicle.</p>
by
BILL BULEY
Staff Writer
|
December 31, 2010 8:00 PM
COEUR d'ALENE - When Sheila Whitfield steps into her 1994 Buick LeSabre before and after work, she gives thanks.
And sometimes, when the sense of gratitude is overwhelming, she cries, too.
"I get in my car and it's warm and it's like, thank you Jesus, thank you family," she said.
Her family, it turns out, is her fellow employees at Wendy's on Appleway, who pitched in to buy her a car.
Yes, they bought her a car so she wouldn't have to walk to and from home each day.
"I'm just so astounded these kids went way above and beyond for me," Whitfield said Thursday, glancing at fellow employees sitting around her in the dining area of the fast-food restaurant. "Thank you."
With tears glistening on her face, the 47-year-old expressed her love, admiration and appreciation to the youth looking on.
"All these kids love me. They do," she said, smiling with pride. "They poured their hearts out to me because I'm old."
Michael Sherman, manager of the Wendy's on Appleway, called it "a true Christmas spirit event."
He said Britiea Smith and Mattea Mitchell "embody true giving spirit in this holiday or any other season, and have effectively made a change in their worker's life.
"I think we can all take a lesson from them," he said. "We all know about how much they make, but despite borderline personal poverty levels, they gave, gave and gave to someone in need."
It is Mitchell who came up with the idea to help Whitfield and in two months, employees contributed $315.
Smith, a 19-year-old single mom of 5-month-old Skyler, contributed more than $500 to the nearly $900 needed for the Buick.
"It was more Mattea's idea and I just kind of went along with it," she said. "But we did it. We were tired of seeing her walk back and forth to work."
Whitfield was traveling by foot 2 miles to work each day, then home when she got off work at 10:30 p.m. Some days and nights, it took about 40 minutes to make the trek on icy roads and snow-covered sidewalks.
"We just decided to get together and get as much money as we could to give somebody something they didn't have," Smith said. "We knew she was having a hard time with everything. We just really want to help her."
They found the champagne-colored Buick at a nearby used car dealer.
"We test drove it and it drove really good," Smith said. "We decided it was a good idea."
A week before Christmas, they called Whitfield and asked her to come to work so they could surprise her with the car.
There was a problem.
She wouldn't come in.
"I thought I was in trouble. I thought I was getting fired, so I didn't want to go to work," Whitfield said.
But they convinced her.
When she finally showed up and they unveiled their gift, Whitfield said she "almost had a heart attack.
"I couldn't breathe. I was hysterical," she said, fighting back more tears. "I was shaking so bad I couldn't stand because I don't know why they did it."
Wendy's employee Paige Espicha knows why.
"She's one of the most pure-hearted people," Espicha said. "We want her to have some upward mobility."
She added that Whitfield is a nurse.
"She needs to not be stuck here," Espicha said. "She needs to get on with her life. It's going to be sad to see her go, but we want to see her do her best."
Whitfield moved to Coeur d'Alene from California in December 2009 to be near her son. She found a job as a cashier at Wendy's in January.
Surviving in North Idaho, she found, has been difficult.
"I've been kind of struggling to make ends meet," she said.
But Thursday, she knew she wasn't alone. Not only does she have some new best friends, but a family, too.
"Now I have several sons and daughters," Whitfield said, searching for the right words. "They have always been good to me."
Including driving her to and from work.
"They've done everything they can possibly do for me," Whitfield said. "They blessed me."
Smith, with son Skyler in a carrier, downplayed her role, saying simply that she cares about Whitfield.
"Honestly, she's like a mom to me," she said.
Whitfield, who plans to pursue a nursing career, said she has never had such good friends.
"I am so blessed," she said, "thanks to you guys. All of you."
Recent Headlines
---