It's Vikings down the stretch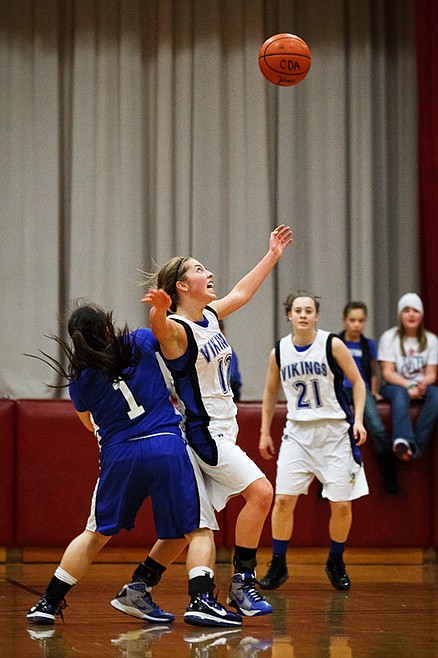 <p>Coeur d'Alene's Kyeli Parker gets position on Feral Way High School's Darah Huertes-Vining (1) after knocking the ball loose Thursday in the first half of the girls championship game of the Holiday Inn Express Invitational Tournament at North Idaho College.</p>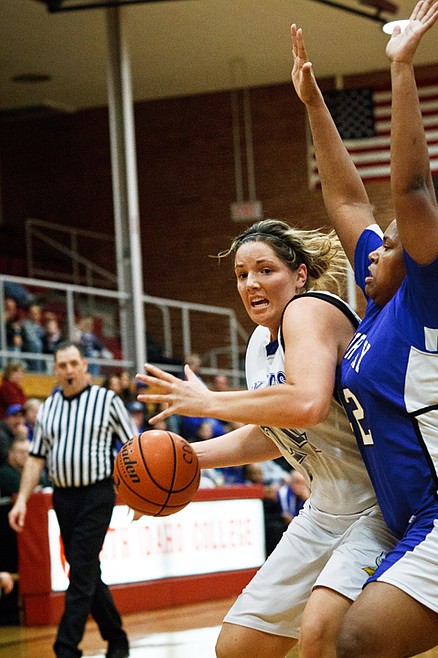 <p>Carli Rosenthal, of Coeur d'Alene, powers past Federal Way defender, Tyshana Burgess, for a score during Thursday's championship game.</p>
Previous
Next
by
JASON ELLIOTT
Sports Writer
|
December 31, 2010 8:00 PM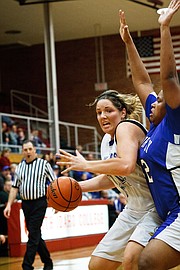 COEUR d'ALENE - Down by 10 points midway through the fourth quarter of the girls championship game at the Holiday Inn Express Invitational, the defending Idaho state 5A champions didn't panic.
They just got Legel.
Junior Erin Legel scored eight of her 14 points off the bench, including a 3-pointer with 30.4 seconds remaining that gave the Vikings a 70-69 win over the Federal Way Eagles on Thursday night.
"Coach (Dale) Poffenroth always tell us to shoot if we've got an open look," Legel said. "When it came down to it, I shot it. I wasn't even watching the shot after it left my hands because I was trying to get under the basket in case it didn't go in. Had it not, I would have been trying to get the rebound."
Poffenroth said that the final play was drawn up to go into the post, but had Legel as another option.
"(Kyeli) Parker was supposed to look inside to the post," Poffenroth said. "Erin's been playing better off the bench and sometimes those things happen."
Coeur d'Alene trailed 63-53 with less than four minutes to go before outscoring the Eagles 17-6 down the stretch.
"We had to switch our defense late in the game," Poffenroth said. "Sydni (Parker) hadn't played much in the tournament, but plays such hard-nosed defense that we put her on their best player. We started to get some turnovers and eventually got some shots to go in the hoop."
Coeur d'Alene (9-3) had to hold off a late shot attempt from Darah Huertas-Vining, who drove the lane only to have a shot blocked by Coeur d'Alene senior Carli Rosenthal at the buzzer.
"We're getting better as the season goes on," Poffenroth said. "Carli Williams got back tonight for the first time this season and I didn't see her play tentative. As our younger players are getting some experience, we're growing and getting better as a team."
All Tournament selections Kyeli Parker had 22 points and Rosenthal added 19 points for Coeur d'Alene.
Tyshana Burgess scored 24 points for Federal Way.
"I was kind of disappointed that she wasn't recognized for what she did in the tournament," Federal Way coach Danny Graham said. "She usually starts for us, but was coming off the bench because she hurt her ankle. She's been doing well off the bench and without her, we're not in this game tonight."
Federal Way defeated 5A Inland Empire League teams Lake City and Lewiston on the way to a second place finish.
"We came here wanting to play good teams," Graham said. "We ended up playing three great teams. I'm really happy we came. I'm proud of the team for their effort this week. Tonight was a fun game. They're a great team."
Coeur d'Alene travels to Lewiston on Tuesday.
Federal Way 10 17 22 20 — 69
Coeur d'Alene 17 15 13 25 — 70
FEDERAL WAY — D. Huertas-Vining 8, A. Huertas-Vining 0, Walton 12, Benton 9, Belhumeur 4, Jackson 0, Ajeto 11, Burgess 24.
COEUR d'ALENE — Baughman 6, Orlandi 6, C. Williams 0, K. Parker 22, Legel 14, Petit 3, Rosenthal 19, S. Parker 0, S. Williams 0.
Chiawana 55, Lewiston 38: Hayley Hodgins scored 16 points to lead the Riverhawks past the Bengals to claim third place.
Tanis Fuller scored 14 points for Lewiston.
Chiawana 13 20 18 4 —55
Lewiston 16 4 10 8 —38
CHIAWANA — Reynolds 3, Gonzales 0, Sparks 6, Ellsworth 13, Loving 4, Valdez 8, Hodgins 16, Rivard 5.
LEWISTON — Schlader 0, Hansen 0, Johnson 0, Phillips 3, Blinn 9, Fuller 14, Waters 13.
Lake City 58, Post Falls 39: Sydney Butler had 16 points and seven assists as the Timberwolves defeated the Trojans in the fifth place game.
Alyssa Kacalek and Dailyn Ball had six rebounds apiece for Lake City (11-2), which travels to Moscow on Tuesday.
Brooke Litalien scored 11 points for Post Falls (5-6), which travels to Lewiston on Jan. 8.
Lake City 15 15 10 18 —58
Post Falls 5 13 7 14 —39
LAKE CITY — J. Butler 0, S. Butler 16, Kacalek 5, Lewis 0, Rowe 8, Ball 5, Kerr 13, Mitchell 11, Heidenreich 0.
POST FALLS — King 6, Franklin 5, Gonzales 2, Davenport 5, Litalien 11, Scott 0, Failor 0, Smith 10, Perrin 0.
Lapwai 70, Lowry 50: Nathanee Spencer scored 22 points to lead the Wildcats past the Buckaroos of Winnemucca, Nev., in the seventh place game.
Julia Dufferina scored 18 points for Lowry.
Lowry 11 14 12 13 — 50
Lapwai 16 13 21 20 — 70
LOWRY — Higbee 0, Herrera 6, Dennis 14, Legarza 2, Dufurrena 18, Guerrero 4, Bernard 0, Neu 0, Ingram 0, Etcheverry 6.
LAPWAI — Spencer 22, Mitchell 2, Rhoan 0, Five Thunders 4, Oatman 4, Higheagle 16, Samuels 16, Miller 3, Picard 1, Wilhelm 2.
ALL TOURNAMENT TEAM
Carli Rosenthal, Coeur d'Alene (Most Outstanding Player); Darah Huertas-Vining, Federal Way; Talia Walton, Federal Way; Sydney Butler, Lake City; Mikaela Rivard, Chiawana; Hayley Hodgins, Chiawana.
Post Falls 82, Priest River 70: Connor Hill scored a game-high 31 points as the 5A Trojans defeated the 3A Spartans in a matchup of defending Idaho state champions.
"I've got the utmost respect for Priest River," Post Falls coach Mike McLean said. "I love to watch them compete. We've just a little more depth than they do."
Hill had a string of five consecutive 3-point field goals before a miss midway through the third quarter.
"Connor's a great teammate," McLean said. "He's worked hard on his game. It really shows that if you work hard on your game, you can become a great player. What everyone saw today is exactly what we see in practice each day."
With the win, Post Falls improves to 9-0 in three years at the Holiday Inn Express Invitational.
"I know they bring the best teams in the area here to compete," McLean said. "We just come here and do what we do. We beat three really quality teams here this week."
Jaden Barrett, Max Salesky and Eric Holbrook scored 16 points apiece for Priest River, which went 1-2 in the tournament against teams from the 5A Inland Empire League.
"This is something that will help prepare us for league," Priest River coach Ryan Bodecker said. "We want to play the best competition. We'll take this and move on from it. For a three-day tournament, we competed and did some good things. Our kids stepped up today and played a good Post Falls team tough."
Marcus Colbert scored 23 points for Post Falls, earning tournament MVP honors.
Priest River 17 16 22 15 — 70
Post Falls 23 19 23 17 — 82
PRIEST RIVER — Barrett 16, Peterson 2, Douglas 6, Bach 14, Salesky 16, Holbrook 16, Mortenson 0.
POST FALLS — English 4, Gonzales 0, Hill 31, Anderson 6, Valente 0, Thoreson 2, Colbert 23, Benner 0, Hillman 3, Lickfold 14.
Lake City 59, Chiawana 52: Mark Smyly and Chris Wheelock scored 15 points apiece as the Timberwolves defeated the Riverhawks of Pasco, Wash.
"After the first quarter we played very well," Lake City assistant coach Kelly Reed said. "We executed better on offense, tightened the defense and made some shots down the stretch."
Kyle Guice had nine points and six rebounds for Lake City (8-2), which plays at Moscow on Tuesday.
Lake City 5 17 16 21 —59
Chiawana 15 12 11 14 —52
LAKE CITY — Bevacqua 0, Smith 4, Wheelock 15, Carlson 4, Turner 5, Hartz 7, Smyly 15, K. Mitchell 0, Guice 9.
CHIAWANA — Downing 9, Lopaya 2, Walter 6, Zamora 7, Graff 0, Smith 12, Knight 0, Adamson 0, DeWitt 11.
Coeur d'Alene vs. Lake Stevens: Deon Watson scored 21 points to lead the Coeur d'Alene Vikings past Lake Stevens.
"Our fastbreak was working well for us and we are starting to become more patient with our shot selecion," Coeur d'Alene assistant coach Bill Hughes said. "We just need to keep getting more balanced scoring and keep playing better defense."
Coeur d'Alene, which received 10 points apiece from Chad Chalich and Jake Matheson, opens its 5A IEL season Tuesday at Lewiston.
Coeur d'Alene 15 18 11 18 — 62
Lake Stevens 12 9 13 12 — 46
COEUR d'ALENE — Tackett 0, Matheson 10, Dunn 0, Chalich 10, Roletto 0, Loy 0, Sutton 0, Higbie 4, Baracco 13, Watson 21.
LAKE STEVENS — Nelson 5, Tomson 13, Gasca 0, Dodge 3, Dolphin 0, Pahukoa 0, Paulson 0, Vandergrift 0, Eklund 10, Smith 13, Stoen 2.
ALL TOURNAMENT TEAM
Deon Watson, Coeur d'Alene; Marcus Colbert, Post Falls (Most Outstanding Player); Connor Hill, Post Falls; Justin Smith, Chiawana; Mark Smyly, Lake City; Chris Wheelock, Lake City; Jaden Barrett, Priest River.
Recent Headlines
---