New laws may not be on the books for very long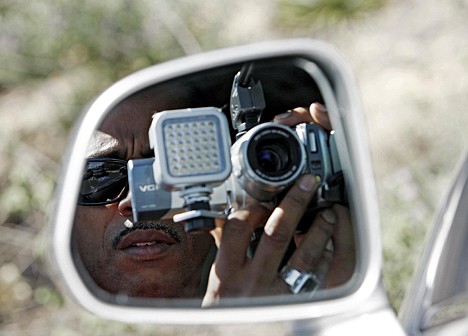 <p>Paparazzi Craig Williams, of Hollywood.TV, is seen through the side mirror during a stakeout near Britney Spears' house in Los Angeles in March 2008. Under a new law that will take effect this year, paparazzi caught driving recklessly while chasing celebrities can be charged with a misdemeanor punishable by up to six months in jail and a $2,500 fine. Previously they could only be charged with an infraction.</p>
by
Scott Bauer
|
December 30, 2010 8:00 PM
MADISON, Wis. - Revamped gun measures and tougher rules for payday lenders are among the laws set to take effect around the country on Jan. 1. But some of them may not be on the books for long.
This January, the statutes will kick in just as freshly elected governors and legislators arrive for work. And if new GOP majorities succeed in getting legislation repealed, the result may be sudden U-turns on issues that were only recently debated.
Before the November election, Democrats controlled legislatures in 27 states, with Republicans in charge of just 14. But after the nationwide Republican sweep, the GOP will soon control 26, the Democrats only 17. Control of others is split between the parties. The election also increased the number of Republican governors from 23 to 26.
With the switch in party control could come abrupt changes in the way some states handle government regulation, privatization and other matters.
Nowhere was the political shift more dramatic than in Wisconsin, where power in the Statehouse will shift wholesale from Democrats to Republicans. Already, incoming Republican Gov. Scott Walker and others would like to head off a law that makes it tougher for payday loan companies and auto lenders to do business in the state.
Until Democrats pushed the law through the Senate and House in 2010, Wisconsin was the only state that did not regulate those industries, and consumer advocates complained that lenders were exploiting poor people by charging exorbitant interest rates.
Democratic Gov. Jim Doyle shepherded the bill into law. But Walker said the new regulations go too far, and that the outright ban on loans secured by an auto title isn't what many legislators want.
"My hope is we're able to go back to that common-sense middle ground" with lesser restrictions, said Republican state Rep. Robin Vos, co-chairman of the budget committee. The new law limits payday loans to a maximum of $1,500.
In New Hampshire, Republicans hope to shoot down a new gun law they say doesn't do enough to protect private property and gun owners' rights. Republicans captured the legislative majority from Democrats in the midterm election.
In the recent session, lawmakers gave residents the right to display a gun or other weapon to warn away a potential attacker. Republicans plan to replace it with a stronger version that was vetoed by Democratic Gov. John Lynch in 2006. The tougher law would allow gun owners to use deadly force when threatened, inside their home or anywhere else.
"Why should I have to run away?" said Republican state Sen. Jack Barnes, who said residents who feel threatened should be able to use whatever force necessary. "It's my house."
In a switch benefitting the Democrats, incoming Gov. Jerry Brown in California may undo part of his Republican predecessor's legacy on privatization.
Brown could stop the controversial sale of 11 state buildings - including the Ronald Reagan building in Los Angeles and the San Francisco Civic Center - for $2.3 billion. Outgoing Republican Gov. Arnold Schwarzenegger sought the sale to help balance the state's budget.
As the state attorney general, Brown declined to defend the measure in court and asked that it be delayed. A court-ordered delay means the issue will be pending when Brown takes office Jan. 3.
A variety of other laws will take effect without any threat of repeal.
Alabama, which had fewer public ethics regulations than other states, will add new measures stemming from a major government corruption scandal that brought down Birmingham's mayor, Alabama's former junior college chancellor and three legislators. The new laws impose more restrictions on lobbyists and provide subpoena powers to the State Ethics Commission.
While other states have increased "sin taxes" and fees, Massachusetts will remove a 6.25 percent sales tax on alcohol in effect since August 2009. The repeal followed a major advertising campaign by liquor store owners and beer distributors.
California will try to rein in its rampant paparazzi. New laws dictate that those caught driving recklessly while chasing celebrities in the state can now be charged with a misdemeanor punishable by up to six months in jail and a $2,500 fine. Previously they were charged with a lesser infraction. The state will also downgrade marijuana possession from a misdemeanor to an infraction requiring no court appearance.
Delaware, Kentucky and Kansas will join many other states adopting tougher laws regulating cell phone use while driving.
Associated Press writers Norma Love in Concord, N.H., Phil Rawls in Montgomery, Ala., Christopher Wills in Springfield, Ill., John Hanna in Topeka, Kan., Steve LeBlanc in Boston, Randall Chase in Dover, Del., and Don Thompson in Sacramento, Calif., contributed to this story.
Recent Headlines
---