LCHS students in constant motion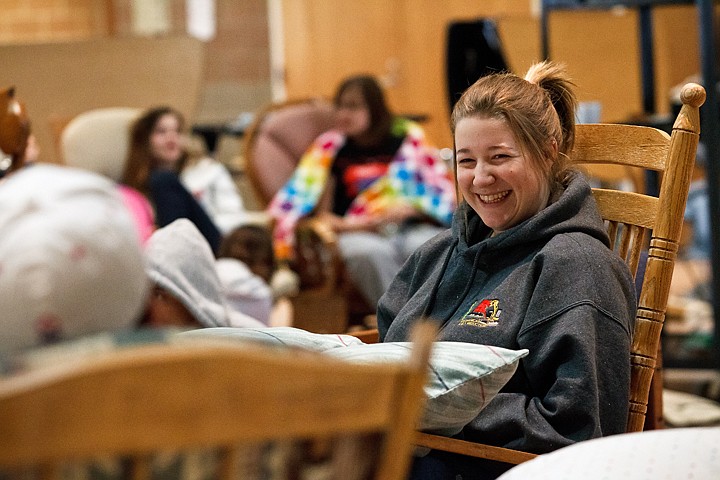 <p>Taylor Nordstrom, a senior at Lake City High School, participates in fundraiser Tuesday in which nearly 30 students rocked in rocking chairs for 24 hours to raise money for the Children's Miracle Network.</p>
by
MAUREEN DOLAN
Staff Writer
|
December 30, 2010 8:00 PM
COEUR d'ALENE - Nick Jordan wore a baseball cap and a big smile as he sat Wednesday morning, gently swaying back and forth in a rocking chair at Lake City High School.
The 15-year-old freshman clutched a pink fluffy blanket that was draped over his legs as he see-sawed his way through an 11th hour of chair rocking.
Jordan's was one of four rocking chairs that were being kept in motion for 24 hours each during a "rock-a-thon" fundraiser to benefit the Children's Miracle Network.
His secret to keeping the rocking rolling: "I just laugh, talk and have fun."
"I started to fall asleep, and I had to lean on his chair and he rocked both of us," said Jaelyn Nordstrom, 14.
In the 22nd hour of the all-night fundraiser held in the high school commons, a pile of empty pizza boxes sat high on a table near a heap of blankets, pillows and sleeping bags. About a dozen students were gathered in small groups, some around a television. While some students rocked, others rested in stationary chairs or on air mattresses on the floor.
The rocking chair benefit was held by members of the Lake City High School chapter of FCCLA (Family, Career and Community Leaders of America.
There were four teams of students, each team tasked with keeping a chair moving.
"We asked our neighbors and families to pledge donations," said Taylor Nordstrom, a Lake City senior and FCCLA vice president.
Nordstrom's team members switched off rocking every three hours, just when keeping a chair moving becomes particularly grueling.
"My feet were moving in my sleep," said Amy Adams, president of the roughly 30-member FCCLA group at LCHS. "But after a couple of hours of rest, you're ready to rock again."
FCCLA is a nonprofit, national, vocational student organization that focuses on family and consumer sciences education such as financial management, career planning, the art of balancing family and career, leadership development and community service.
It's the second year the 30-member group has held a rock-a-thon fundraiser.
They expect to raise more than $800 this year that will help sick and injured children through the Children's Miracle Network's support of hospitals and medical research for kids.
Recent Headlines
---