Kids ready to perform today at Kroc Center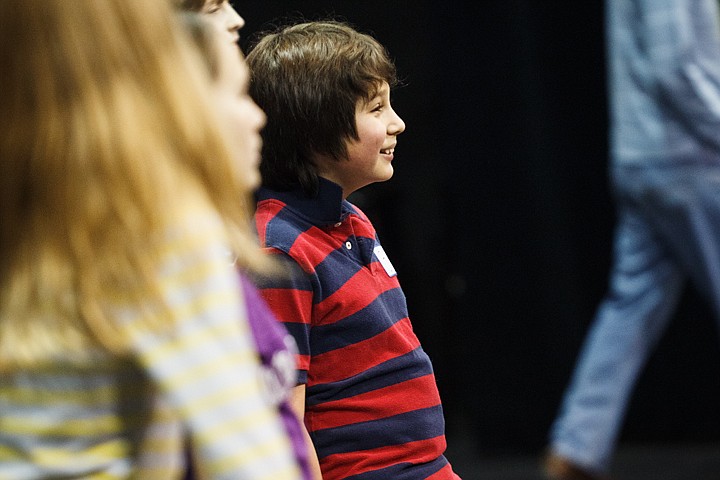 <p>Joshua Zeff performs with a small group during auditions Tuesday for a role in the Christian Youth Theatre's fundraising effort "Play In A Day" at the Kroc Community Center.</p>
by
BILL BULEY
Staff Writer
|
December 29, 2010 8:00 PM
COEUR d'ALENE - A play in a day sounds pretty easy.
Until you're told what it involves.
You need a cast of nearly 150 kids ages 8-18, lines to be memorized, crews to create props and sets, rehearsals, and yes, you've got to sell tickets, too.
And you have 24 hours to do it.
What, me worry?
"It's great to watch," said director Jeff Rocco. "They take ownership of it. It really shows through in the 24 hours they have."
Christian Youth Theater-North Idaho will host its second "Play In A Day" fundraiser at the Salvation Army Kroc Community Theater.
Auditions were Tuesday. The performance is 7:30 tonight.
This year's show will be highlights from "Joseph and the Amazing Technicolor Dreamcoat."
It's free for the kids to be part of it. Funds are raised through ticket sales. Tickets are $10 each. Buy five, get one free. They can be purchased online or at the door.
The cast will include about 140 kids
Rocco said they learned lessons from last year.
"We were all kind of clueless what to expect, but the kids loved it," he said.
Casting for parts was completed after Tuesday's auditions. At 7:30 last night, roles were assigned, scripts and music CDs were handed out, and kids sent home to rehearse. A lot.
The crew, meanwhile, headed out to work on the props, with plans to pretty much labor through the night. By 6 this morning, they returned to Kroc to build their set.
"It's exciting to see them put all of their effort into the show," Rocco said.
The cast arrived at 7 this morning and began running through lines, scenes and dances.
Following a dinner break at 6, the curtain rises at 7:30.
"This one is a little more hectic, being sure everything is in place," he said.
Rocco said the efforts of the kids are proof that "the show must go on." It will go on.
"It's great to watch," he said.
For more information: playinaday@cytnorthidaho.com.
Recent Headlines
---