Five adults, three kids hurt on ski lift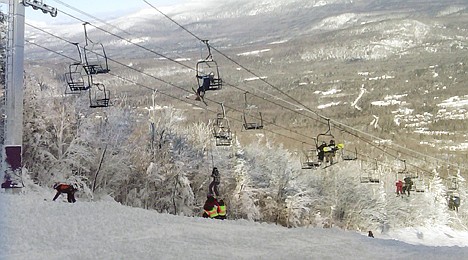 <p>This photo provided by Betsy Twombly shows a skier being helped down from a chair, center, after a lift derailed on the state's tallest ski mountain at the Surgarloaf resort in Carrabassett Valley, Maine, Tuesday.</p>
|
December 29, 2010 8:00 PM
CARRABASSETT VALLEY, Maine (AP) - A 35-year-old chair lift set for improvements failed Tuesday in high winds at a Maine resort, sending skiers - some of them children - plummeting into ungroomed snow far below that fell with the Northeast's recent blizzard and softened the landing.
At least eight people - five adults and three children - were taken to a hospital after the double-chair lift at Sugarloaf derailed during a busy vacation week at the resort 120 miles north of Portland. Dozens of skiers remained on the crippled lift for an hour or more until patrols could get them down.
The resort was not operating the failed lift and two others early in the day because of winds but deemed them safe to use before the accident at 10:15 a.m., said Ethan Austin, spokesman for Sugarloaf. The resort said the cable that supports the chairs jumped off track, though the exact cause of the failure is being investigated. Winds were gusting at 40 mph at the time.
The resort said the lift, which went into service in 1975 and recently passed an inspection, was set for upgrades or repairs but declined to specify when. About five chairs fell 25 to 30 feet onto a ski trail below, officials said.
Rebecca London, one of the skiers who tumbled to the snow, told The Associated Press that her face hit a retaining bar, but that her goggles spared her from serious injury. She credited new snow underneath the lift with a soft landing; the resort said it got 20 to 22 inches in Monday's storm.
"Thankfully, they didn't groom it last night, so they left it like it was," she said. "So the snow was all soft."
Most of the skiers who fell appeared to be stunned but OK, she said, and the ski patrol was on the scene within minutes to treat the injured. London, 20, of Carrabassett Valley, said she wasn't hurt badly enough to go to a hospital.
Jay Marshall, a ski coach who hunkered down in a cold wind while on a lift next to the broken one, said that his lift was moving but that the broken one was not.
There was a "loud snapping noise" after the lift restarted, he said, then some screams.
"The next thing I know, it was bouncing up and down like a yo-yo," said Marshall, of Carrabassett Valley. He said it was too difficult to watch, so he looked away. "It was terrifying," he said.
There could have been as few as 50 people or as many as 160 on the lift at the time, according to Sugarloaf, owned by Boyne Falls, Mich.-based Boyne Resorts. Sugarloaf workers used a pulley-like system to lower skiers to safety.
Recent Headlines
---