Bring fast food home for a healthy holiday season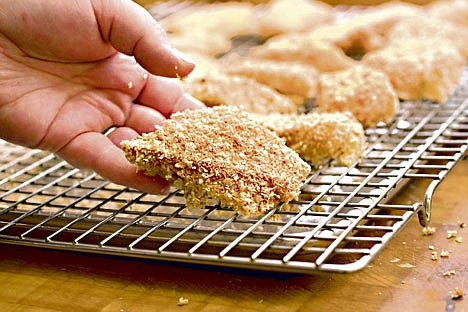 <p>This Dec. 5, 2010 photo shows crunchy fish nuggets in Concord, N.H. To keep the joy but battle the bulge, consider healthy homemade fast food this holiday season.</p>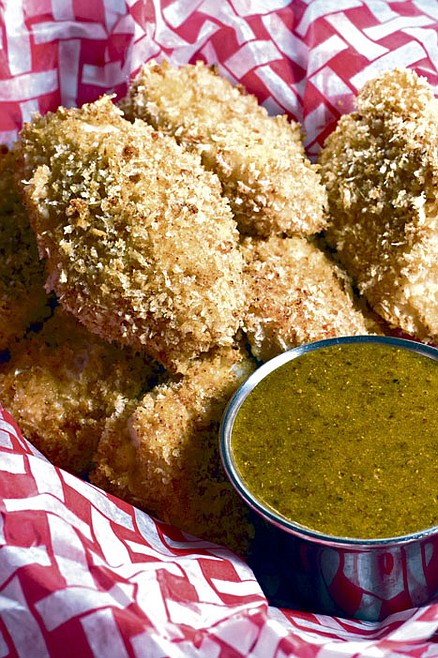 <p>This Dec. 5, 2010 photo shows crunchy fish nuggets with curried-mustard dipping sauce in Concord, N.H. To keep the joy but battle the bulge, consider healthy homemade fast food this holiday season.</p>
Previous
Next
by
Jim Romanoff
|
December 29, 2010 8:00 PM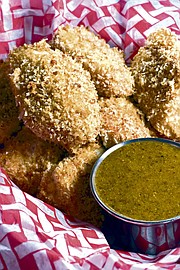 For too many of us, the holiday season isn't just about spreading glad tidings and joy. It's also about the spreading of the waistline.
To keep the joy but battle the bulge, consider healthy homemade fast food. These diet-worthy dishes won't tie you to the kitchen, but also won't weigh you down.
Consider having a burger night where you serve pre-made veggie burgers rather than the fatty beef ones. There's quite a variety available in the freezer section of your grocer and brands such as Boca offer great meaty-tasting versions.
Don't forget that most fast food burgers are all about the toppings, many of which can be quite healthy. Arrange a platter of tomatoes, pickles, onions, shredded lettuce and other toppings for your family to assemble their own burgers. And be sure to include some low-fat cheese and reduced-fat mayo, as well as ketchup and mustard.
While you're at it, why not use a nutrient-rich whole-grain bun instead of plain white?
If you prefer something crunchy, consider these fish nuggets with curried-mustard dipping sauce. They are made using an oven-frying technique that can give you results that are close to deep-fried, but with serious savings in fat and calories.
The first step is to coat fish chunks or fillets with a layer of buttermilk, mustard, or even a low-fat creamy salad dressing. Then coat the pieces with seasoned breadcrumbs, crushed flake cereals or cornmeal. And if you're not in the mood for fish, the oven-frying technique works equally as well for chicken tenders or nuggets.
Crunchy fish nuggets with curried-mustard dipping sauce
Start to finish: 15 minutes
Servings: 4
1/4 cup buttermilk
3/4 teaspoon salt, divided
1/2 teaspoon ground black pepper, divided
1 1/4 pounds haddock or cod fillets, cut into 1-inch by 2-inch pieces
1 cup panko (Japanese-style) breadcrumbs
1 tablespoon chili powder
1/2 teaspoon ground cumin
1/2 teaspoon garlic powder
2 tablespoons honey
2 tablespoons coarse-grained mustard
2 teaspoons curry powder
Place a rack in the top third of the oven. Heat the oven to 425 degrees. Set a wire rack on a baking sheet and coat it with cooking spray.
In a large bowl, whisk together the buttermilk, 1/2 teaspoon of the salt and 1/4 teaspoon of the pepper. Add the fish nuggets and turn to coat evenly.
In a shallow bowl or pie plate, combine the panko, chili powder, cumin and garlic powder.
Dredge the fish nuggets, 2 or 3 at a time, through the breadcrumb mixture, coating all sides evenly. Arrange the fish nuggets on the prepared rack set over the baking sheet. Coat evenly with cooking spray on all sides.
Bake for 10 to 12 minutes, or until the panko coating is golden brown and crisp and the fish is opaque at the center.
Meanwhile, in a small bowl whisk together the honey, mustard, curry powder, the remaining 1/4 teaspoon salt and the remaining 1/4 teaspoon pepper.
Serve the fish nuggets with the curried mustard dipping sauce.
Nutrition information per serving (values are rounded to the nearest whole number): 283 calories; 25 calories from fat (9 percent of total calories); 3 g fat (0 g saturated; 0 g trans fats); 82 mg cholesterol; 30 g carbohydrate; 31 g protein; 1 g fiber; 860 mg sodium.
Recent Headlines
---