Seahawks: Whitehurst to start vs. St. Louis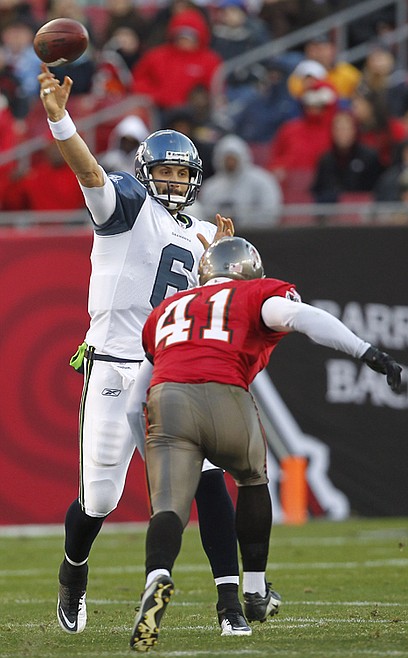 <p>Seattle quarterback Charlie Whitehurst fires a second-quarter pass while being pressured by Tampa Bay's Corey Lynch during Sunday's game in Tampa, Fla.</p>
by
Tim Booth
|
December 28, 2010 8:00 PM
RENTON, Wash. - Charlie Whitehurst is expected to be Seattle's starting quarterback on Sunday when the Seahawks play the St. Louis Rams for the NFC West title, a game picked up by NBC (5:20 p.m., KHQ).
Pete Carroll said Monday the Seahawks will plan on Whitehurst being their starter Sunday night. But he wasn't ready to rule out Matt Hasselbeck after he left Sunday's 38-15 loss to Tampa Bay after running for a 1-yard touchdown in the first quarter. Hasselbeck suffered a strain to his lower back/hip/gluteal area that did not allow him to return.
Hasselbeck underwent an MRI and additional tests Monday morning and the results were positive enough that Carroll remained somewhat optimistic.
"It's something (that) it may be manageable. It may be," Carroll said. "The MRI results were not such where he doesn't have a chance. They were very hopeful that he has an opportunity to get back, but we won't know for days. So it's kind of a difficult situation for us because we don't know and we're not sure what is going to happen until we find out the news probably by Saturday, or it may go all the way to game time."
After Sunday's loss, Hasselbeck said the injury first popped up in Week 3 against San Diego and has been a slight bother a few other times during the season, but nothing like Sunday. Hasselbeck went to the ground after scoring and walked off the field.
If he can't go, Whitehurst would be making his second career start, with Seattle going for its first division title since 2007.
"I want to make sure as we proceed through the week and know what we're doing," Carroll said. "If Matt can play a factor in that, we'll figure it out when the time comes."
Offensive tackle Russell Okung also aggravated a left ankle injury Sunday, but did not miss a play. Carroll did not indicate whether Okung will miss any time. Wide receiver Brandon Stokley also suffered a concussion, but the Seahawks won't know about his availability until later in the week.
Recent Headlines
---