The Front Row with MARK NELKE December 26, 2010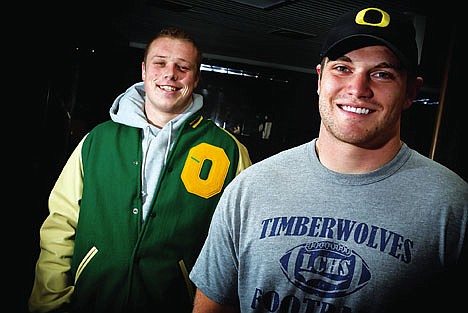 <p>Brandon Hanna, right, and Carson York are former Lake City High standouts who now play for the University of Oregon football team, which plays Auburn in the national championship game Jan. 10.</p>
|
December 26, 2010 8:00 PM
Brandon Hanna's defining moment as an Oregon Duck came earlier this season.
His sack and forced fumble of the UCLA quarterback in the fourth quarter was turned into an Oregon touchdown one play later - breaking open the game and starting the Ducks on to another rout.
"That was the first real big play I made at defensive end," said Hanna, a 6-foot-2, 234-pound redshirt junior and a backup at defensive end and outside linebacker. "It just affirmed in my mind that what I'd been doing was worth it, and the right thing."
Carson York has had several defining moments as a starting left guard for the Ducks for the past two seasons. This year, not only was York named to the All-Pacific-10 first team, the journalism and communications major was also named to the Pac-10 all-academic team.
"I'm very aware of how athletic I am, and so I know where my future is," said York, a 6-5, 286-pound redshirt sophomore.
And where might that future be?
"In the job market," he said.
Hanna and York are 2007 Lake City High graduates, key members of the University of Oregon football team, and are Coeur d'Alene's link to college football's national championship game. The Ducks (12-0) take on the Auburn Tigers (13-0) in the BCS title game Jan. 10 in Glendale, Ariz.
After getting a few days to relax in Coeur d'Alene earlier this week, Hanna and York are scheduled to head back to Eugene today, resume practice on Monday, then leave for Glendale on Jan. 2.
"It really hasn't hit me," Hanna said of playing on such a huge stage. "We expected to do this well this season, so it really hasn't come as a shock that we've been successful, but at the same time I can't really wrap my head around it."
Then again, Hanna and York say the Ducks are programmed by their coaches not to look too far down the road. Ask them what they're focused on, and the answer is, the next practice, or the next game.
"It's not a cockiness, but when you've worked as hard as we think we have, you expect success," York said. "I don't think it'll really set in until we're there ... maybe the magnitude is something that 21-year-old kids aren't capable of really comprehending right now."
WHILE YORK has started 23 of the 25 games he's played at Oregon, Hanna's path to more playing time has been a little more winding.
Recruited as a linebacker, Hanna redshirted his first year in Eugene, though he impressed the coaches as a member of the scout team, five times earning weekly honors. This despite suffering a torn hamstring in the Idaho all-star game the summer after his senior season, then aggravating the injury at Oregon, then hurting his calf later during that first season.
The past two seasons, he played mostly on special teams. This spring, Hanna was switched to defensive end — sort of a hybrid position actually, as sometimes he plays defensive end and sometimes he plays outside linebacker, depending on what defense the Ducks are in — they run a 3-4 and a 4-3.
"I like it a lot better; it fits my playing style better," said Hanna, who was recruited by several Northwest schools, and ultimately chose Oregon over Boise State. "I'm a lot better end than I was at middle linebacker."
He said he's probably in a three-point stance 25 percent of the time. He said waiting his turn to play was "difficult."
"It actually worked out for the better, I think, because I was able to play a position I was better at," Hanna said. "We didn't have a ton of defensive linemen, and we had a ton of linebackers."
"From an offensive lineman's point of view, our second-team linebackers would start on any other team in the Pac-10," York said. "There are a ton of really good players that were buried at linebacker ... he had to get out of that logjam."
"At linebacker they told me they wanted me to drop down 15-20 pounds about a year and a half ago," Hanna said. "And once they switched my position they wanted me to put on like 30 ... putting on the weight is a lot more fun than losing it."
Said York: "I'd be sitting there eating fried chicken and he'd be eating a salad."
Hanna got down to 220 pounds, and is now up around 240. He said the Duck coaches want him to get to 250.
"I was constantly watching what I was eating," Hanna said. "Then once I got moved to defensive end, I could eat whatever I want."
"I've never been on a diet," York said.
This season, Hanna has nine solo tackles, nine assisted tackles, 2.5 tackles for loss, two sacks and two forced fumbles. The play against UCLA was his first career sack.
"That was kind of a defining moment for me this year," Hanna said. "It just kinda put in my mind that I can play and make a difference on the field — do something that will not only help, but be a game-changer."
YORK DELAYED his enrollment at Oregon until the winter of 2008 while he recovered from shoulder surgery. He redshirted in the fall of '08, then started all 13 games on the Ducks' Rose Bowl team of '09.
Of the two games he didn't start this year, one was when he was coming off a concussion the week before at Tennessee, and the other was when he missed a Wednesday practice due to injury. But both games, he ended up playing quite a bit.
York is part of a fast-paced offense which tries to run as many plays as possible, with as little time between plays as possible, in an attempt to dictate the tempo and wear down the defense. More than once, an opposing defensive player has faked an injury to slow things down.
"One guy at Tennessee, in the third quarter he told us if we ran another play he was going to need a wheelchair," York said. "You can see it in their eyes."
"You can see their heads drop right around the third quarter," Hanna said.
And Hanna and York, who share a house together in Eugene, said Oregon practices are at an even faster pace. In one drill, York said the offense met coach Chip Kelly's challenge by getting off 35 plays in 10 minutes — and that's with second- and third-teamers rotating in every four plays. Their reward — they got the last two minutes of the drill to rest.
"We practice so fast and so hard that, honestly, the games are super slow, and a lot easier," Hanna said. "Our practices are at just a ridiculous pace."
And it's gotten even faster the past two seasons, since Kelly was promoted from offensive coordinator to head coach in 2009.
York said he feels for his defense in games, because the offense scores so fast, the defense gets little rest.
"Practice is non-stop," he said. "When I first got there I thought it was fast, but it's like a snail compared to now. Once Chip got control of it, every time we got a new camp he wanted to go faster. Last year we didn't think we could go any faster and this year we go even faster. The tempo we play at now, we played last year for about four series a game. Now we do it every single series. It's a 2-minute tempo where the ball gets set and you sprint to the ball. It sucks in practice but in games you're always in better shape than they are, and you can tell when you're coming off the ball and you can feel when you're blocking somebody that they are just trying to survive."
York said the practices in preparation for the BCS title game have been even faster than the ones during the season. York and Hanna said the Ducks don't do extra conditioning to prepare for the fast-paced style of play. Their practices are their conditioning.
"The difference between (Kelly's) style and (former coach Mike) Bellotti is like night and day," Hanna said. "The first practice where we were sprinting and running to everything was just crazy. I don't know how we were able to keep it up."
"And this year it got even worse," York said. "Coach refers to practice as an experiment — gonna see if you can practice this fast and still survive 12 games. There were games we thought our legs were just dead."
HANNA SAID he's excited to play against Auburn quarterback Cam Newton, the Heisman Trophy winner, who may be more dangerous as a runner than as a passer.
The Ducks played against Ohio State's Terrelle Pryor last year in the Rose Bowl, but "Cam Newton's way bigger than Terrelle Pryor," Hanna said. "He's bigger than some of his offensive linemen, it looks like. We're going to have to be on him with the D-line, we're going to have to put some pressure on him. If he sees guys covered, he's going to take off running, so it's going to be up to the front four."
York will sometimes line up across from Auburn defensive tackle Nick Fairley, who won the Lombardi Award as the nation's top collegiate lineman — but he notes the other defensive tackle, Zach Clayton, isn't too shabby either.
"The two best guys on their defense are the two guys I have to deal with," York said. "We just have to do what we do all year, and hopefully by the third quarter, they're a lot easier to block."
York said two games last season have helped get the Oregon program to where it is now. The loss at Boise State in the '09 season opener caused the Ducks to re-dedicate their focus in practice. The other game was the loss to Ohio State in the Rose Bowl last New Year's Day.
"I remember after practice (for the Rose Bowl), going out to the mall and buying memorabilia, like this may never happen again, let's enjoy this," York said. "We went down to the Rose Bowl and everybody was just happy to be there ... and the game was something that just kind of happened. This year nobody wants to buy anything until it says 13-0 instead of 12-0.
"Now, it's like a business trip. That loss in the Rose Bowl spurred us to practice like we have this year. Sometimes the best things come from the worst things."
The Ducks seem to have an endless combination of uniform colors. Hanna and York have their favorites — Hanna likes the black helmet and the yellow tops; York likes whatever's "slimming," and the ones that at least have a hint of the school's colors of green and yellow.
Being No. 2 behind Auburn in the BCS standings, Oregon will be the visiting team, and will wear a mostly white uniform with touches of bright green on the numbers, the socks, the shoes — even, apparently, on the knee braces of the offensive linemen. (To see the uniform, google Oregon national championship uniform.)
York said he likes the Ducks being the underdog, and said the experience from the Rose Bowl should help them prepare for this game.
"I like the fact that everybody is anointing them the kings of college football before the game's even played," York said of Auburn. "I think we had that mentality last year ... I don't think we took them (Ohio State) as seriously as we should."
Mark Nelke is sports editor of The Press. He can be reached at 664-8176, Ext. 2019, or via e-mail at mnelke@cdapress.com.
Recent Headlines
---