Giving locals their fill for Christmas
by
Nick Rotunno
|
December 26, 2010 8:00 PM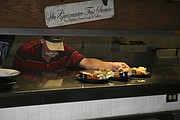 POST FALLS - In Charles Dickens' beloved novel A Christmas Carol, the newly-reformed Ebenezer Scrooge buys an enormous turkey from the local market - the biggest bird in all of London, it seems - and sends it to the home of Bob Cratchit, his loyal but oft-mistreated employee.
Amazed by this unlikely gift, the Cratchits roast the turkey and enjoy a Christmas feast unlike any they've ever known. "God bless us, every one," says the frail and lovable Tiny Tim.
In keeping with that Dickensian tradition, staff members and volunteers at G.W. Hunters in Post Falls served turkey for Christmas dinner - hundreds of pounds of golden-brown turkey. There was also ham, mashed potatoes, stuffing, carrots and a smorgasbord of pies for dessert, all free of charge and available to anyone who dropped in between 10 a.m. and 2 p.m.
By 1:30 Saturday, close to 250 visitors had eaten their fill.
"Gosh, it's just so great to see how people are willing to sacrifice their time to do good for others. Especially on Christmas Day," said Dave Swanson, a co-owner of G.W. Hunters. Over 40 volunteers worked the free dinner, he added, cooking and serving meals, cleaning tables and waving signs out in the parking lot.
"People in the community have just really stepped up," Swanson said. "There's no greater gift than time, I think. (The volunteers) are willing to do anything. And they do it with such a joy in their heart."
Sous chef J.T. Rose and cook Chas Griggs, who both work in the kitchen at G.W. Hunters, approached Swanson about two weeks ago and asked if the restaurant could organize a free holiday dinner.
Swanson said yes, and began spreading the word. Anonymous donors supplied most of the food; others brought in wrapped toys and stuffed animals, which were given away as presents.
"We just don't want anyone to be alone on Christmas," Swanson said. "(The diners) just think it's wonderful. I had one lady with tears in her eyes. She just couldn't believe that somebody would put this together."
Visitors sat throughout the restaurant, some by themselves, others with their families. Dennis Solway of Post Falls stopped in for a bite to eat and realized a special event was taking place.
"Pretty cool," he said. "I came in here for breakfast; didn't know they were offering a free Christmas meal. Food was real good. It kinda gives people that are spending Christmas by themselves a chance to join in with the spirit. That's a nice thing they're doing."
By the door, Santa and Mrs. Claus greeted youngsters and handed out presents. Some candy canes were given away, too.
"It's been wonderful," said Lori Goode of Post Falls, who was dressed as Mrs. Claus. Her husband, Bruce, was also helping out, cooking up meals in the back. "It makes (the people) so happy. Makes us happy. And it has been very nice."
Santa and Mrs. Claus usually appear at G.W. Hunters during the Christmas season, but Saturday was the restaurant's first free holiday meal. Servers piled the plates high, and poured coffee and hot chocolate. The pies were take-your-pick - pecan, cherry, apple, pumpkin or peach.
Spending time with his family, Chuck Evans of Post Falls dined with Kathy Prentice and his two daughters, Hayley and Karlee.
"I think it's a wonderful thing. The food is excellent," Evans said. "I think Dave (Swanson) is a great man. Bless his heart."
The group enjoyed their holiday meal. Hayley especially liked the stuffing, while Karlee was partial to the turkey and mashed potatoes. As for Evans, he wasn't too concerned with the food on his plate. He was happy to be with his girls.
"I would be alone today if it wasn't for this," he said. "So I got to invite my daughters. So for me that was very special."
Recent Headlines
---